Laura Dave is the international bestselling author of Eight Hundred Grapes, The First Husband, The Divorce Party, London is the Best City in America, and now HELLO, SUNSHINE (2017, Simon & Schuster).
Her novels have been published in eighteen countries and several of them have been optioned as major motion pictures (think: Reese Witherspoon & Jennifer Aniston). Her fiction and essays have been published in The New York Times, The New York Observer, ESPN, Redbook, and The Huffington Post. She has appeared on CBS's The Early Show, Fox News Channel's Fox & Friends and NPR's All Things Considered.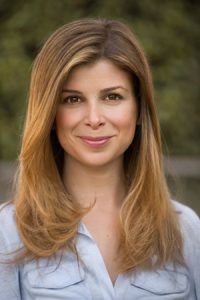 Let's start from the beginning, your beginning.
Where did you grow up? How did your childhood impact the woman you've become?
I grew up in Westchester County with a great family.  My parents always read to me—my father would read to me every night after work—and that love of reading and storytelling really encouraged my writing.   
Favorite writing clothes?
A grey sweater and jeans.
Favorite place to write?
My local coffee shop, where I sit in the same seat and listen to the same song on repeat.  I love people watching and being around people who are going about their day.
How old were you when you wrote your first novel? What prompted you to write it? Did you expect it to become your career?
I wrote my first novel in elementary school.  I came home and told my mother I was going to do it that afternoon.  
How do your stories come to you?
I usually start with a question.  For Eight Hundred Grapes, the question was: how do you figure out what you want your life to mean?  What you're willing to fight for?
What elements do you think make a novel a bestseller?
Great question!  Probably a combination of relatability and that feeling where you don't want to put a book down.  
You are known for writing flawed female protagonists. Some can be considered unlikable on the surface, in the beginning, for a good reason, or some combination thereof. When characters like these have context and layers, they rank among the favorite heroines [Katniss Everdeen (The Hunger Games), Hannah Horvath (Girls), Dolly Wilde (How to Build a Girl) and more]. And yet when a reader reviews a book poorly, she or he nearly always includes the word 'unlikable.' How do you walk the tightrope between flawed and unlikable?
Compassion.  I treat my characters with compassion, even when they're making questionable decisions.  
Is likability as crucial for male characters?
Definitely not, at least in my experience.  Male characters are given passes for lying and cheating and being absentee fathers and losing their way and being terrible husbands.  All sorts of things.  The expectation on female characters is much higher.  They aren't given the same latitude to find their way. 
How do you describe what you write in genre terms? (women's fiction, book club fiction, commercial, upmarket etc.)
I love talking to book groups – I spoke to a hundred book groups while touring for Eight Hundred Grapes—and I think I write book group friendly novels.  Readers often share that my novels gave them a lot to think about and led to a great conversation—which is the highest compliment.  And I love when they say they couldn't put one of my novels down.
Have you ever wanted to write a story, character, plot twist, but hesitated or didn't because you feared it wouldn't work for your editor? for your readers?
I try to keep out those voices as much as possible and instead write whatever is most intriguing to me in the hopes that will intrigue others too.
How do you know when a manuscript is ready to turn in? Do you use beta-readers or critique partners?
I have several readers who read everything.  Their input is so helpful.  
Have you stayed close with writer-friends from before you were published? How important is it to have friends in the same industry?
I have several friends who are writers, and it's great to support each other and help each other navigate publishing.  I also have friends who are avid readers—but unrelated to publishing—and it's great discussing books with them as well.
How long does it take you to write a book? How much time do you spend researching, planning, drafting, and revising? How many drafts do you do? To what degree do you plot the story and sketch the characters in advance? Do you use any structure tool – beat sheets, three-act structure, hero's journey, etc.
I never outline.  With The Divorce Party, that meant I threw out most of the entire first draft when I realized my characters were going somewhere different than I had imagined.
If it ever existed, the experience of writing a book, sending it out in the world, and beginning the next one, is gone. Authors are heavily involved with selling – events, tours, conferences, interviews (thank you! :)), social media, etc. What are the components of your marketing plan? What have you found to be most effective?
I'm terrible at social media!  I guess I'm old fashioned, but I far prefer sitting down in person with readers, which is probably why I love talking to book groups so much.
Who is your target audience? Is it primarily women? If so, is it important to you to expand into male readership?
I get so many notes from male readers, which always makes me happy.  Primarily, my readership is female.
Sunshine, the protagonist of HELLO, SUNSHINE, hosts a cooking show. She, like you, is a foodie (well, sort of.  You guys, have to read the book. 😉)What are some of your favorite dishes to prepare?
I cook anything and everything, though my husband would say that my specialty is probably a strawberry pizza.  It features strawberries, balsamic vinegar, pine nuts, onions, and tomatoes.
HELLO, SUNSHINE explores the challenges of having an authentic life in the modern, share-all, show-all digital age. You and your husband (screenwriter and Academy Award winner Josh Singer) are both well-known people. How do you maintain your privacy while also working in the public eye?
I certainly don't see us that way!  And I'm a homebody, which makes privacy a lot easier.
Many writers have the impression that once an author gets a few books behind them, the rejection stops. That you stay with the same publisher forever (at least for that genre) and that they accept every story you pitch. Is that true?
I switched publishers before Eight Hundred Grapes to work with my dream editor at Simon & Schuster.   We have a great partnership, and I have several friends who have also switched for a variety of reasons and are happy they did.  There are also many people who stay at the same publisher all the way through.  There are many paths.  They're all exciting.
You have nearly 30,000 reviews on goodreads. Every one of your books is rated 4 stars or more. Do you still fear bad reviews? Do you read them?
That's a great thing to hear!  I don't read every review, but I do read several – and I definitely feel a pull in my heart when someone loves a novel, and when it connects to them.  I also feel sad when a reader is disappointed.  You want to please everyone.  So, yes, I definitely hope for good reviews.
Three of your novels have been optioned for film. What is the status of those projects?
I'm excited that I'm adapting Hello, Sunshine with my husband—we are having a blast working on it.
Not all bestselling novels become films. What do you think is the "magic ingredient" for a novel to garner attention from the film industry?
The movie industry is tricky – you have to have a lot of elements line up for something to get made.  If your novel attracts a great director or actor, that's a great start, regardless of how well a book sold.
You are writing the screenplay for Eight Hundred Grapes. How does writing a screenplay differ from writing a book?
Novels involve a lot of internal thought. With a script, the drama is much more cinematic.
What tips do you have for aspiring authors?
What makes you a writer is that you write. Your only responsibility is to sit down in your chair and try to do the work.  For some people, that's every morning. For others, that's one morning a week.  Remind yourself that you're a writer by writing. It's the best thing to do.
And finally…
Film or Television?
Film
Mountains or Beach?
beach
Salty or Sweet?
Sweet
White or Red Wine?
White
Thank you, Laura, so much for talking with us! We support you now and always.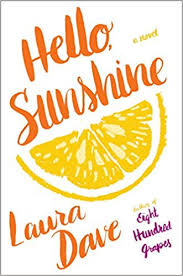 HELLO, SUNSHINE
Sunshine Mackenzie has it all…until her secrets come to light.

Sunshine Mackenzie is living the dream—she's a culinary star with millions of fans, a line of #1 bestselling cookbooks, and a devoted husband happy to support her every endeavor.

And then she gets hacked.

When Sunshine's secrets are revealed, her fall from grace is catastrophic. She loses the husband, her show, the fans, and her apartment. She's forced to return to the childhood home—and the estranged sister—she's tried hard to forget. But what Sunshine does amid the ashes of her own destruction may well save her life.

In a world where celebrity is a careful construct, Hello, Sunshine is a compelling, funny, and evocative novel about what it means to live an authentic life in an inauthentic age.
Praise –
"Addictive" Us Weekly
*One of Elle magazine's "[novels] starring heroines of transformation – slip em in your bag."*
*Best Books of Summer Selection by * People * Elle Magazine * Redbook Magazine *
*One of Redbook.com's 20 Summer Beach Reads*
*PopSguar.com Best Books of Summer Selection*
*Epicurious Best Foodie Reads Selection*
*Library Reads Pick*
"If her Instagram feed is to be believed, Sunshine MacKenzie has it all. But after a hack costs her her career, husband, and apartment, she heads home to figure out whether her sense of self is permanently lost as well. A clever beach bag must-have that points up the follies of FOMO." —People
"Funny, fun, and impossible to put down, Hello, Sunshine tells the story of a YouTube-famous chef whose life seems perfect until she gets hacked." —Domino.com
"Dave reveals her skill at crafting deeply flawed yet sympathetic characters and avoids easy resolutions in favor of realizations hard won by the heroine. The settings—both the glamorous Manhattan and Hamptons environs and the restaurant-kitchen intrigues—are engaging…Sunshine's journey to define herself apart from her Instagram filters and YouTube followers is where the novel shines." —Publishers Weekly
"Dave creates a resilient, likable heroine whom readers can sympathize with and root for…Sunshine's journey is full of warmth, heart, and enough surprising twists to keep the story fresh. This upbeat, engaging exploration of finding one's authentic self is sure to make some of the "Best of Summer" book lists." —Library Journal
"Dave's novel will pull readers in from page one, and Sunshine will have readers in her corner, rooting her on as she uncovers what makes her special in a way that her celebrity life never could."—Booklist
"Addictive" —Us Weekly
"A smart, fun read about trying to live an authentic life in the age of social media overload." —PopSugar.com
"Bestselling author Laura Dave proves her literary magic once again in her latest summer hit Hello, Sunshine – the absolutely unputdownable novel about a YouTube superstar and her fall from Internet stardom. An enticingly delicious celebration of authenticity, there is no chance you won't consume this golden summer read in one sitting." —Redbook.com
"Wickedly funny and gorgeously entertaining, this is the beach read you need to preorder ASAP!" —Redbook.com
"Addictive." —Epicurious.com
"I loved this novel." —Library Reads
HELLO, SUNSHINE is available –
amazon barnes & noble indiebound
More on Laura –
Interviewed by –
MM Finck is a writer, essayist, and offers query letter coaching, opening pages editing, and overall story analysis as The Query Quill. She oversees WWWB's Interviews and Agents' Corner segments.
Her women's fiction is represented by Katie Shea Boutillier of the Donald Maass Literary Agency. She is a member of the Women's Fiction Writers Association and the chair of the Women's Fiction Writers Association Rising Star Award. Her work has appeared in national and regional publications, including skirt! magazine.
When she isn't talking with readers about her novel, #LOVEIN140, or working on her new one, PIN-UP, you can find her belting out Broadway tunes (off key and with the wrong words), cheering herself hoarse over a soccer match (USWNT!), learning to play piano (truly pitifully), building or fixing household things, and trying to squeeze more than twenty-four hours out of every day. She is active on Facebook, Twitter, Goodreads, and Litsy (@MMF). Say hi!  http://www.mmfinck.com
Category: Contemporary Women Writers, Interviews, On Writing