When I began researching for my new novel, 'We That Are Left', I knew that it was going to be set in WW1 and that it was going to be focussed on the experiences of women. I love the war poets like Wilfred Owen and Siegfried Sasson and I have family in France, so I vividly remember visiting war graves and the remains of the trenches.
Most of what is written about the Great War tends to focus on the fighting. I wanted to find out more about lives of civilians, and especially the women, who moved out from being simply wives and mothers to take over the roles of the missing men. It was the time when women proved beyond doubt that we are excellent managers, mechanics, surgeons etc.
At first women were laughed at when they tried to set up ambulance services to help the war effort. Women were seen as wives and mothers, capable of nothing else. They were delicate creatures, liable to lose what mind (and morals) they had if they studied too hard.
I came across a wonderful book 'Elsie and Mairi Go to War', which tells the true story of two friends who drove ambulances on the front line, picking up the dead and the dying between battles and providing desperately needed hot meals for the soldiers. From there I learnt about the many indomitable women who set up field hospitals in France and putting their own lives at risk to help both the soldiers and the civilians, and the many indomitable women back home in the UK who kept the country running.
And that's where my research for recipes from WW1 began. Unlike in WW2, there was not official rationing until the end of the war, but much of Britain's food was imported and so there were soon shortages, and many things became expensive. It wasn't just food, but medicines, too. During the war, women, especially those in the countryside, returned to the old ways. They grew and preserved as much as they could, and foraged for things like blackberries and rosehips, which are an excellent source of vitamin C and wonderful home remedies for coughs and colds.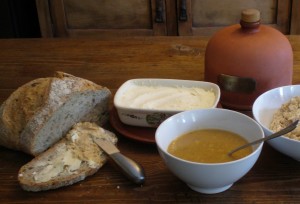 It might not sound heroic, but without food and medicine no one can survive. Food was sent out to the soldiers at the front, and helped the wounded recover. It fuelled the workers who kept the country functioning – all those forgotten millions without whom the war could not have been fought and lives rebuilt afterwards. Apart from the very poor, people before WW1 were used to huge meals packed full of cream, butter and meat. During the war they had to learn to exist on a much simpler diet – one that didn't need a Downton Abbey style army of servants.
What was also fascinating was learning that after the war there was a huge upsurge in interest in cooking. This was also from women. But these were women who would never have servants, and who could never be wives and mothers due to the lack of men. These were women who worked in low paid jobs, or forged careers for themselves. What they wanted was to learn to cook cheaply and simply for themselves and their friends in their flats and bedsits after returning from a hard day's work at the office, the hospital, the lab, the school, the university – familiar? Yes, they were the pioneers who led the way to the choices we have today.
For Elin, the heroine of 'We That Are Left,' learning to run the family estate in Cornwall, and particularly the kitchen garden, leads to her developing her passion for baking and creating recipes from the ingredients available. It's something that takes her to places she could never have imagined – and that includes racing through France in a beaten up ambulance, braving bombs and enemy soldiers to save the lives of both strangers and those she loves.
I've enjoyed researching recipes, many from newspapers of the time. I've tried Elderflower Champagne and plum jam already, and over the next few months I'm going to be attempting many more. Some (like potato bread) will be to the original recipe. Being a lifelong vegetarian, I might have to use a substitute for suet for pastry and rabbit for pies.
But I have friends willing to give Beef Tea (and more) a go on my behalf. Stunning vegan cook, Salena Walker of 'Plant Based Alchemy' https://www.facebook.com/PlantBasedAlchemy has volunteered to attempt some gluten free, non-diary versions. All results (good and bad) will find their way onto my blog!
Here's to the brave and resourceful women of WW1, who kept the old world going when the men went off to war, and forged a new one for themselves when it was over. And who along the way won the right to vote, take a degree, divorce an abusive husband, to be doctors, scientists, artists, entrepreneurs, leaders of industry, MPs and so much more. To drive cars and fly planes and have the right to be heard and respected.
—
Juliet Greenwood lives in a traditional cottage between the Island of Anglesey and the ruined castles of Snowdonia. 'We That Are Left' is her second book for Honno, the Welsh Women's Press. http://www.honno.co.uk/ and was completed with the help of a 2013 Literature Wales Writers' Bursary. Her first book, 'Eden's Garden', was the Welsh Book Council's Welsh Book of the Month for May 2012 and reached the top 5 kindle best sellers in August 2013. It is currently in the running for The People's Book Prize.  Juliet also writes short stories and serials for magazines under the name 'Heather Pardoe'.
Visit Juliet's website www.julietgreenwood.co.uk  and blog
You can follow her on twitter @julietgreenwood and facebook Julietgreenwood
Buy Eden's Garden on Amazon HERE
We That Are Left will be out 13 February 2014
Category: Contemporary Women Writers