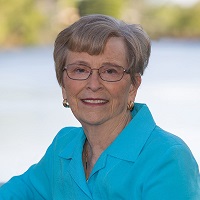 Do you have an unwritten book inside you? You may have been hearing that inner voice that says "Quick, find a post-it, write that down." Maybe you find yourself stepping back in life, viewing encounters from a far-away place and hearing words that describe the chaos or angst or bliss. Whether stuffing the post-its into the back of a desk drawer or the memory into the filing cabinet of the mind, your book takes shape.
After Rudy's death, Tales and Memories, his account of his young years, sat on my bookshelf trying its best to move me to action. I had promised him that I would someday add the story of our marriage and our journeys, but for a time illness and grieving were not compatible with writing. Having learned the value of superstition from my half-Irish mother, I developed a mighty one that said, "If only I am in a structured writing class, I will be structured. I will write."
I came early one fall day to register at Chico State's Osher Lifelong Learning Institute, only to learn that the class was already filled by people who obviously didn't need its structure as much as I did. I approached Jim, the instructor, just as Martha, a woman I had never seen before and whose name I knew only from her nametag, took my arm and pleaded with him: "This is my dear, dear friend (she looks at my nametag)–Mary– and we both have to have this class. We have major projects underway. You'll need to open a new section."
I have a major project underway? Two classes a week for Jim?
"Wait till you see how well behaved we'll be," Martha, my new best friend, insists, and he, warm-hearted soul, capitulates.
I knew I had a lot of post-its and trip diaries, and vivid memories to spare. Being married to Rudy for over thirty years was, after all, a bit like riding a cyclone through life, and one remembers cyclones. What I was not so sure about was how much time I had.
Not long after beginning the writing class and despite my outcry that This Is Not My Turn, my breast cancer returned. In an encore from its first appearance fifteen years earlier, this time the cancer was more mature and deadly serious. Its treatment rounds left me with a raging sepsis infection, and a hospital stay in one of those too-quiet private rooms where nurses wear sterile masks and robes.
All I had was time to sit and think, time to ponder the old questions: "What do I do with what's left?" "What still sits on that bucket list?" Up until then, I had had a career as a professional writer, churning out research reports and grant applications and program evaluations, but never a Real Book, never one with soul and memory. That is, up until now I had not fulfilled the bucket list ambition: "Write a Book." I was not exactly the age of Grandma Moses when she embarked on her new life, but I was close. Too close.
***
Sitting in that hospital bed, I sensed a sudden clarity of purpose, experienced a massive rush of adrenalin, threw my blankets back, grabbed a notebook and pen from the bedside table, and began to write My Book. (Well, not really. None of that happened. That is only what I wished had happened). Instead, I continued to sit, feeling more and more intimidated by my own lofty goal, more and more aware that it would be physical limitations that stood now in the way of writing.
Urgency and high expectations do not necessarily a book make. In fact, I can tell you that these forces frequently conspire to overwhelm the writer. This is where the two-page rule comes in.
Elisabeth called when I returned home, Elisabeth whose life has intertwined with mine many times. We have visited in Europe together, mourned spouses together, joined a writing group together.
"We think you should come back to writing class. Of course you couldn't be here in the months Rudy was so ill, and we know you have challenges of your own now, but think about it. We have an empty seat– and most of us are doing just two pages a week."
"Are those double spaced?"
"Sure. They can be. Just come to visit maybe."
I hung up the phone and it came to me: 2 pages a week at 52 weeks a year times 2 years. That could be my book. The real one, the one that has been inside me, the one that has been waiting.
"It is not true that people stop pursuing dreams because they grow old. They grow old because they stop pursuing dreams."
Gabriel Garcia Marquez
—
Mary K. Jensen, PhD is a recovering grants writer. After retiring as Professor Emerita from California State University, Chico, she ventured into her attic and pulled out boxes of trip diaries―raw material for her memoir. Jensen earned her master's degree at Loyola Marymount University and her doctorate at the University of Oregon, where she was an analyst and author for the federal research clearinghouse ERIC. With experience in teaching, school psychology, administration, and teacher preparation, she has been a popular writer and conference speaker, skilled in translating research findings to school practice. She is a survivor―of cancer twice, and of decades of travel with her irrepressible spouse. She lives in northern California where she relishes her writing group, book clubs, poetry group, walks and friendships. Visit her at www.marykjensen.com
Rudy's Rules for Travel: Life Lessons from Around the Globe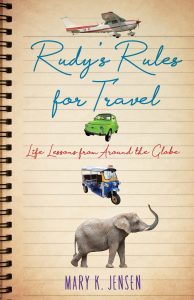 Most honeymoons, Mary knows, do not start this way. Lying outside on the sloping attic roof in Edinburgh, listening to the soft snores of her groom, she realizes that Rudy's number one rule, "adapt," once again reigns.
Rudy's Rules for Travel takes you across the twentieth-century globe with intrepid, frugal Rudy and his spouse Mary, a catastrophic thinker seeking comfort. Whether stalled in a Spanish car tunnel, stranded atop a runaway elephant, or held at rifle-point at a Soviet border, Rudy has a rule for every occasion—for example, "Relax, some kind stranger will appear." Mary, meanwhile, has her deep breathing and her own commandment: "Expect the worst."
The two are a picture of contrast. As Mary was being born, Rudy was a new American citizen flying US Air Force missions over his homeland, Germany. His father was a seaman, hers an accountant. And when this marriage of opposites goes traveling, their stories combine laugh-out-loud humor with poignant lessons from the odyssey of a World War II veteran. So start packing—you'll want to join these two.
Category: On Writing