Revolt by Qaisra Shahraz is Launched
Arcadia Press launched Revolt by the international best-selling English / Pakistani author Qaisra Shahraz.
We have been following her international travels to exotic literary festivals in China, India, Indonesia, Germany just to name a few.
In preparation for Qaisra stepping up as Site Sponsor for Women Writers, Women Books, both Barbara Bos (@chicaderock) on Twitter and I (@anorawrites) read Revolt. I read the ebook, and was delighted by the eye opening story. Here's what I wrote about it:
'Qaisra Shahraz deserves to be a household name in America. Much as Pearl Buck brought to light life in China; and Richard Wright and James Baldwin brought to light the devastating world of America's black inner cities; so Qaisra Shahraz shines light into Pakistani village life, opening the curtains to another culture. Revolt Provides readers with a fascinating ride between English and Pakistani cultures, as only someone as well rooted in both worlds can relay. We can see through the stereotypes and beyond the walls of class, race and culture, to our common humanity. Highly emotionally intelligent and observant.' Tugs on the heartstrings early on, and keeps a close rein until the end. Well written with delightful detail of the physical settings, daily life, and keenly described emotional interactions. Human and wonderful.'
Anora McGaha, Editor of Women Writers, Women Books online magazine, USA.
Revolt takes you behind closed doors, behind the curtains, behind the foreign South Asian world, into fictionalized life in a Pakistani village. It opened my eyes to how limited my knowledge of Pakistani life is, and how one sided all the news I hear is.
Here's more about Revolt:
Revolt is a multi-layered, multi-faceted story of love and loss, finding and losing, and mixed-race marriage, Revolt is the tale of three wealthy sisters and the problems that no amount of money can solve. There is a daughter, abandoned because of an impulsive marriage, an aunt who pines for lost love, and a bridegroom with the biggest problem of them all.
Set in England and the fictional village of Gulistan in Pakistan, with its fascinating array of quirky, eccentric and unforgettable characters, Revolt centers on the forthcoming marriage of two rich cousins and the often hilarious but always deeply moving pitfalls and perils of living in a place where everyone knows everybody else's business. Underpinning the action is the compulsive and pervading need to resolve the conflict between Pakistani Muslim values and those of the modern West.
A brilliantly incisive portrait of small-town life, exploding into a panoramic portrayal of the nature of change, freedom, pride and prejudice,Revolt also reminds us of a darker, more threatening world. Immensely readable, dramatic and beautifully evocative, this book will enthrall, as the action unfolds and the tensions play out to their startling resolution.
We look forward to publishing an interview and a book review of Revolt later this month.
Buy the kindle version of revolt here
Revolt Launching in Bangkok
Can you imagine getting to launch your book in Bangkok?


A Gold Edition of Holy Woman in Indonesia
Could you ever imagine your book being a best seller in Indonesia? What would it take to do that? What would you have to be writing about? Aren't you curious? I am. Holy Woman is on my read list.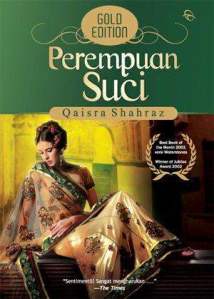 — Anora McGaha
Editor, Women Writers, Women Books
Category: British Women Writers, Contemporary Women Writers, Multicultural Writers, Pakistani Women Writers, Women Writing Fiction