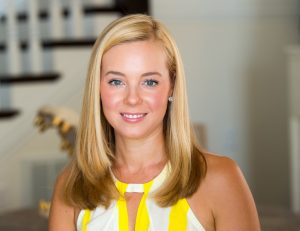 Once again, Kristy Woodson Harvey immerses us both into the South and into the lives of her characters.  In Slightly South of Simple, we find ourselves rooting for Ansley and her daughters as they grapple with letting love and each other into their lives.
Focusing on Ansley in addition to her daughters takes Slightly South of Simple. What did it take for you craft the perspective of a character in a different life stage than yourself and the narrators of your previous books?
I thought a lot about my mom when I wrote Ansley's character. My mom and Ansley are around the same age and both have a youthful, vibrant air about them where they are always learning new things and taking risks. But writing a mid-life love story was certainly something different for me, so I spent a lot of time thinking about what a new relationship would look like at that age. The responsibilities that come with that stage of life color Ansley and Jack's relationship in some ways, but, as Ansley's mother says later in the Peachtree Bluff series, "We are teenagers forever when it comes to matters of the heart." To an extent, I think that hearts-and-flowers kind of love story can exist at any age, and I wanted to write that.
While mother's aren't supposed to admit they have favorites, which of Ansley's daughters did you enjoy writing about the most and why?
While I was writing Slightly South of Simple, at least, Caroline was my favorite. Although it gets Caroline in trouble from time to time I loved writing a character that said exactly what she thought and how she felt. There is also a lot of complexity to Caroline's character that goes way beyond the surface. She makes some surprising choices, I think, that reveal that her true character is a little different than what it seems. I loved that about her.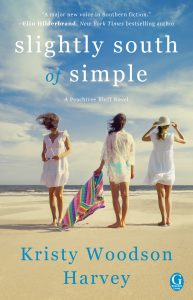 One the best elements of Slightly South of Simple is the alternating voices.  I am also curious about the writing process here.  How did you write this book?  Straight through for each story line and then weaving them together or did you alternate as you move through?
This was by far the most linear book I have ever written. Usually I am all over the place, writing a chapter here and a chapter there and then piecing it all together, but, for this book, I actually wrote it in the order in which it appears for the most part, alternating between the two characters and, in Ansley's case especially, time periods. Because this is the first book in a series I did a lot more plotting and planning than I normally do because I needed these stories to reveal themselves over the course of three books in a particular way. It was a little different but very fun—and I felt so organized!
The book jacket mentions that this is the first in a new series—what can we expect to come from Peachtree next?
I just finished the first draft of the second book, THE SECRET TO SOUTHERN CHARM. Ansley is still a viewpoint character in that book, but this is really Sloane, the middle sister's, time to shine. It's hard to talk too much about book two without giving away the ending to SLIGHTLY SOUTH OF SIMPLE, but Ansley and Sloane are both at serious crossroads in their lives at the book opens. Whereas the family was really rallying around Caroline during SLIGHTLY SOUTH OF SIMPLE, they are more focused on Sloane and the troubles in her life now. Sloane also has a great love story with her husband, Adam, that was very fun to write so stay tuned for that!
—
About Slightly South Of Simple
From the next "major voice in Southern fiction" (New York Times bestselling author Elin Hilderbrand) comes the first in an all-new series chronicling the journeys of three sisters and their mother—and a secret from their past that has the potential to tear them apart and reshape their very definition of what it means to be a family.
Caroline Murphy swore she'd never set foot back in the small Southern town of Peachtree Bluff; she was a New York girl born and bred and the worst day of her life was when, in the wake of her father's death, her mother selfishly forced her to move—during her senior year of high school, no less—back to that hick-infested rat trap where she'd spent her childhood summers. But now that her marriage to a New York high society heir has fallen apart in a very public, very embarrassing fashion, a pregnant Caroline decides to escape the gossipmongers with her nine-year-old daughter and head home to her mother, Ansley.
Ansley has always put her three daughters first, especially when she found out that her late husband, despite what he had always promised, left her with next to nothing. Now the proud owner of a charming waterfront design business and finally standing on her own two feet, Ansley welcomes Caroline and her brood back with open arms. But when her second daughter Sloane, whose military husband is overseas, and youngest daughter and successful actress Emerson join the fray, Ansley begins to feel like the piece of herself she had finally found might be slipping from her grasp. Even more discomfiting, when someone from her past reappears in Ansley's life, the secret she's harbored from her daughters their entire lives might finally be forced into the open.
Exploring the powerful bonds between sisters and mothers and daughters, this engaging novel is filled with Southern charm, emotional drama, and plenty of heart.
Buy SLIGHTLY SOUTH OF SIMPLE HERE
Interviewed By:
Brandi Megan Granett is an author, Kaplan University professor, and writing coach.  She earned her Ph.D. in Creative Writing at Aberystwyth University and her MFA in Fiction from Sarah Lawrence College.  Her latest novel, Triple Love Score, was published by Wyatt-Mackenzie in Fall 2016. Morrow published her first novel, My Intended, in 2000. Her short fiction appeared in Pebble Lake Review, Folio, Pleiades, and other literary magazines and is collected in the volume, Cars and Other Things That Get Around.  She writes an author interview series for the Huffington Post.  When she is not writing or teaching or mothering, you will find her on the archery range.
She can be found on Facebook https://www.facebook.com/BrandiMeganGranett/
and Twitter @brandigranett
Category: Interviews, On Writing