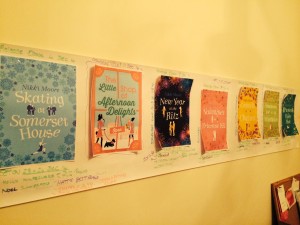 There have been many interesting things I've discovered about being a published author over the past twelve months, and many challenges that I wasn't expecting, including the amount of time edits take, the need for exhaustive promo and the sheer amount of hours required at the laptop.
Last summer I was presented with one of these challenges; writing an eBook series for my main publisher HarperImpulse, the digital-first romantic imprint of HarperCollins.
I was delighted when my lovely editor Charlotte commissioned me for this, and couldn't wait to get started. We agreed on five romantic short stories all set in London, with the sixth story a full length novel Picnics in Hyde Park. One character in each short would be linked to one of the main characters from Picnics, Zoe or Matt. The first would be a Christmas story, with one every month afterwards, leading up to Picnics published in May 2015 as a summer read.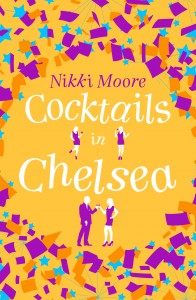 From there the #LoveLondon series was born (the fourth story of which, Cocktails in Chelsea is due out this month).
And now I will offer you complete honesty. I was excited about writing the series, especially as I love London, love writing romances AND because the covers designed by the very talented Steve Panton (@StevePanton on Twitter) are amazing.
But.
But it has also been a hair-tearing-out why-did-I-ever-agree-to-do-this eight months. Trying to make sure the series had a consistent timeline, keep all the characters straight in my head and how they were related to Matt or Zoe, as well as making sure I didn't give people three uncles or ten year age differences between appearances/mentions in different stories, really put my logistical powers to the test.
I was also intent on making all the stories equally strong, which is a challenge in itself (hopefully I've succeeded).
So, here are my top five survival tips for authors thinking of writing a linked eBook series:
Know your main characters really well, inside and out. Make sure you know their careers, hopes and dreams, backgrounds, friends and families, how they relate to different people and ensure it all hangs together. #Action: If necessary, draw a family (or friend) tree.
Think about how a storyline in one story/book will impact on another. I've had to rewrite part of Picnics in Hyde Park because of something Matt's best friend Noel does in Skating at Somerset House (book 1). #Action: Make a note of any major event or meeting that will impact on a later story (or better yet go into the other manuscript and highlight the passage you need to change and the reason why, with the page number of the original MS).
Pay attention to the timeline. Decide where your first story starts and then build a timeline of where each of the other stories/books will fall in terms of months or seasons, and think about how many days, weeks, months etc each story takes place over so that they don't cross over each other erroneously or you don't mention characters doing things in one book that they haven't yet done. #Action: Use a diary or calendar to log key events and dates.
Keep track of the stories and fix them in your mind. Now I probably shouldn't admit this, but at times I lost track of who was in which story and which story a particular scene happened in. I've worked tirelessly to try and make sure I've checked everything and there are no errors (no doubt people will get in touch if I missed some!) but having strong visuals, with notes of characters, story seasons and publication dates helped keep it clear for me. I taped a long piece of poster paper across a whole wall in my writing room, stuck the book covers on it and made notes of characters etc underneath (see pic). #Action: Use visuals as reminders if necessary, like a spider diagram or storyboard.
Make sure you get it right, or your readers will feel let down. Because I'm traditionally published by HarperImpulse I'm lucky enough to have an editor to sense-check the stories in terms of timing, character continuity and so on (as well as suggesting ways in which I could make stories better. BTW Charlotte is always right). However if you're self-published and don't have this resource, pay a proof-reader or contract an editing service to do this for you, if you can afford it. Alternatively, ask a friend who reads a lot and is very meticulous to take a look at the stories for you. #Action: Ask someone else to check the series for you for continuity and accuracy purposes.
And a bonus point – keep calm & keep writing (and if necessary, drinking wine).
I would love to hear what your blog readers/follower think about this subject. Is it easy or hard to write an eBook series? What other tips do people have about keeping track of everything?
—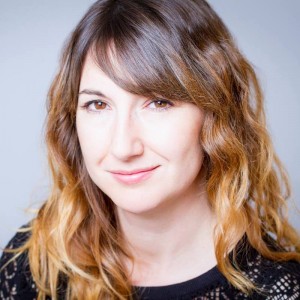 Nikki lives in beautiful Dorset not far from the beach with her two gorgeous children, and very happily has a lovely boyfriend too. She has a day job in Human Resources and very supportive colleagues. She loves writing romance and does it as often as possible, but can also be found reading and consuming white wine in hot baths on a regular basis .
Nikki was a Novelicious Undiscovered finalist in 2012, and has also been a finalist in other writing competitions. She owes much of her success to the wonderful members of the Romantic Novelists' Association, and is very supportive of aspiring authors.
Nikki loves chatting with readers, bloggers, writers and aspiring authors about books, writing, wine, love and life in general. Find her on Twitter @NikkiMoore_Auth or Facebook at https://www.facebook.com/NikkiMooreWrites
Category: Contemporary Women Writers, How To and Tips