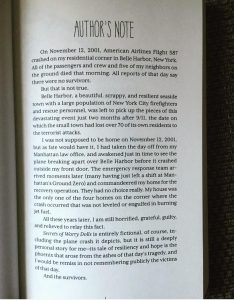 I told my first ghost story last fall in Albuquerque, New Mexico, at the annual Women's Fiction Writers Association Retreat. I was embarrassed at first, because the truth was, I believed it. I really did.
I heard them.
I saw them.
At a writing workshop run by Kimberly Brock, award-winning author and founder of Tinderbox Workshops, I told my table of fellow writers about the chilling weeks and months after a plane crashed on my residential corner in New York City.
Unable to sleep in my own bed, I slept for weeks on my living room sofa, where I was wakened night after night by the sound of Spanish-speaking guests entering the room, running up and down the steps of my home, seemingly trying to wake me. The 260 passengers on the plane who died outside my front door had been headed to the Dominican Republic, many of them natives or relatives of natives of the Spanish-speaking country. One night my husband called out to me from our bedroom – "Are you ok? Why are you running up and down the stairs?"
Ah, I thought. So they are visiting him too.
That the ghosts of the passengers of Flight 587 continued to visit us after the crash was only mildly unsettling. That I was alive and they were not? Much more so.
I had been home at the time of the crash. I was supposed to be miles away in my Times Square law office that morning, but I had taken the day off, and so I was standing at my window only a few yards from where the plane went down at the moment of impact.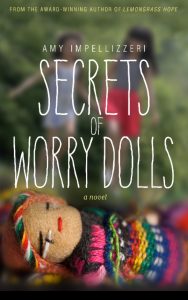 Kimberly talked to us that day in Albuquerque about using our ghost stories to inspire – to unlock – the stories within us. My story had been locked inside for over a decade. The story of living for a long time in between. Of trying to honor what had happened without drowning in survivor's guilt. After the crash, I was – by all accounts – just like my home – unscathed. I returned to life as "normal" after the crash. My scars were hidden and silent. Even if the ghosts were not.
But by the day Kimberly Brock encouraged us all to tell our ghost stories out loud, I had my own story – a new novel – nearly ready for the world. A story I was petrified to share as it was in fact a ghost story – one that arose from all the loss and love and life experienced by my husband and I that day of the plane crash – November 12, 2001 – and during the months and years afterward.
We started our family less than 2 years later, and I struggled against the fears that threatened to drown me – as I continued to raise babies in a family that had survived both 9/11 and the tragic residential plane crash just 2 months afterward. When I left my corporate litigation career in 2010, and poured all of my dreams into a risky writing career, I worried about my legacy to my children.
I shared none of my fears with anyone. I kept my worries as secret as my ghosts. Until that day in Kimberly Brock's workshop. When I told my first ghost story out loud.
And I realized that day.
It was time. Time to finally tell the story that haunted me.
The story of survival. And of hope.
Shortly after that writing workshop with Kimberly Brock, I finished the grueling editing process with my developmental editor, Caroline Leavitt (Cruel, Beautiful World) and my agent sent my second fiction manuscript out on submission in 2016. My second novel, Secrets of Worry Dolls, is now set for release by the inimitable Wyatt-Mackenzie Publishing on December 1.
It is, indeed, a fictional tale of loss and redemption, but for me, it has always been the tale whispered to me by the ghosts who visited me after the plane crash on November 12, 2001, on my quiet Belle Harbor, New York corner.
My way of honoring both the victims of that day.
And the survivors.
Xo
Amy
P.S. Do you have a ghost story to share? I'd love to hear it.
—
Category: Contemporary Women Writers, On Writing