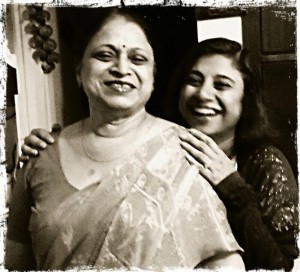 On the morning of Friday, May 30, my husband and I got a call from India: my mother was in critical condition and hospitalized in New Delhi. I thought it was a bad joke because (a) My Mom wasn't sick.
I had barely spoken with Mom two days ago and promised to cook, Kalam Polow, a Persian dish, when I saw her next. (b) She and Papa were headed to their next travel destination. Did destiny take a detour and Mom ended up in the ICU instead of the departure lounge at Indira Gandhi International Airport?
Mom was put on a ventilator; my thoughts started to breathe. Her heart was under attack, I felt vulnerable. As the day progressed and Mummy's condition worsened, I started to wonder if I shared any common traits with her. Everyone always said (and I too believed) that I was like my father. Writing, laughing, no-nonsense attitude, sharp tongue, love of life, loud laughter, I get them all from him.
But as I packed our bags, cleaned up the house, managed the food in the refrigerator, rescheduled my calendar appointments and meetings, informed a few friends and family about Mom's health and our sudden India trip, my husband, Anudit, smiled at me, "What are you worried about? You are so much like your Mom. You even get your meticulousness from her."
On May 30 evening, I was scheduled to share my work at KGB Bar. I had planned to read a couple of poems about my Mom since it was the month of Mother's Day. They were funny and cheeky poems too about how we all become our mothers. But instead of showing up to the reading venue in the east village, my husband and I caught a flight to New Delhi.
Poetry never once left my hand. Pain and prayers never once left my pen.
I was angry. Hurt. Scared. Heartbroken. My Mom was only in her sixties. How could she abandon Papa? What about Bhaiya (My older brother, Shantanu) and me? I was so upset that while wearing my seat belt I kept whispering on the inside: How can you do this to us? How can you not wait for me, Mummy?
As soon as we landed in New Delhi, I called up Bhaiya. With the time difference, it was the evening of May 31. He was waiting at the arrival lounge along with my older niece, Diya, and my cousin brother Nishant. I knew something was wrong; Nishant's chauffeur was supposed to pick us up. "I am sorry. Mom is gone," Bhaiya spoke softly.
New Delhi became a stranger to me in an instant. India had a new Prime Minister. We had a different structure in our family. Change was everywhere, whether we wanted it or not. I looked to poetry to keep me afloat and hugged my brother tightly. It was such an odd feeling where we both looked like a couple of kids lost at a fair but had to collect ourselves to find our role in our motherless world.
Despite all the mayhem drowning my reality, I continued to remain calm and swallow my tears. I insisted on seeing Mom before anything else and continued writing poems as we rode to the hospital. She looked so peaceful and beautiful, even in her end. She looked like a poem herself wrapped in the lavender sheet at the hospital.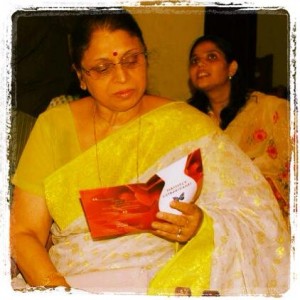 I wrote to her, about her, for her, from her. Ironically, my Mom always complained that I never wrote about her. I had a hard time explaining to her why that was a good thing. That it is often people on a writer's shit list who show up in their works. But loss has a mind of its own in a poet and writer's life.
From the time we got the phone call to the time we finished my Mom's last rites, I finished writing a chapbook of poems. But I didn't heal.
People, philosophers, and books tell you how to cope and grieve when you have regrets and guilt. But no one tells you how to deal with loss when there is nothing you want to change about your past or your relationship with the one deceased.
I spent time with my parents, visited India very regularly, spoke with them, and was involved in their lives without either party encroaching upon the other person's space. My Mom and I, extremely strong personalities, weren't perfect. We fought, cared, argued, debated, hugged, cooked, and criticized. Despite our disagreements, our affection for one another stood strong.
Where was I to go from here?
On Sunday morning, June 1 was Mom's cremation. In traditional Hindu families, the son performs all the rituals and women aren't allowed to attend the cremation. Everybody is clad in white. People turn vegetarian and give up alcohol— temporarily. Most don't question anything. All the traditions and rituals seemed meaningless to me.
Will following these rules bring Mummy back? I asked no one in particular. Give me the chance to say a last goodbye? Hug her tight and give her a kiss on her cheek? Resolve our last argument? I will gladly give up all of these things forever and more if the universe promised to return my mother.
Mom went away suddenly; I never understood why. I wasn't about to lose control of my identity or myself to societal nonsense. I not only wore colors but also participated in every ritual. While my family and I had the support of friends and several members of the extended family, I needed to step-up and be there to protect my Mom and her memories. Make sure no one thought my father was alone and vulnerable.
Through customs, traditions, loss, grief, shock, solitude, and a 15-hour flight, despite being the youngest in my family, I aged by 40 years. I had a new role now: gatekeeper of my family.
I didn't permit myself to shed a tear when I found out that you couldn't wait for me. My eyes remained quiet when I saw you directly in the morgue after a 15-hour flight.
You looked so peaceful; there was unrest in my heart. Next morning, I didn't blink when dressing you up as a bride, applying lipstick to your cold lips with my bare hands, worrying about hurting your beautiful eyes while lining it with kajal. I begged the universe if I could trade my beating heart for yours.
Embracing wordlessness, I helped Bhaiya and others lift up your body and carry it on our shoulders.
I stared directly at you as we put ghee and honey in your mouth, Agni engulfed your body. Take care of my Mom, I whispered. In a few minutes, you were gone. We collected your ashes and bones and put them together with your memories in an urn; I put a lid on my emotions. I emptied your suitcase—the one filled with beautiful clothes for your upcoming vacation.
I wondered if you knew that you would never see home or 'Headed for heaven' wasn't just a play on words by the universe. My heart felt knotted up, like yours.
Poetry saw my flooded eyes on quiet nights, but I didn't cry in front of others. But, on our way back to New York, when the immigration officer asked, 'Reason for your India visit,' I said, 'My mother passed away.' He put a sticker on my passport; I didn't need to fill up an immigration form. I called up Bhaiya, 'We've been labeled.'
I washed the airport in the Indian capital with my tears.
This is a poem I wrote to my Mom right before I boarded the plane back to NYC, explaining the unseen side to loss. While my Mom reads my poems in her new world, I retrieve her voicemails on my iPhone. The days when even poetry can't save my tears, I listen to her voice to find strength.
—
Author Bio: Sweta Srivastava Vikram, featured by Asian Fusion as "One of the most influential Asians of our time," is an award-winning writer, Amazon bestselling author, novelist, poet, essayist, columnist, educator, and marketing consultant.  Born in India, Sweta spent her formative years between India, North Africa, and the United States.
She is the author of five chapbooks of poetry, two collaborative collections of poetry, a novel, and a nonfiction book. She also has two upcoming book-length collections of poetry in 2015. Her work has also appeared in several anthologies, literary journals, and online publications across nine countries in three continents.
Sweta has won three Pushcart Prize nominations, Queens Council on the Arts Grant for BYOB Program, an International Poetry Award, Best of the Net Nomination, Nomination for Asian American Members' Choice Awards & Independent Literary Awards, and writing fellowships. A graduate of Columbia University, she lives in New York City with her husband and teaches creative writing across the globe & gives talks on gender studies.
Find out more about Sweta on her website: www.swetavikram.com
Category: Being a Writer, Contemporary Women Writers, On Writing