I couldn't believe I was back there again!  It had been years since I found myself doing laps around the kitchen compulsively looking for the next bit of comfort food to stuff in my mouth.  It had been ten years since that desire to binge swept over me like a tsunami.  Actually, it had been since my divorce ten years earlier that I had abstained from emotional overeating.  I had thought those days were over.  I had thought that my divorce was the cure for my unhappiness and the antidote to my binge behavior. I guess I had thought wrong!
Forcing myself to stop before the excess calories and self-loathing set in, I had to ask myself, "What is going on?"
The truth – my truth – popped up in minutes.  My friend and mentor Debbie Ford had passed away from cancer months earlier. Debbie was a best-selling author and founder of The Ford Institute which teaches personal growth and transformation and offers life-changing workshops and programs.   Debbie had left her business to me and a fellow Ford Institute staff member.  It was an amazing honor as well as a daunting responsibility to step into the shoes of someone who was so loved and admired. Perfectionist that I am, I dove right into running the business and keeping the legacy of Debbie's work alive.  I was scared to death I would be rejected and embarrassed or that I would fail.  I worked 24/7 trying to prove my worth to others, all along doubting it myself. The task at hand was not only stirring up lots of issues in terms of my confidence and self-worth but also in terms of my identity.  Internally, I started grappling with a well of issues and emotions. Was I living someone else's vision or my own?  Was this something I wanted to do or felt obligated to do? Had I ever stopped and asked myself, "Is this right for me?" or did I just jump into doing what I thought was right and trying desperately to get it right?
As I looked around at my life, I could see that there were other instances where I was caught up trying to do the "right" thing or what I thought was expected of me, other places I had totally lost sight of what was right for me.  Once again, just like in my marriage, I was stepping over my truth and sidelining my desires. And, as a result, my impulse to self-soothe or self-sabotage with food was taking over.
At that moment, a bell went off in my head.
It was not my divorce that had been the catalyst for me to stop emotional eating. It was being out of integrity that was the impetus for me to engage in self-sabotage.
In that moment, my first book, which I always thought would be titled "The Divorce Diet," morphed into "The Integrity Advantage."
In that moment, somewhere between rummaging from the refrigerator to the cabinets, I realized the connection between integrity, self-worth, and self-sabotage.
Being out of integrity launches us into a downward spiral.  It leads to feelings of shame and unworthiness which leads to self-sabotage and making choices not in our highest.  These can generate greater feelings of being out of integrity and unworthiness, leading to more self-sabotage, and the spiral continues straight into a dark abyss. Yet, the moment you declare "Enough is enough!" and focus on who you want to be in that moment, the downward spiral becomes a shooting star. Just like being out of integrity breeds more of the same, so does being in integrity.  It builds on itself. The internal integrity alignment monitor that we all have guides us to make high-level choices which fuel our feelings of worthiness and our desire to make high-level choices.
I also realized that there was actually a blessing in my binges, since anytime I had the impulse to binge, it was actually my integrity alignment monitor telling me that something was off…that somewhere in my life I was stepping over my truth, compromising myself, playing it safe or small, or accepting the unacceptable.  It was a signal that I needed to find out what was eating me, so I wouldn't eat over the issue!
Before, the word integrity had always felt like something that some people had and others did not.  It was something that people needed to do to get into integrity.  But, now I know that integrity is inside each of us.  It is not something that we have to do but who we are.  And most importantly it is not a destination, but a way of life!
Once you commit to integrity as way of life, everything becomes clearer and easier. You feel worthy of having and being more and you will allow yourself to create more passionately, play more joyously, love more open-heartedly, and live more abundantly.
My hope is that the reader will see themselves in this book and it will make them laugh, think, and open up to new possibilities.  I want them to see that there is another way.  Suffering, struggle, and self-sabotage are optional. Life can be easy and there is such a thing as self-love. After years of trying to fix and change myself on the outside, I have realized that transformation happens when we learn to love and honor what is in the inside. Learning to always take that U-turn back to myself and live in harmony with my integrity alignment monitor has given me a life I love. It has always been my passion to share with others what was given to me – the gift of liberation. I hope this book inspires people to take back their power and free themselves of outdated beliefs and behaviors that no longer serve them so they can feel open and empowered to step into their truth, love their life and claim their magnificence. That is The Integrity Advantage!
About the Author:
Kelley Kosow is the author of The Integrity Advantage: Step into Your Truth, Love Your Life, and Claim Your Magnificence (Sounds True; November 2017). Lawyer turned Master Integrative Life Coach, Kelley is a motivational speaker as well as CEO and program and workshop leader of The Ford Institute, a personal development organization that has helped tens of thousands worldwide. For more information, please visit http://kelleykosow.com/ and follow Kelley on Facebook, Intstagram and Twitter
About THE INTEGRITY ADVANTAGE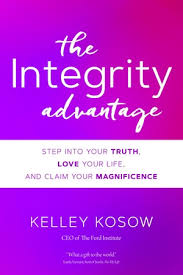 Are you ready to open up to new levels of self-trust and self-love, to get where you want to go?
You vowed to speak up at work, and then sat silent in the meeting yet again.
You told yourself "this time the diet is going to stick," only to watch the scale inching up.
You felt that something just wasn't right about someone that—until you learned the hard way that your instincts were right.
"Every time you bite your tongue," teaches Kelley Kosow, "you swallow your integrity."
Before Kelley Kosow was a renowned life coach and CEO, she constantly second-guessed herself, let her "to-do" lists and others steer her dreams and passions, and played it "small and safe."
Inspired by the groundbreaking principles of her renowned mentor Debbie Ford, who hand-picked Kelley to be her successor, The Integrity Advantage is Kelley's step-by-step guide for facing the fear, shame, and false beliefs that cause us to lose our way.
Through life-changing insights, true stories, and proven strategies, this book will show you how to live on your own terms—according to you—from the inside out.
Join this transformational leader and motivational speaker to learn how to:
• Connect with your inner truth and keep it growing stronger day by day
• Level up your self-love and self-trust to get where you want to go
• Embrace the totality of who you are
• Turn the tide on mediocrity
• Break free of the "gravitational pull" of your past
• Get fearless and excited about moving outside of your comfort zone
• Stop living from your "to-do" list and start living from your "bucket" list
• Become the person you want to be
Every day, we make promises to ourselves, and then we break them. But it doesn't have to be that way. If you're ready to stop fighting with yourself, start trusting your deeper wisdom, and return to wholeness, this is the book for you.
Category: Contemporary Women Writers, How To and Tips