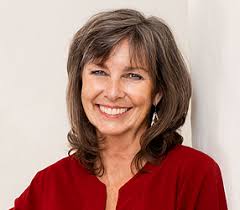 As an author of a self-help book, I've done my best to share and live what I have learned about gathering calm around me during times of change. Feeling exposed, definitely not a calm feeling, has been my most prevalent emotional state as I've stepped into this new role of published author. Last month, a chill of recognition traveled throughout my body when I read this quote by Michael Meade: "A true calling involves a great exposure before it can become a genuine refuge."
Meade's words promised something I've been craving for weeks—the haven of writing that I've somehow lost in this almost two-year process of writing, publishing, and promoting. Writing—my place of illumination, self-reflection, poetic reverie, and immense healing—had become a dreaded chore. His invocation also awoke my buried knowing that writing has always taken me to a place of peace and awareness. A doorway opened into this article. By publicly admitting the seemingly overflowing creative well I'd so relied on had run dry—perhaps I could summon up its sustenance again, heal myself once again, do for myself exactly what I've shared with others.
For how could writing have become a chore when I'd experienced the sometimes uncomfortable yet joyful reality of writing toward my publisher's deadline, holding the published book in my hands while stroking its velvet-like cover? The reader's comments acknowledging that I'd accomplished what I'd imagined for so long?
Paradoxically, this new exposure as an author has been surprisingly good for me. When what I describe as the "book talking to me" reminded me I'd left out a pivotal yet traumatic personal story, it was an illuminating ah-ha moment, a challenge that literally shifted me and the entire book into better versions of ourselves. The manuscript became alive, opening up its outdated outline to embrace what came my way through other stories and wise words of family, friends, and clients. I was surprised at the intensity of somatic recall and how my body's pain was a message that helped me release physical constrictions and suppressions, grateful for the three physical therapists whose magical hands enabled me to sit in the chair and finish the book.
The many edits required were also amazing if uncomfortable shifts brought on by allowing the input of others to bring the book into harmony with my original intentions. I call my muse Jagged. She is a long-haired, wildish-looking woman whose name literally jumps off the page when the rhythm or coherence or meaning is jaggedy, not flowing, stuck on word choice or forgotten grammatical rules, disruptive vagueness or forgetting the hidden poetry in the prose. Editors and proof-readers heard what I had missed and gathered all the waywardness within the paragraphs to make the book sing. Personally, for the first time I felt the immense reassurance brought about by a professional team "having my back" through such a rigorous process.
The feeling of "great exposure" came as I stepped gingerly and reluctantly into the publicity aspect of promoting the book. Even as I daily reminded myself that social media was not about me, it was about the book, I woke every morning in a vulnerable state. I felt caught in publicity's powerful undertow—sweeping me away from the present, its constant pull alluring, necessary, yet physically and emotionally draining. And despite this "great exposure," I've continued learning, continued promoting, and experienced how my wonderful publicist, articles and guest blogs, boosted posts, being 'found' on Instagram, and word-of-mouth have honored the book's message.
At the end of January my husband and I listed our home for sale, his retirement calling us to a six-month adventure/sabbatical via a travel trailer. Six weeks later our sanctuary of eight years sold (furniture included).
As we step into this long-held dream full of both exciting and terrifying unknowns, I'm feeling pushed and pulled now by two undertows—my responsibility to the book's journey into readers' hands, and this huge letting go of home and belongings. Admitting to myself that I just can't muster the energy and time needed to do both well, I am choosing to let go of both, the writing of these words an act of fierce self-care as I break from the contradictory pulls and make my way to the surface, able to breathe and see clearly.
To do what is necessary to leave the life we've had and set off in our trailer named Imagine, to allow the momentum to carry us and The Book of Calm into the future. It is, as a friend said yesterday, such an opportunity to gather more stories. I'm keeping that thought in a file called Later. After all the doing, it's a time for being. For calm, and genuine refuge.
—
Nancy G. Shapiro advocates calm as Professional Certified Coach, author, blogger, and workshop leader. Her expertise is supporting people through the inevitable shifts of personal and professional transitions while celebrating their resiliency, spirit, and wisdom. Nancy lives with her husband in San Miguel de Allende, Mexico.
Website:
Facebook:
https://www.facebook.com/nancygshapiroauthor
Instagram:
nancygshapiro
About THE BOOK OF CALM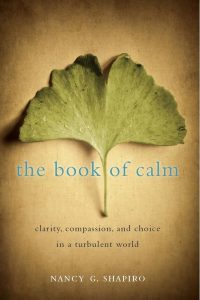 Using real-life stories, scientific concepts, and awareness tools, The Book of Calm challenges the constraints of inevitable change and turbulent events with a dynamic stance of clarity, compassion, and choice.
Transitions expert Nancy G. Shapiro moves gracefully and deliberately through subjects as diverse as welcoming paradox, fierce self-care, power and conversation, and the difficult task of connecting with others when faced with our thousand-fold differences―providing convincing evidence that people stuck in fear or indecision can experience profound insights, break harmful habits, and move into their own wisdom by letting go of old beliefs.
Inspiring and compelling, The Book of Calm supports readers to reimagine and renew their lives and their place in the world by transforming patterns within thoughts, language, and behaviors―one person, one family, one community at a time.
Category: Contemporary Women Writers, On Writing