Like most authors, I use pictures as inspiration when I'm working on a story. I create a Pinterest board for each work in progress that helps ground me in the details of the story: setting for different scenes, objects that have significance to the characters, animals, etc. The one thing I stay away from though: people.
Several years ago, I was tagged by a friend on Facebook to play along with a popular game to "cast" the movie version of my work in progress. What fun, right? I mean, seriously, what writer hasn't fantasized about her book being turned into a movie? But actually assigning a real person to my made-up person? Yeah, no, I couldn't go through with it.
Another friend who'd been reading an early version of a manuscript, sent me an email with a photo. "This," she insisted, "is your main character's husband." I almost broke my index finger slamming it onto the delete button.
I even stay away from Pinterest boards or Facebook posts by other authors when they post pictures of their characters.
I don't want an actual face for any one character as I'm writing (or reading).
Why?
Because book people live in my head. They are who I imagine them to be. They are a mish-mash of people I know, people I've crossed paths with, people I want to know (or sometimes wish I didn't know). They don't look or sound like one particular person.
Don't get me wrong, I know what my characters look like. I describe them for my readers. But how I interpret those features will be different from how you interpret them, for example. I will see the face that I need in order to process the emotions the scene creates. It will be my unique experience.
More than that, though, each character is an extension of me. None of them are me but most take a little something from their creator. My characters can do things I can only dream about doing. Through them, I can become someone else for that period of time. Through their emotional journeys, I can release my own fears and heartaches and dreams.
My worlds collided during revisions on Carousel Beach. I was on the downward slide of an emotional rollercoaster and facing a particularly tough scene to edit. Heart pounding, tears streaming, I wanted to retreat, to make it easier for both of us. Instead, I tapped into my insecurity and hurt and upped the emotional stakes of what my character was dealing with. There wasn't a shred of commonality between her situation and mine, yet when I finished revising the chapter, I felt a peace and clarity that surprised me.
In The Distance Home, the main character faces a crisis with her childhood best friend. As I wrote her through the ups and downs, to confronting her hurt, and finally a resolution, I found the answers to a relationship I was having difficulty extracting myself from.
The characters became who I needed them to be as we both sorted through our complicated situations.
The intimacy that I share with my characters is mine alone. Yes, I write my stories for others to read; yes I hope that the lessons that have impacted my characters will also touch readers. But who I see as I read won't be who the reader sees, and the emotions that come to the surface for me will be different from those a reader identifies with.
Whether I'm writing or reading, I hear the voices of the different characters in my head. What my emotions will be toward the character or the scene will depend on my interpretation based on where am I in my life.
Stephen King wrote: "Description begins in the writer's imagination, but should finish in the reader's."
As a reader, I want the author to give me hints about how characters look and act. I don't want their image of the character coloring how I see them. And as a writer, I don't want someone else's personality to influence how I treat my characters.
If you visit my Pinterest boards, you'll find images of sheep and horses, of rolling hills and crashing waves, of carousels and yarn. You won't find any of the people who live in my books.
Why?
Because they live in my head and in my heart. I see their faces when I close my eyes and I hear their voices when I stop and listen. I hear their stories and share their happiness and heartbreak. They live in me. And, hopefully, in my readers.
About Orly
Orly Konig is an escapee from the corporate world where she spent roughly sixteen years working in the space industry. Now she spends her days chatting up imaginary friends, drinking entirely too much coffee, and negotiating writing space around two over-fed cats.
She is the founding president of the Women's Fiction Writers Association, a member of the Tall Poppy Writers, and a quarterly contributor to the Writers In The Storm and Thinking Through Our Fingers blogs.
Her debut women's fiction, The Distance Home, released from Forge May, 2017. Carousel Beach will release May 8, 2018.
Connect with Orly online at:
Website: www.orlykonig.com
Facebook: https://www.facebook.com/OrlyKonigAuthor/
Instagram:  https://www.instagram.com/orlykonig/
Pinterest: https://www.pinterest.com/orlykonigauthor/
Goodreads: https://www.goodreads.com/OrlyKonig
Twitter: https://twitter.com/OrlyKonig
About CAROUSEL BEACH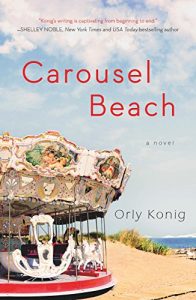 A cryptic letter on her grandmother's grave and a mysterious inscription on a carousel horse leads artist Maya Brice to Hank Hauser, the ninety-year-old carver of the beloved carousel she has been hired to restore in time for its Fourth of July reopening in her Delaware beach town. Hank suffers from Alzheimer's, but on his "better" days, Maya is enthralled by the stories of his career. On his "off" days, he mistakes her for her grandmother—his secret first love.
While stripping chipped layers of paint from the old horse and peeling layers of fragmented memories from the old man, Maya untangles the intertwined secrets of love, heartbreak, and misunderstandings between three generations of strong willed women.
Category: Contemporary Women Writers, How To and Tips