Being an estate agent for decades before I took my writing seriously, I have come across a variety of spaces that the owners have turned into offices. Sometimes they've squeezed a desk and computer into the cramped space under the stairs, or spread out in an enormous artificially-lit basement or high up in an attic; they've taken over a spare bedroom, or made room on the kitchen or dining room table. Outside, they've transformed sheds, had flat-packs delivered for purpose-built offices, or bought a refurbished shepherd's hut. But I've never seen my dream writing place – a converted carriage from an old train.
When my husband and I moved four years ago to a rambling bungalow I noticed with glee that there was a studio over the top of the double garage. Mine, I thought. Then my sister reminded me how accident-prone I am. She said, 'I can just imagine you going up and down the ladder stairs carrying an armful of files and books and falling. No. What you want is the workshop.'
The workshop was what sold the house to my husband. It's long and narrow (not far off the proportions of a railway carriage) with workbench and cupboards for tools. When I told him I wanted it for my writing space he was quite upset, but finally relented. I got my trusty carpenter in and a week later it was transformed from a rusty, dusty, raw, freezing cold building to a cosy, fully insulated and welcoming writing retreat. As you come through the door there's a sofa and comfortable chair, my radio, little tables and a cupboard holding books and DVDs. That's where I sit when I have coffee, when I'm working out a plot, when I'm doing the first read-through of the manuscript to see if it holds together, and most importantly, when I have writing friends over.
There's a painted folding screen which divides the space from 'leisure' to the serious working area, and if I wasn't convinced, there's a notice on one of the beams which is a replica of a sign in RAF Duxford in the 1940s: OPERATIONS ROOM. This is where I have my computer, bursting bookshelves, cupboards of books, long worktops to spread out the chapters, shredder, printer, concealed filing drawers – all helping me (I hope) to feel inspired.
When I step into my cabin I'm happy and ready to go!
So does it matter where you write?
Well, yes it does. If you think you have to be in your special writing place every time the Muse strikes (and even when it doesn't!), you're in danger of becoming inflexible and missing some wonderful writing opportunities. You could be happily writing on aeroplanes, trains, ships, relaxing by the pool, in the doctor's and dentist's waiting rooms, all those hours in the hairdresser's waiting for the highlights to 'take'; in fact, anywhere where you can use a pen and paper. Your writing muscle will get used to producing good and exciting work in different places and environments, so you won't have the excuse that you've had no time to write that day.
The added bonus of writing in different places is that you can so immerse yourself into your surroundings that you actually become part of your story. I wrote a trilogy called: The Voyagers, and the cargo ship I used in Book 2: Juliet's Story, was heavily based on the freighter I went on in order to do the research. As I struggled up the gangplank in heels, berating myself for not wearing the right footgear, yet storing the nugget away that I'd have my heroine make the same mistake, I actually 'became' Juliet of the novel. It was a weird feeling but so easy then to write those on-board chapters from her viewpoint.
I once took a trip along the Silk Road by train, taking a month. It inspired me to begin a rom-com where half the novel takes place on a Russian train. On the journey I kept a daily diary full of the sort of details you wouldn't find in normal guide books (mostly the characters on the train, and the train itself), so when it was time to start writing chapter one, I had first-hand information. The train is so integral to the story that it's become a 'character' in its own right.
So don't tie yourself to that one place. Your imagination might well be fired up by writing in a totally different environment.
Oh, is that my railway carriage being helicoptered into the garden?
—
DENISE BARNES has unpacked her suitcase in several countries, selling lipstick in a Denver store, modelled in Atlanta, assisted the UN Narcotics Director in Geneva, chauffeured a Swiss multi-millionaire in Zurich, assisted a famous film producer in the UK, and cooked in a sanatorium in Bavaria. These life-changing events have found their way into many of her stories, both fiction and non-fiction. In 2008 she self-published from Bad to Wurst: Bavarian Adventures of a Veggie Cook, a light-hearted travel memoir of her experience in Germany in the seventies.
Denise set up and ran her own chain of estate agents for 17 years and in 2005 sold (unwittingly!) to two conmen. She wrote her nightmare story Seller Beware: How Not To Sell Your Business, as a warning on how easily one can be conned (Biteback Publishing 2013).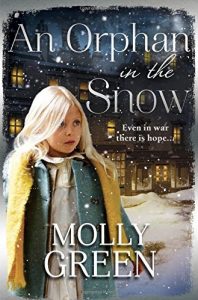 The Voyagers trilogy – a saga stretching from 1913 – 2012 was written under the pseudonym Fenella Forster. Book 1: Annie's Story (pub. 2015) and Book 2: Juliet's Story (pub. 2016) are both set mainly in Australia in 1913 and 2005 respectively. Book 3: Kitty's Story (pub. 2017) is set mainly in Cairo in 1941. Each novel is a standalone although they are linked by the family generations.
Denise contributed to the USA best-selling 'Chicken Soup for the Soul' series in their anthology The Joy of Less (pub. 2016). Denise's story, 'The Challenge', was a featured highlight of 'Good Morning, America'.
Last year HarperCollins asked her if she would write a series set in an orphanage in Liverpool in WW2 and she jumped at the opportunity. Under the pseudonym Molly Green, the first is An Orphan In The Snow (pub. 30 Nov 2017); the second is An Orphan's War (pub. May 2018); and the third is An Orphan's Wish (pub. end 2018).
As a full-time writer she now lives with her husband in a village near Tunbridge Wells, Kent and is lucky to have a writing cabin in the garden, where she is ably assisted by her adorable rescued white cat, Dougal.
Visit Denise's website at www.denisebarneswriter.com, and you can follow her on Twitter @denisebarnesuk.
Category: Contemporary Women Writers, On Writing