The wise say that inspiration strikes at the oddest of hours and in the most unexpected of places. They are right. Inspiration can be found in our dreams, in a cup of tea, in conversations, in public transport, or even in the middle of a natural disaster
. And when you find that muse, there is a restlessness and an inability to close off. 
What happens next depends a lot on the environment and support the writer is presented with.
In spring of 2010, I was stranded in Ireland because of the mayhem caused by volcanic ash starting out of Iceland. Flight cancelations, airport closures, and zero hotel availability meant forced change of plans. Instead of my husband joining me in Dublin on his birthday, he was stuck in NYC and I was in Ireland with no place left to go.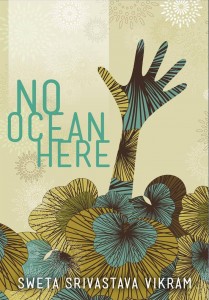 But, an angel at my writing retreat in Anam Cara, Cauvery Madhavan, an Indian-Irish novelist, took me home. She cooked me fresh meals and tried to not let me worry about anything. She insisted I stay with her and her family until such time either I was able to get back to New York or my husband was able to join me in Ireland. While at Cauvery's, I wrote, pitched, and sold personal essays, travelogues, and poems to several magazines and journals—based on my extended stay in Ireland and the revelations around it.
Friedrich Nietzsche was accurate in saying, "Poets are shameless with their experiences: they exploit them."
The experience with Cauvery and her family made me realize that even though I had found inspiration in such an odd situation, I was able to follow through with my creative ideas only because of her backing.
As writers we ourselves don't know when and how inspiration will strike us. I distinctly remember it was the holiday season of 2012. We had family visiting us from out of town. My husband and I decided to take them to see the Rockefeller Tree, spend some time in Bryant Park, and soak in the New York festivities. The party and people-loving person in me had a great time with the family; but, on a subconscious level, the poet in me was still consumed with the stories of women I had written about in my then upcoming collection of poetry, "No Ocean Here."
Did being happy make me feel guilty? Did being in the festive places trigger any memories of the stories the victims had shared? I don't know. You see, as writers and poets, sometimes, sadness and stories chase us and not the other way around.
I wanted to make sense of the tsunami of emotions bothering me. Since I don't exactly have a poker face, my husband could tell something was bothering me. But I didn't say a word at that time. However, I offered to pick up dinner from a restaurant, which was out of the way.
While the cousins insisted they didn't want me to go alone, my husband made an excuse and took them home. I still remember it was a cold night. I picked up dinner, sat at the bus stop, and cried. I had never felt such sadness before but then I hadn't written about such intense topics before 2012.
Once I felt a bit more settled, I went back home. I had a great time with the family. Later that night when I told my husband what had transpired, he patiently asked, "Are you okay? What can I do to make you feel better?"
While being a writer isn't an easy task; being around a writer is equally, if not more, difficult because we creative types are often emotion-driven. The frail egos can be difficult to deal with. The insecurities and uncertainties attached to the profession can make us temperamental. We can be a bit selfish—in that, we tend to only acknowledge our journeys.
We victimize ourselves and think we are always "misunderstood." So, in trying to make sense of the effect our profession has on us, we get consumed by our own "stories." I've seen many artists and writers use their artistic license to not claim responsibility for anything.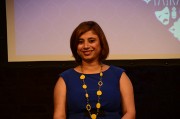 I am where I am in life—9 books and 2 (upcoming)—because of the tremendous amount of faith & support on a personal level aside from hard work & dedication. Be it my husband or close friends or family, they've never let me down whenever I have needed them.
Whether or not they understand "the process" or artistic happenings in a writer's life, they care about me. They have been there for me through dark moments to book launches to award nominations to rejections. They've believed in me on days I didn't think I could do it.
The older we get, the list of people we can rely on gets shorter. But how often do we tell our stalwart supporters how much they mean to us?
If you have someone, even if one person, who says, "I believe in you" on the days you don't want to even get out of bed, cherish them. Learn to appreciate and nourish relationships that nurture you, not the ones who suck you dry. I think it is incumbent upon us artists and writers to recognize and acknowledge the guardian angels in our lives.
—
Sweta Srivastava Vikram www.swetavikram.com is an award-winning poet, writer, novelist, author, essayist, columnist, and educator. Born in India, Sweta spent her formative years between India, North Africa, and the United States. She is the author of five chapbooks of poetry, two collaborative collections of poetry, a novel, and a nonfiction book.
She also has two upcoming book-length collections of poetry in 2014. Her work has also appeared in several anthologies, literary journals, and online publications across nine countries in three continents. Sweta has won three Pushcart Prize nominations, Queens Council on the Arts Grant for BYOB Program, an International Poetry Award, Best of the Net Nomination, Nomination for Asian American Members' Choice Awards & Independent Literary Awards, and writing fellowships. A graduate of Columbia University, she lives in New York City with her husband and teaches creative writing across the globe & gives talks on gender studies.
You can follow her on Twitter @ssvik or Facebook Words.By.Sweta.
Category: Being a Writer, Contemporary Women Writers, On Writing