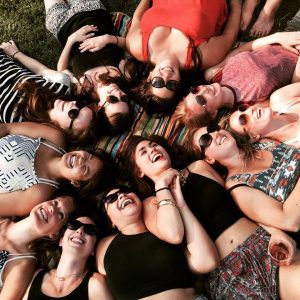 My phone vibrates and dings, the sound so frequent that it's almost playing a tune. The rhythm is unsteady, yet familiar. A ding here, a ding there.
Two dings back to back, and then one a few seconds later. I know exactly what I'll see when I pick up my phone: messages filled with party popper emojis, dancing gifs, and more exclamation marks than one can even count.
Because that sound of multiple dings is the call of the clique (a name given to us by one of the boyfriends). It's the group text in which we celebrate everything — including our friendship.
A warm fuzzy feeling comes over me as a scroll through the messages of love, positivity, and support. It's the same feeling I want my readers to feel when they're holding my book in their hands.
While the story of The Young Wives Club revolves around four brides and their relationship ups and downs, I didn't want the book to be about love — it's a novel about friendship and girls having each other's backs.
Don't get me wrong, I love a romantic story (I'm a Libra after all), and I'll happily indulge in a good catty girlfriend drama (Mean Girls is one of my faves.) But when I sat down and thought about what I wanted this book to be about and what I wanted readers to take away from it, I kept going back to those text messages from my clique.
I wanted to make the book an ode to girlfriends — the ones who lift you up and make you a better person… the ones who make you realize what friendship truly is.
I feel stronger with my friends than I do as an individual, so I set out to make sure my characters felt the same way. My one rule: I never wanted any of my girls to deliberately hurt one another. After all, as women, we have enough to fight right now that we don't need to be fighting each other.
Of course, as every friendship goes through stages and has its own struggles, I wanted to make sure it wasn't all sugary sweet in the book. Two of the characters have a bump in their relationship, but I made sure to make it a misunderstanding out of love, not hate.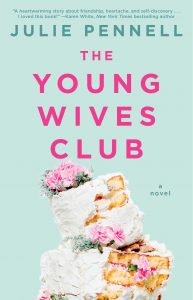 One of my favorite parts about being a writer is having this almost magical ability to make things come to life. If I want a wind chime to sing, I'll make it move. If I want it to rain, I'll open up the sky. And if I want to show unconditional love, I'll turn characters into friends.
That's the beauty of writing fiction: we have the power to choose what happens, just as we have the ability to choose who we let into our own lives.
My friends are my rock. I wouldn't have been able to write this book without them (so many heart emojis and messages of encouragement in the group text, I could cry…) And as I wrote, I found myself unintentionally bringing these characters to life with my friends' quirks, personality traits, and loving gestures.  
Perhaps that's why I wanted to become real-life friends with these fictional people. And maybe that's why I sometimes referred to them as real humans. "I'm hanging out with Gabby today" was code for "I'm writing Gabrielle's chapter." (Please tell me I'm not the only one who has done this…)
I wrote scenes that made me laugh with them, cry with them, and even cringe with them. The girls borrowed each other's clothes, made silly jokes, and threw crumpled-up straw wrappers at each other from across the table. They hugged each other to take away the pain. They shared memories over meals, confessed their biggest secrets, and tried to figure out life together… all things I've done with my own friends.
These were just figments of my imagination, yet they felt so real.
There have been so many amazing books about female friendship through the years. From Ann Brashares' The Sisterhood of the Traveling Pants (my teenage favorite), to Kate Jacobs' The Friday Night Knitting Club (which is sitting on my nightstand begging me to hurry up and finish this essay so I can continue reading it), I'm in awe at some of the kickass girl groups I've read about in literature.
Behind each of those books, though, I'm sure there is a group of friends cheering on the author… or at the very least, texting her a champagne bottle emoji.   
—
Julie Pennell grew up in Shreveport, Louisiana, where she ate her weight in crawfish, used the word "y'all" a lot, and wrote a weekly Teen Scene column for the local paper. After graduating from college, she moved to New York to work at Seventeen magazine and later Alloy Entertainment as a digital editor. She lives in New York City with her husband and is a regular contributor to Teen Vogue, TODAY.com, and The Nest. The Young Wives Club is her first novel.
Connect with her on Twitter and Instagram @juliepens or her website, 
About The Young Wives Club
In Toulouse, Louisiana finding your one true love happens sometime around high school. If you're lucky, he might be the man you thought he was. But as four friends are about to find out, not every girl has luck on her side in this charming debut novel perfect for fans of The Divine Secrets of the Ya-Ya Sisterhood and Desperate Housewives.
Category: Contemporary Women Writers