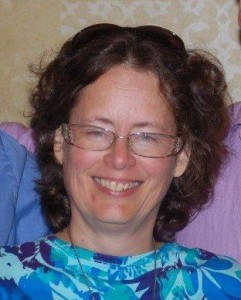 I've heard that it takes twenty years before a veteran can write about war. It took me twenty-five.
This year marks the twenty-five anniversary of the first Persian Gulf War, Desert Storm. I was one of the 40,000 women who deployed, an enlisted soldier in the Army. At the time, I'd also already been writing fiction for years.
When I came back, everyone asked me, "What was it like?"
My mind was a blank. I didn't know how to answer the question, so my default answer was "It was hot."
War is such a big experience that it's like when you take a bad blow to a part of your body. There's a part of your brain that's trying to get you do something, but it's buried under this other part that can only think about how much it hurts.
A year later, I wanted to write a book about my experiences. While I was in the Gulf, a friendship had self-destructed because of the war, and I thought that would make a good story. At the time, I didn't realize I was also trying to use the book as therapy.
That's not a good reason to write one. It doesn't make for a good story.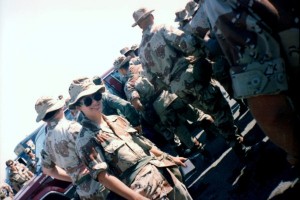 My muse must have agreed. I couldn't write it. I'd do three or five chapters, and the book would stall out. I revisited it over the years, with the same result. I couldn't seem to wrap myself around how to tell it.
So I tried it as a novel. But I couldn't separate my experiences from the story, which I needed to do to tell the story. The experiences controlled the direction of the book, not the story.
Eventually all the projects were shelved.
But I found the war creeping into my fiction. My fantasy stories got very dark. The character's problem would be resolved, but often, there was no resolution for the bigger story problem.
That was like war. Something terrible can happen, and your only choice is to survive and come home.
I didn't know I was writing so dark until my writing group pointed it out. Then I did a review on Phil Clay's Redeployment, and it was a struggle to get through the book. It was so dark that it made me realize I did not want to write that way.
My fiction needed to be enjoyable. That was why I wrote. I wanted my stories to be somebody's favorite book. So I've had to consciously make an effort to not write dark stories. I've abandoned a number of ideas because it was obvious they would veer dark. I've also redrafted stories that started to slide into that direction, and stayed away from anthology calls for dark speculative fiction.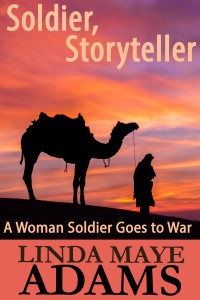 At the same time, I was trying to find my voice in my blog. It was struggle because none of the traditional advice works for fiction writers. I felt like I was constantly reinventing myself and getting crickets. So I tried anything.
Then I noticed two posts keep turning up in the top ten. They were both posts I'd written on the military, uniforms and hair for women.
It surprised me that people wanted to read about such ordinary things, but I started writing posts about living in the barracks, the food, and even about moving. The blog started to gain interest.
It seemed natural to start posting about Desert Storm. The blog posts had a curious effect because they were short. It compartmentalized each topic. I could break parts down into what it was like to learn we were going to war; what going to the latrine was like; etc.
The schedule I was following also was a big influence. I started posting in October, and I followed the timeline of my deployment. Because not everything fit nearly into the timeline, I left some events out because they didn't fit the direction I was going.
Suddenly I was telling a very different story than if I'd written it a year after the war. Gone was the friendship that self-destructed. Instead, it answered the question I'd been asked: What was it like?
Halfway through the blog posts, it hit me: This is a book. It became the book Soldier, Storyteller: A Woman Goes to War.
It was actually the project that pushed me in the self-publishing direction because the anniversary was coming up. Oddly, I had to tell myself that the first step wasn't that scary because I'd survived a war!
Time has a very strange way of changing one's perspective.
—
Linda Maye Adams was the least likely person to serve in the Army and ended up in the first Persian Gulf War when it was still new and strange for women to be at war. She is originally from Los Angeles and now resides Washington, DC. She has been published in Enchanted Spark, Fabula Argenta, and Tales of the Talisman. Visit her website at http://www.linda-adams.com/
Category: On Writing