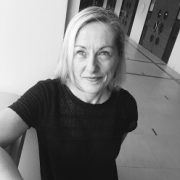 My "difficult second novel," as yet unpublished, bears the rather ambitious title The History of the World in Pop Music. It's not actually a history of the world in pop music, it's the story of a girl growing up in an Irish Catholic family in Liverpool in the 1970s who discovers that the stepfather she hates may have had a hand in the death of her real father.
And yes, I did grow up in an Irish Catholic family in Liverpool in the 1970s and I did draw on my own childhood for the background to this story: there are crazy convent-grammar-school nuns, there are platform shoes and flared trousers, there are summer holidays in an Irish village. But the story is fiction: I didn't have a stepfather, and the circumstances of my own father's death were far from mysterious.
I'd be lying though if I said that my difficult relationship with my father wasn't reflected in the book. In fact, the driving force behind everything I write is my need to explore how relationships between parents and children can break down and how they might be redeemed.
So where does the pop music come in?
I'm in my fifties now, and pop music still means as much to me as it did when I was a nine year old in love with Donny Osmond. I still go to gigs, still buy music, and the chance hearing of a particular song on the radio can have me in tears or dancing round the room. No music no life, said the old Tower Records sticker. And it was this sentiment I wanted to convey in a novel. I wanted to write a story that had a pop music soundtrack, where music would have a deep emotional impact on the lives of the characters.
I had the title The History of the World in Pop Music a long time before all the components of the plot came together. But this was a novel that would draw on my own life. And I was someone who loved music. I wanted to write my own version of Hanif Kureishi's The Buddha of Suburbia.
Well, there's plenty of pop music in the book. There's the childhood bedroom of the protagonist, Margaret, with walls papered with pop star posters, and a box record player with which to drown out the sound of her stepfather, Billy, singing his own brand of pop music—hymns and Irish rebel songs—in the bathroom. There's the forsaking of Donny Osmond for the Bay City Rollers, and then the advent of punk, with a key chapter where Margaret runs away with the lead singer of a punk band.
A freelance editor who critiqued the book liked the pop music theme, but she identified some major flaws in the plotting and structure that I know to be true, and they all stem from my inability to portray Margaret's relationship with her parents in an emotionally honest way. It's too close to the bone, and I don't know if I can find the courage to make the necessary changes.
But if the book ever does see the light of day, there's one passage I hope will stay. It was written after a real moment of pop-music–related redemption in my own relationship with the father I didn't get on with. After his death I found amongst his possessions a diary he'd had the year he was eighteen. In it were addresses, mainly of girls, and also of recruiting offices for the Royal Navy, which he would soon join. There was the occasional diary-style entry: Got a letter from Nancy. Answered by return post. Must write to Betty some day soon. And there were pages of lyrics of the popular songs of the day written out neatly in blotchy blue biro. "Your Cheating Heart." "Where is Your Heart?" "While We're Young."
For the first time I saw my father as a man with a life apart from mine, not simply as the tyrant of my childhood. And it inspired the following scene in the book, which takes place in the cabaret lounge of a Benidorm hotel:
One night they had a band, these old men in black suits and white shirts singing golden oldies. Mum and Billy knew all the words. Crooning to each other. Embarrassing. Funny isn't it, how we all have soundtracks to our lives. The songs that take us back to a place, a time, a feeling. We can all write the history of our own little worlds in pop music, whether the pop music is Donny Osmond, or punk, or Irish rebel songs, hymns even, or this old number about a cheating heart sung by a cabaret band in Benidorm which had Mum and Billy out of their seats and circling the empty dance floor in a kind of slow waltz while a couple of small children chased each other across the room. Mum's head was on Billy's shoulder and her face was dappled silver from the glitter ball. He had his arm wrapped round her waist and his head half buried in her hair and I knew, I was fourteen years old but I knew, that this was the kind of love you read about in romantic novels. The kind of love everyone dreams of but few people find. My mum had found it with Billy. And their love had a past brimming with times shared, songs sung, places visited, words spoken, and none of these things had anything to do with me.
—
Cathy Layne was born and grew up near Liverpool, but has spent the last twenty years living in Asia—Japan, mostly—and for the moment she calls Bangkok home. She has a degree in Modern Languages from Leeds University, and a Masters in Advanced Japanese Studies from Sheffield University. She has worked at two major Japan-interest publishing houses, where she devoted many years to acquiring and editing the books of others. Her own unpublished debut novel, You're Beautiful, was shortlisted in the Bath Novel Award 2016. She is represented by Zoe Ross at United Agents, London.
Blog: https://cathythewriter.wordpress.com
Twitter: @TheCathyLayne
Category: On Writing