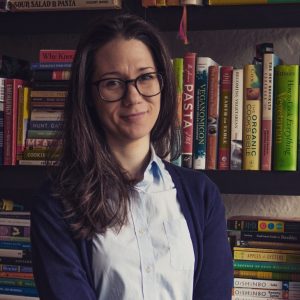 "You're a food nerd and a zombie nerd. You should write a cookbook for the zombie apocalypse." It was those words, from my dear friend Paul and the best idea man I know, that sparked the inspiration for my first book The Art of Eating Through the Zombie Apocalypse.
This was in 2008, and at the time I was doing freelance food writing and working as a chef instructor for private cooking classes. I had never even considered writing a cookbook. But Paul was right, I was a food nerd and a zombie nerd, so when he proposed a cookbook for the zombie apocalypse my nerdy-sense started tingling.
But let's rewind to 2001 for a second. This might be a good time to give you my "origin story," if you will, before we keep going.
It's late December 2001, where we find a college-aged Lauren Wilson at home for the holidays hiding away in a dark bedroom, holed up with a Playstation that she boldly confiscated from her little brother's sleepover. It is the dead of night and she is covered in Christmas cookie crumbs, un-showered, and completely obsessed with the newest rage in Survival Horror: Resident Evil. That was it. That was the moment she became infected with a rare strain of undead enthusiasm, almost instantly transforming her into a full-blown zombie nerd. She would proceed to devour most parts of the culture: from comic books to t-shirts, zombie walks to more video games, discussion boards to movies and television.
Back to 2008. Luckily, when Paul handed me this gift-wrapped gem of an idea, the undead were experiencing somewhat of a resurgence in pop-culture. Max Brooks' The Zombie Survival Guide had already become a New York Times Bestseller, while movies like Shaun of the Dead and 28 Days Later had brought zombies back to the silver screen in a big way. The fan-base for The Walking Dead comic book was growing at an infectious rate. So I knew that there was a mainstream appetite for zombie-related content.
And yet, as many creatives do with ideas, I filed it away under "Percolate" for the next two years. I still wasn't convinced that zombies weren't just a flash in the pop-culture pan. It was only when AMC's The Walking Dead premiered and proceeded to blow up in 2010 that I realized it was time to start working on the book idea in earnest.
It was now 2011 and I had decided to write a cookbook for the zombie apocalypse. But I had absolutely no idea how to go about doing it. I had no connections to the publishing industry nor did I have any idea what went into writing a cookbook. Rolling up my sleeves and starting from scratch was the best way forward!
I decided I wanted to go the traditional route in getting an agent and selling the idea to a publisher. I figured out that I needed a proposal, and what went into crafting a proposal.
The proposal process, from beginning to end, took a little over a year. Once I realized that writing a cookbook for the zombie apocalypse actually meant writing a food-centric survival guide, I had to go about learning all the things about survival and prepper culture. I didn't even know how to light a fire!  Fleshing out the book was a pretty research-intensive process. Once I had the bones of the book sorted and a finished proposal in hand it came time for the oh-so-intimidating process of finding an agent. I e-mailed every literary agent in New York City. I was so so so fortunate to land with my current agent, Deborah Schneider of Gelfman Schneider ICM Partners.
Over the next few months there were ups and downs, starts and stops, and a whole lot of waiting. When I finally connected with Leah Wilson of Smart Pop Books, I knew I had found a home for The Art of Eating Through the Zombie Apocalypse. The process of writing and editing and designing that book was a dream. I worked with the wonderfully talented and gracious Kristian Bauthus, who illustrated the book, and the entire team at Smart Pop were simply put: lovely humans.
By the time the book was completed and printed and out in the world in October 2014, if you had asked me if I would write another cookbook my answer would have (enthusiastically) been no. But fast-forward to 2016 and when I was approached by Insight Editions with the opportunity to write THE OFFICIAL COOKBOOK FOR THE WALKING DEAD TELEVISION SHOW and how exactly could I say no to that?
And that is the story I have to remind myself of when I realize that I have somehow become a "prepper chef" or an "apocalypse cook." Honestly never a place I would have ever expected to be in, but a place I am so grateful and excited to be in. I have another (non-zombie related) cookbook in the works and if it weren't for the undead I would have never become a cookbook author!
—
Lauren Wilson is a professional chef and cookbook author. She graduated with honors from Toronto's George Brown Chef School in 2008. Since then, she has worked in various capacities in the food world, from fine dining to cheese-mongering, online sales, catering, teaching cooking classes, and writing for print and online media. She is the author of The Art of Eating Through the Zombie Apocalypse (BenBella Books, 2014), an illustrated cookbook and culinary survival guide. She lives in Brooklyn, NY. Find out more on her website http://www.laurenmwilson.com/
Follow her on Twitter @laurendoesthis
Yunhee Kim is a New York based photographer specializing in food, still life, and interior. Her clients are Food Network, Martha Stewart Ominmedia, Parents, West Elm, and most recently Siggi's Yogurt.
About THE WALKING DEAD: THE OFFICIAL COOKBOOK AND SURVIVAL GUIDE
Based on the hit AMC television series, this cookbook is packed with life-saving tips and unique recipes inspired by The Walking Dead.
The Walking Dead: The Official Cookbook and Survival Guide details the skills and recipes you need to survive (while avoiding being eaten) during a walker apocalypse. Inspired by the hit AMC television series, the book features recipes for meals featured on the show, plus food and drinks inspired by key characters and locations, along with expert information on foraging, hunting wild game, and outdoor cooking. Featuring familiar treats like Carl's pudding, Carol Peletier's baked goods, and Hershel's spaghetti, this is the ultimate gift for fans and walker-wary survivalists alike.
Buy the book HERE
Category: Contemporary Women Writers, How To and Tips