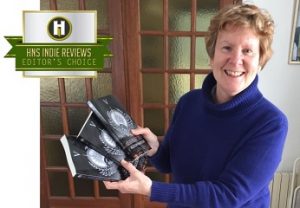 One evening in 2009 a writing trigger was pulled in my mind; I sat in front of my computer and poured out a story of high adventure set in the present in an alternative new Rome, but with a twist. It included a hunky hero, but the story was driven by a young woman who transformed from a prickly twenty-five-year-old nobody into somebody she'd been waiting all her life to become.
But more story was pushing to the surface. The heroine, Carina Mitela, battled betrayal – personal, professional and political – and next, a particularly nasty nemesis from the past. Throughout the three stories she was engulfed in a passionate love which didn't always run smoothly. These were INCEPTIO (the beginning), PERFIDITAS  (betrayal) and SUCCESSIO (the next generation), the trilogy that was never meant to be.
Well, that was that, I told myself. The end of the Roma Nova stories. Of course.
But part of the way through drafting SUCCESSIO, I had became increasingly fascinated by Carina's grandmother, Aurelia, a senator, imperial councillor and "elder stateswoman" in the first three books. She gave our first heroine Carina advice, sometimes bracing but always loving. Main characters often have such a figure in the background; apart from being a source of wisdom, they help provide backstory. I'd sprinkled references throughout Carina's trilogy to Aurelia's younger days when she'd served as a crack Praetorian officer and a few years later played a pivotal part in Roma Nova's fight back from a bitter rebellion.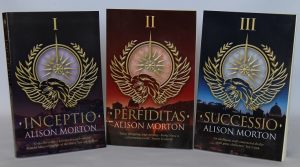 When you create an alternative world, it supports its plausibility to give it some history of its own. Besides, I'm a historian (a.k.a nosy person), so naturally I wanted to investigate Aurelia's rather mysterious past. Luckily, I thought about this before I finished the final draft of SUCCESSIO, so could weave in some hints in that book.
I started drafting a prequel called AURELIA set initially in the late 1960s when Aurelia was twenty-eight, chasing smugglers and possible spies on top of a cold mountain. She was also being hassled by her mother to partner with a charming neighbour and produce more children as family heirs. But Aurelia knew the 'charming neighbour' for an amoral chancer with a black heart. His iron will would drive his ambition for total power. Aurelia would be determined to stop him.  Her story would be a terrific companion volume for the trilogy.
I reached 86,000 words and was only a third through the plot.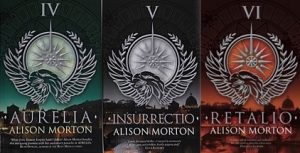 There was just too much story, too much history and too many layers and aspects to this heroine and the challenges she faced to contain in a single book. My heart sank for a few minutes. But only a few. Yes, it was going to be another trilogy, but I would be able to tell the whole story properly. Joy!
So what had I learnt from the first trilogy that I could apply to the second?
Work out the entire trilogy arc in advance
Each book needs its own complete story, but one which contributes to the plot arc of the trilogy. Crudely speaking, Book 1 sets the scene, introduces main protagonists and their conflict. Book 2 consolidates, widens and sets the ground for the final reckoning which takes place in Book 3.
This wasn't what I did for the first trilogy; it "evolved", pivoting on Book 2. I had blithely written the stories without a clue about "da rulz". By Book 3, I had learnt them and had enough time (by the skin of my teeth) to apply them.
Each book must stand on its own as a complete story. A reader may pick up Book 2 first and while they may be eager to find out what went before and what happened afterwards, they must have a satisfying read from the book they bought. Writers need to drip in enough backstory to bring the new reader up to speed without boring the established fan. And like any standalone, padding is "verboten".
Know your characters in advance
Adding a raft of new characters in each book is tempting. I confess to a fair number of characters, but Roma Nova operates on collectivities like families, military, even criminal organisations.
However, recycling characters in each book not only helps eliminate "character creep", but is also a pleasure for both writer and reader as we meet old friends again and watch each individual develop her or his own story.  You do need a few new people to keep the story fresh; to balance them you should kill off, send off planet or exile at least one or two or you risk making your world too much like Shangri-La or Pleasantville. But one joy of writing a prequel, single or trilogy, is that you can introduce ancestors of characters appearing in the later trilogy – something I love seeing as a reader. With AURELIA, I knew where I had to get to, which of the main characters would be alive and which dead in the modern trilogy
Work out big secrets in advance and scatter little ones throughout all the books
As a reader, I like a good, heavy surprise at the end of books, or at least a 'twist in the tale' and hints about this should pop up throughout the book. As a writer, I love laying 'Easter eggs' in one book that hatch in another.
The second and third books in the prequel trilogy, INSURRECTIO and RETALIO, have been much better planned than the second and third in the first trilogy had been so sowing secrets was much easier.
 Intrigue by revelation over a longer stretch
With a trilogy, you have the advantage of being able to reveal backstory and other facets of your characters over a longer span. This needs to be done carefully and not be an excuse for padding. In an epic, saga or high concept story, we all love 'deep lore from the past', hidden family secrets or a forbidden passion. Timely revelations also strengthen the bonds between the books. Events in the second trilogy reveal why Aurelia is contained and calm in the first, why imperatrix Silvia rarely lets anything get in the way of her duty to Roma Nova and why her bond with Aurelia is so strong. And the mystery of Aurelia's grand passion is revealed in this prequel trilogy…
Practicalities
Your head may be stuffed with information about your setting, you may have notebooks or files full of research or you may just live in your books' world. But you need to have consistent information to hand on the internal values and culture, governmental, societal and economic structures, geography, history, sources of income, education, food, religion and, of course language.
But if you go back in time, many of those values as well as technology will be different. Even something as solid as the landscape may well have different types of crops and farm equipment.
I keep a list of characters for each book, remembering to update it as characters change job, get promoted, married, or move on. This is especially essential when writing different generations of the same family! Something I've found indispensable is a spreadsheet of ages, tracking who is what age when something happens and preventing character X being older that her mother.
Trilogies stretch your writing muscles as well as your power of organisation, but they are fun to write as you can write long and deep, developing your characters as well as their stories. As RETALIO, the third of my second trilogy has just come out, I'm glad I gave into the enticement of turning single books into trilogies.
But my next book will DEFINITELY be a single book…
—
Alison Morton, writes the acclaimed Roma Nova thriller series featuring modern Praetorian heroines. She blends her deep love of Roman history with six years' military service and a life of reading crime, adventure and thriller fiction.
The first five books have been awarded the BRAG Medallion. SUCCESSIO, AURELIA and INSURRECTIO were selected as Historical Novel Society's Indie Editor's Choices.  AURELIA was a finalist in the 2016 HNS Indie Award. The sixth, RETALIO, is out on 27 April 2017.
A 'Roman nut' since age 11, Alison has misspent decades clambering over Roman sites throughout Europe. She holds a MA History, blogs about Romans and writing.
Now she continues to write, cultivates a Roman herb garden and drinks wine in France with her husband of 30 years.
Connect with Alison on her Roma Nova site: http://alison-morton.com
Facebook author page: https://www.facebook.com/AlisonMortonAuthor
Twitter: @alison_morton
Goodreads:  https://www.goodreads.com/author/show/5783095.Alison_Morton
Alison's Amazon page: http://Author.to/AlisonMortonAmazon
About RETALIO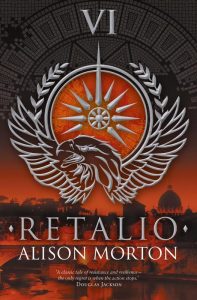 Early 1980s Vienna. Recovering from a near fatal shooting, Aurelia Mitela, ex-Praetorian and former foreign minister of Roma Nova, chafes at her enforced exile. She barely escaped from her nemesis, the charming and amoral Caius Tellus who grabbed power in Roma Nova, the only part of the Roman Empire to survive into the twentieth century.
Aurelia's duty and passion fire her determination to take back her homeland and liberate its people. But Caius's manipulations have isolated her from her fellow exiles, leaving her ostracised, powerless and vulnerable. But without their trust and support Aurelia knows she will never see Roma Nova again.
Buy RETALIO HERE
Book trailer https://youtu.be/Mql2Mm3ytJc
Category: Contemporary Women Writers, How To and Tips