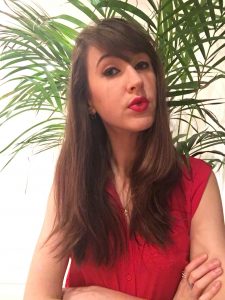 People always like me to start from the beginning – the good old 'once upon a time' approach.
'Tell us,' they say. 'How did you first get into writing?'
The truth is, I was sixteen years old and I had to do a school project. So off I went to Grafton Street, bought a book called How to Write a Novel, read it, and wrote a novel.
Sounds simple, right?
Thirteen years and four novels later, I can tell you it is anything but.
What I can tell you, however, is that there are some useful tips for getting started – tips I offer my students each year; tips you have probably heard a thousand times before, only this time they will come in an Irish accent from a London laptop accompanied by a brand new wave of encouragement (and if all else fails, I'm pretty sure the How to Write a Novel book is still in print).
Every semester I stand before my Creative Writing freshers and draw a triangle on the whiteboard with the words 'Memory', 'Observation' and 'Imagination' along each side. A work of art, it is not. But these are the three most powerful (and accessible) ingredients to get you going.
First, plunder your memory – whether we realise it or not, we have all lived through a million stories; a million awkward moments; a million emotionally-charged situations – so try your best to conjure these and jot them down.
Next, begin to observe – keep a notebook; go to cafés and eavesdrop; be curious (and for curious read: nosy).
Once you have built up a list of memories and anecdotes and juicy, overheard snippets, then you can start letting your imagination kick in, embellishing and changing them to your heart (and story)'s content.
For me, character is everything, but devising one from scratch is never easy. As one way in, sometimes I suggest beginning with the obvious – the stock characters; the archetypes. The evil stepmother. The moody teenager. The aspiring writer. I get my students to make a long list of these, choose one, then begin to push beyond the cliché; to figure out who this person really is – what are their hopes and dreams? How do they talk? When was the last time they cried? (FYI, the Marcel Proust Character Questionnaire is great for this). Slowly, a complex, flawed yet intriguing individual will start to come to life.
'The inspiration for all my work begins with location,' says the wonderful Irish writer Kevin Barry. With this in mind, I get my students to brainstorm a place they know intimately; to conjure every detail, every smell, every stain on the couch, every flaw in the carpet's weave. From there, I suggest introducing a disturbance to this habitat – maybe a crime or an unexpected arrival or a stranger from out of town. This tension between the familiar and the unfamiliar is where all good stories begin, and your backdrop can suggest all the exciting ways you might now take it forward.
Too often, students tell me they are writing a story 'about grief'. Or instead, 'about a girl who gets hit by a bus and turns into a goat.' To be clear, the latter is what happens in a story, the former is what the story is about. Or let me put it this way – the first is a premise, the second is a plot. But any great piece of writing should have both these things – a plot AND a premise. I urge you to try and figure out both before you put pen to paper.
There's Nowt So Queer as Folk…
Every day, the newspapers offer more fodder, more salacious stories, more unlikely anecdotes than even the most innovative writer could concoct. When they are stuck for inspiration, I advise my students to trawl papers and news sites and message boards until something catches their eye (or, more specifically, their imagination).
Apart from these five starting points, these five routes in, there are just two final pieces of advice I can offer. They contain nothing profound, no secret magic (sorry), but to my mind, they are everything:
READ! All the books! The classics and the contemporary; the ones by writers you adore and the ones which, even from the opening pages, you can tell aren't your cup of tea. Because books shape us, they teach us, they form our tastes, they give our imagination-muscles a daily workout. Any great writer is a great reader, and any 'writer' who tells you 'actually, I don't really like reading because it will only influence my voice' is in desperate need of a slap (or, more precisely, a change of career).
JUST WRITE THE THING! The reading and the planning and the brainstorming and the character sketches are important, of course, but there also comes a point when nothing beats getting actual words onto an actual page. There is no other way to tell if something will work; if it will flow; to see whether all the pieces will fit. Just start writing! If it's rubbish, throw it out and try again, but every attempt is a step closer to the good stuff. So I urge you to carve out the time to open your laptop or your moleskin or your parchment or your velum, and just begin. It is as simple – and impossible – as that.
—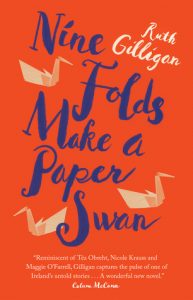 Ruth Gilligan is an Irish novelist, journalist and lecturer now based in the UK. She has published four novels to date, and was the youngest person ever to reach number one on the Irish bestsellers' list. She is a full-time Lecturer in Creative Writing at the University of Birmingham, and contributes regular literary reviews to the Guardian, TLS, Irish Independent and LA Review of Books. Her latest novel, Nine Folds Make a Paper Swan, was inspired by the history of the Jewish community in Ireland, and was published by Atlantic Books (2016) and Tin House (2017) to much acclaim.
Find out more about her on her Website https://www.ruthgilligan.com/
Follow her on Twitter @RuthGilligan
Like her on Facebook https://www.facebook.com/ruthgilliganauthor/
About Nine Folds Make A Paper Swan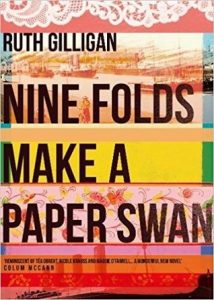 Three intertwining voices span the twentieth century to tell the unknown story of the Jews in Ireland. A heartbreaking portrait of what it means to belong, and how storytelling can redeem us all.
At the start of the twentieth century, a young girl and her family emigrate from Lithuania in search of a better life in America, only to land on the Emerald Isle instead. In 1958, a mute Jewish boy locked away in a mental institution outside of Dublin forms an unlikely friendship with a man consumed by the story of the love he lost nearly two decades earlier. And in present-day London, an Irish journalist is forced to confront her conflicting notions of identity and family when her Jewish boyfriend asks her to make a true leap of faith.
These three arcs, which span generations and intertwine in revelatory ways, come together to tell the haunting story of Ireland's all-but-forgotten Jewish community.
Ruth Gilligan's beautiful and heartbreaking Nine Folds Make a Paper Swan explores the question of just how far we will go to understand who we really are, and to feel at home in the world.
Category: Contemporary Women Writers, How To and Tips