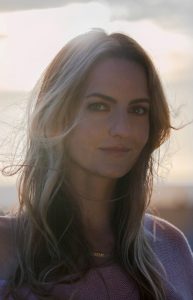 It's a seamless transition, the process of a dream becoming reality, just as metamorphosis is to a butterfly. Somewhere, along the six-year journey of completing my first novel, I realized that I no longer dreamt of the idealistic notion of being a writer. I was one.
Ten years ago, I had lost my mother to cancer, dropped out of law school, carefully wrapped my broken heart and my shattered soul, and moved 2,000 miles away to a place where I could learn to (re)love life again. The City of Lost Angels. A city where the sun always shined, passions roamed free, dreamers were abundant, and the word impossible wasn't part of the vernacular.
Writing, became my new vice. My mind, become my new place of solace. My characters, my new adventurers. All three fueled by the endless supply of emotions pouring out from the deepest corners of my being. The very first LA journal entry I wrote, Unfinished Days, became the catalyst for Chapter 19 of my debut novel Until the Beat Stops, released six years later. The metamorphosis was complete.
The Dream vs. Reality
When I dreamt of a writer's life…I dreamt of wandering aimlessly along the beach, untamed hair, bronzed skin, and spirit dancing with the beauty of nature. My mind boundlessly exploring, feet grounded firmly by the sand, waves dancing playfully on my side.
When I dreamt of a writer's life, I dreamt of sharing my stories with the world. Conducting mini-book tours, meeting other aspiring writers, artists, and dreamers along the way. Living an inspired life filled with love and joy.
This is my reality. I do this.
When I dreamt of a writer's life, I forgot to dream of the countless sacrifices I'd need to make to prioritize my craft. I forgot to dream of working a full-time day job during the day while filling my nights and weekends with writing. I forgot to dream of spending hours upon countless hours by myself, in coffee shops, in my living room, during my lunch breaks, comforted only by the dialogue of my characters and the delicate blue light of my computer screen.
This was my reality too.
I also forgot to dream about the beauty of the unexpected. The unexpected joy of setting my words free into the world. The unexpected joy of receiving personal letters, emails, photos, and stories from readers when my words warmed their hearts. The unexpected sadness of reading reviews of readers who felt no connect to my words at all. I now, no longer forget to dream any of it.
Awaken the Dream
How does one make their dream novel a reality? Be prepared to embrace the unknown, the chaos, the dedication to your craft, the present moment, and to keep your heart wide open to the journey. Because one day, what you create will no longer only be yours, it'll be all of ours.
What is fueling your inner desire to write? Meditate on it. Dream about it. If you can't live life without writing, then it's time to SCREAM it out to the Universe. "I am a writer! I have something to say." Now get on with it and WRITE!
Writing a novel is a mental marathon, not an emotional sprint. There are only 13 moon cycles in a year; how are you going to spend each one? As creative souls, we don't always know where our next burst of inspiration will come. A writer, however, is only a writer if we write. Routine is key. Pick a consistent time, place, and a drink (coffee, wine, green juice, etc.) to signal to your mind that it's time to be present and create. There will be weeks where work, family, or your boyfriend will shift into a higher priority slot then your book. Fill your time accordingly, do whatever you are focusing on well, then return to your routine.
Find Your Tribe of Fellow Dreamers and Believers
Although the writing process is primarily done alone, finishing your book is seldom done solo. During the writing process, my emotions are chaotic, my confidence waivers, creative blocks show up uninvited – But whatever it is that is getting in the way of my writing, I always remind myself it's okay (and a necessity!) to ask for emotional support from your tribe. They will, hopefully, cheer you on and remind you that it is all part of the process.
Determine What Success Means to You
Your book is done, edited, and re-edited, now what? Before you take the next step towards picking a publishing path for your book e.g., self-publishing vs. pitching publishers, take some time to determine what being a successful writer means to you. Then explore options that align with your vision.
Find Your Voice; Tell Your Story in the Way Only You Can
My fellow writer friend Aimee called me a few weeks ago, and said, "I always imagined that when I was a writer I'd wear lush oversized cardigans and carry around a hot cup of tea. So today, I bought myself the most beautiful, lush, cardigan." YES to ALL of THIS! Wear clothes that inspire you, surround yourself with things you love, embrace joyful things. Live your life as your best and truest self; through the simple act of being, you will become.
The metamorphosis will be complete.
—
Stella Mowen is the Founder/CEO of the non-profit The First Hill, a Huffington Post Contributor, and the author of the Amazon.com best-selling inspirational novel Until the Beat Stops. Stella is originally from the suburbs of Chicago and now resides in Venice Beach, California. She spends her days working in the film and TV industry and her nights and weekends adventuring, working on novel number two, listening to records, planning her next non-profit event, meditating, and embracing the now with new and old friends while listening to the ocean.
About UNTIL THE BEAT STOPS
Seattle's hottest,new, buzzworthy author Stella Mowen delivers an extraordinary and awe-inspiringdebut novel that people can't stop talking about.
Stella Mowen's critically-acclaimed debut novel UNTIL THE BEAT STOPS has received high praise from readers, dozens of fan letters from aroundthe world, and said to cultivate personal mindful moments – Anemotionally gripping, multi-viewpoint narrative that captures the hearts of all ages. An inspirational Seattle-based startup, The First Hill,originally designed to preserve the legacy of terminally ill cancerpatients, winds up becoming the go-to digital platform for preservingall important moments in history – past,present, and the future momentsto come. Written in a documentary style, the narrator takes you back intime to mindful moments in each Founders past that inspired them tocreate, and leave behind, a world-changing legacy.
Category: How To and Tips