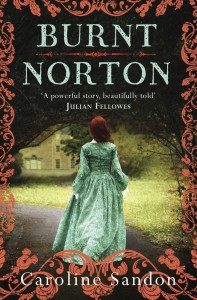 I am a dreamer.
When two years ago I was told that Julian Fellowes, the writer and creator of Downton Abbey had a sister who lived in Chipping Campden, I believed it was destiny.
My novel is set in Chipping Campden, I live in Chipping Campden, he was obviously meant to write the film script to 'Burnt Norton'.
With this in mind, I summoned up the courage to ring him. Sunday was not the most appropriate time to call a complete stranger and ask them to write the screenplay to an as yet unpublished novel. But Julian was charming and solicitous and if surprised he did not show it.
He suggested I send him the book to read and a month later he took me out to lunch accompanied by his wife Emma. Over lunch and a large glass of wine to calm my nerves, he told me that he really liked my novel, and yes, when he had time he would write my film script.
First however the book had to be a big success. He suggested that he would also write my forward. So far so very good. A year later with Head of Zeus a great publisher behind me, my book was launched.
I gave a speech, Julian gave a speech and there it was, my book had arrived. You may laugh but I had never thought beyond the launch. Until then it was edits and more edits, writes and re-writes. I had never gone beyond this. Suddenly there it was, my book was out there and I was scared.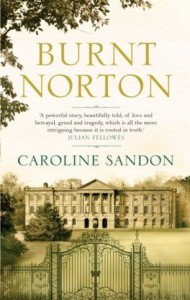 "How do you feel?" Julian asked me after the launch. I told him I was deflated because it was all over. He looked at me amazed. What he said next would haunt me.
"If you think it is over Caroline then it is over. What you do now will either make or break your novel. It is up to you to promote it. Your publisher can help, but they will have fifty other books to publicise. You are the one who must do it otherwise it will sink without trace."
It was a great learning curve. My agent told me I had to start using Twitter and Facebook. I had never used either. My publisher said I needed to start blogging. I had never blogged.
For me writing has always been easy: I can immerse myself in my imaginary world. Social Media is another thing entirely.
The mistakes I made when putting up my Facebook profile are apparently still there. I believe I go to an all boys school. I can't seem to take it down. I have sent Facebook messages to the wrong people and my son called me a muppet which got 32 "likes".
But I am struggling on. Emily who is now at university, is my twitter adviser and indeed she has instructed me on the art of blogging. "It is a conversation," she said. "You are not writing a novel."  I am now beginning to enjoy blogging, and I have done several.
Besides venturing into social media, I  also got in touch with  radio stations, book festivals and book clubs to promote my book.
It was daunting in the beginning, especially the first festival I attended. The famous actress who had written a cook book and was speaking at a food festival, pulled out at the last moment, and I was asked to step in. There was one rather large problem; if you are speaking at a food festival it is probably advisable to like cooking.
Having been a model (years ago) calories have been something to avoid, not eat! However I did surmount the problem by reading a passage from my book which described an 18th century dinner party, and afterwards telling the audience the downside of eating seven courses in suffocating corsets.
I have since  spoken at several festivals. My first interview on BBC Scotland I believe is still on i player. It was scary yes, but actually if I am honest I enjoyed it. Perhaps I am an exhibitionist after all..
Don't be daunted  book promotion, see it as part of novel writing,  another creative process to venture into.
—
Caroline Sandon won her first national poetry competition at the age of ten, and from that moment dreamt of being a writer. Her life however took a different turn. At eighteen she began a law degree and only a year later got married. She left the law to become a model in the fashion industry and a few years later she gave up modeling to devote more time to her children and to become an interior designer.
Fifteen years ago she moved with her husband and seven children and stepchildren to Burnt Norton. With the children growing up, Caroline had at last the time and the material to write her first novel, Burnt Norton.  Her second novel is due to be published next year.
Follow her on twitter @CarolineSandon
Gloucestershire, 1731. When his youngest son is killed in a tragic accident, Sir William Keyt, master of Norton House, busies himself in his fortune. The building of a second mansion in his grounds defies expense and denies mortality; an emblem of the Keyt name for generations to come. 1741 his beautiful new mansion becomes his funeral pyre.
'A powerful story, beautifully told, of love and betrayal, greed and tragedy, which is all the more intriguing because it is rooted in truth.' 
JULIAN FELLOWES, creator of Downton Abbey
Category: By Current and Past Sponsors, Contemporary Women Writers, How To and Tips, On Book Marketing