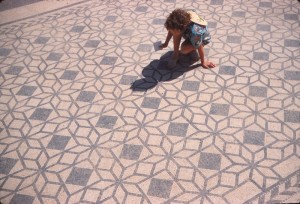 A small child, curls bobbing on a head she's forgotten to cover with the sunhat her mother insists on, crouches down on a Roman mosaic floor in north-east Spain. Mesmerised by the purity of the black and white pattern, the craftsmanship and the tiny marble squares, she almost doesn't hear her father calling her to the next one.
Jumping up, she eagerly runs to him, babbling questions like many eleven year olds do: who were the people who lived here, what were they called, what did they do, where have they gone?
The father, a numismatist and senior 'Roman nut', starts telling her about the Greek town of Emporion founded 575BC which became Roman Emporiæ in 218BC, where traders sailed in and out with their cargoes of olive oil, wine, textiles, glass and metals; where people lived in higgledy-piggeldy houses, traded from little shops; where the Roman army based its operations; where money was minted. And the people came from every corner of the Roman Empire to live and work. Boys went to schools and girls learnt to be good wives and mothers.
The little girl listens carefully to every word, sifting the information. Her hand in his, she turns as they leave, looks back at the mosaics and asks her father a final question.
"What would it be like if Roman women were in charge, instead of the men?"
Maybe it was the fierce sun boiling my brain that day, maybe I was just a precocious kid asking a smartass question. But clever man, my father replied,
"What do you think it would be like?"
Years later, in 1992, I picked up Fatherland, a thriller stirring up controversy all over Europe, especially in Germany. A political journalist, Robert Harris (who went on to write Enigma, Ghost, Archangel, Imperium, Pompeii), had written a "what if" story where Hitler had won the Second World War. His protagonist, Xavier March, a Berlin police inspector, carries out a routine murder investigation which becomes a political nightmare.
I was caught immediately by the alternative history concept: worlds opened up; history was not static; anything could be imagined. An idea I'd had as a little girl about a different world when I'd been on a Spanish holiday echoed in my head. No, I was too busy: I was a young working mother, running a household, doing the usual 'woman juggles everything' act at the time.
On to 2010 and my husband and I are sitting in the darkened cinema theatre, waiting for the movie to start. By that time, I'd played with words much of my life – playwright (aged 7!), article writer, local magazine editor, dissertation writer and professional translator. We pick this film, based on a popular novel, as it was the least worst on offer at the multiplex. And it has Ewan McGregor in a key role…
The film starts; the cinematography is great, but thirty minutes in we realise the plot is dire and narration hacked and chopped so many times the story is unintelligible.
'I could do better that that,' I whisper to my husband.
'So why don't you?'
We drive home, my brain bursting with an idea I had forty years ago in Spain, fuelled by Robert Harris's alternative history and tempered by the feminism of my student days. Ninety days later, I type "The End" on page 306 of the first draft of INCEPTIO, the first in my Roma Nova alternate history thriller series.
But what to do with this typescript? I knew nothing about novel structure, goal-motivation-conflict, story arcs, or narrative thrust, nor even the terms themselves. Nor anything about publishing or the book industry. So I took the lessons I'd learned when I went back and did my masters' in history: I researched; I asked people; I made notes; I went on courses, to conferences; I networked.  I was back from a research day in London when I called into the local estate agent who was handling the sale of our house – we were moving to France. I'd known the agency owner for over twenty years, but as a business acquaintance only. We both wore sharp suits, and were models of female entrepreneurship. In one of those moments when you feel deep in your being that something significant is happening, we mutually "confessed" to writing novels.
After we'd both got over the shock and eyed each other as transformed alien creatures, she recovered first and invited me along to her writers' circle. She urged me to join the Romantic Novelists Association New Writers' Scheme which gave me colleagues, mentoring and friendship. A valuable lesson – you can't write in a vacuum. We have deepened our friendship and become critique partners. I think I'm the more brutal one with the red pen and she the more grounded one.
I opted to publish INCEPTIO independently and bought in high quality services to produce a paperback that readers seem to love and a well-formatted ebook. The cover won a competition two days before launch and INCEPTIO was shortlisted fort the International Rubery Book Award this year.
But it all goes back to that little girl and the mosaics. Launching INCEPTIO in Waterstones in March this year, this was the first image I showed the audience.
"Now let me tell you the story of how INCEPTIO began under a hot sun in Spain…"
—
Alison Morton grew up in Tunbridge Wells, a former spa town in South East England, and worked in the City of London, dealt in coins and antique jewellery, head-hunted chief executives, served as a reserve military officer and owned a translation company. She completed a bachelor's degree in French, German and Economics and several years later a masters' in history. She now lives in France with her husband.
A 'Roman nut' since age 11, she has visited sites throughout Europe including the alma mater, Rome.  The first in her series of Roma Nova alternate history thrillers, INCEPTIO, was shortlisted for the 2013 International Rubery Book Award. The next in the series, PERFIDITAS, will be published in October 2013.
Find out more about Alison's writing life, Romans and alternate history at her blog http://www.alison-morton.com and say hello on Facebook  AlisonMortonAuthor or Twitter @alison_morton
Inceptio is available here

Category: British Women Writers, By Current and Past Sponsors, Contemporary Women Writers, On Book Marketing, On Publishing, On Writing, Women Writing Fiction, Women's Books and Writings