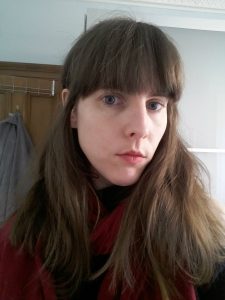 When I started writing Flesh of the Peach I was struggling to live and write in New York. One summer, I decided to take a research trip by bus to where Sarah Browne, the novel's immigrant protagonist, settles herself against her own failures: New Mexico.
The journey took over 2,000 hungry, dirty, beautiful miles in the span of three days. By the time it was done, I'd had a revelation of an America usually left out of the tourist highlights – the rundown parts of cities where most of the bus stops were, the sprawling vistas and hidden gems of so-called 'flyover states'.
Here are a few books to transport you along my route, and even further. Each pick is based on a major stop that the Greyhound bus makes on its way East to West.
NEW YORK CITY:  All aboard at Port Authority Bus Terminal. Find your seat and strap in. There are so many choices for the city that loves to read about itself, so I've gone for two: Edith Wharton's The Age of Innocence for its depiction of love, duty and scandal in 1870s upper class New Yorker society and Ha Jin's contemporary short story collection A Good Fall, which charts the loneliness and hardship faced by Chinese immigrants in Queens.
HARRISBURG and PITTSBURGH, PA: Two major stops, two books.  Representing small-town Pennsylvania is Fun Home: A Family Tragicomic by Alison Bechdel. This graphic memoir relates Alison's childhood and youth, exploring themes of sexual identity, family dysfunction and suicide. Far from being a misery memoir however, it is a richly-detailed and researched portrait of an artist and the world that made her. For Pittsburgh and in complete contrast, I had to pick Michael Chabon's Wonder Boys, which follows the misadventures of philandering literature professor Grady Tripp, his long-suffering editor Terry Crabtree, and creepy-but-brilliant student James Leer. The film based on the book is one of my all-time favourites.
COLUMBUS, OH: Beloved, by Tony Morrison. Set mostly in Cincinnati, this is vivid, perfect, gut-puncher of a novel that tells the story of runaway slave Sethe, who kills her infant daughter rather than see her returned to captivity at the Sweet Home plantation. Years later, the ghost of her daughter Beloved returns as a young woman to upend the fragile peace her mother and siblings have found.
ST LOUIS, MO: I Know Why the Caged Bird Sings by Maya Angelou. While Angelou's first autobiography ranges over the Southern US and into California, some of the key action takes place in St Louis, where Maya and her brother were dropped off with their mother and her abusive partner. A hard book to read at times, this is just as its name suggests, full of song and survivor spirit.
OKLAHOMA CITY, OK: The coast's a long, long way behind us now. Time to pull out The Bean Trees by Barbara Kingsolver to hold up against that big Oklahoma sky. Native Kentuckian Taylor Greer's car breaks down on Cherokee land in Oklahoma, and there she is left an unexpected gift and burden in the form of an abandoned girl she calls Turtle. Turtle and Taylor ramble around the US, meeting colourful locals and seeking sanctuary from the harshness of lives lived just outside the boundary of the law.
AMARILLO, TX: In Cynthia Bond's Ruby, Ephram Jennings pines for Ruby Bell, the most beautiful girl in Liberty, their East Texas hometown. Ruby is soon lured away from the poverty and abuse that has defined her childhood towards the grandeur and anonymity of New York City. All grown up, Ruby is summoned back to Liberty were Ephram is waiting, torn between family loyalty and the love he has for Ruby, viewed as a 'devil woman' of temptation. This book is, like the gem, dark and redly glittering. Have it with coffee, black, in a diner facing a sunbleached street.
ALBUQUERQUE, NM: This is where I got out and headed north in a hired car for the glorious pine covered slopes of the Jemez mountains. To represent New Mexico, I've picked a classic, Death Comes for the Archbishop by Willa Cather. In 1851 Father Jean Marie Latour and Joseph Vaillant arrive in the Land of Enchantment to spread the Catholic faith across a territory of dusty hills and plural, polyglottal cultures. A novel of epic, stark beauty for a state that's much the same.
LAS VEGAS, NV: Two books for a state defined by predominantly by one neon, sin and all-in city: Nevada by Imogen Binnie and Battleborn by Claire Vaye Watkins. The first is a novel following trans punk Maria as she pushes against gender norms and heads west in search of herself. The second is a multi-award winning collection of short stories, all stark figures standing against hard landscapes. Tough choices. Pick your poison, or bet on them both.
LOS ANGELES, CA: End of the line. To fit the mood – bones aching, tired, everything a little alienating and sudden, it's time for something noir. In A Lonely Place by Dorothy B. Hughes will do. In LA's seamy underbelly there's a murderer on the loose, and a cynical and troubled writer named Dix Steele is the top suspect. Prowling around the city at night, Dix is slowly coming all undone. In 1950 the novel was made into a stone cold classic starring Humphry Bogart and Gloria Grahame.
—
Helen McClory is the author of the story collection
On the Edges of Vision
, winner of the Saltire First Book of the Year Award 2015, and her debut novel
Flesh of the Peach
. There is a moor and a cold sea in her heart.
About FLESH OF THE PEACH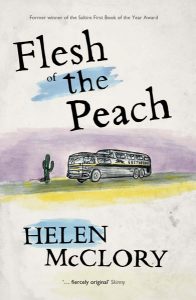 An intense journey into and out of rage and grief, via sex and violence, following 27 year-old artist, Sarah Browne and set mostly in the American Southwest.
In New York, the ending of Sarah's recent relationship with a married woman has coincided with the death of her estranged, aristocratic mother, leaving her a substantial amount of money and an unrecognised burden of toxic grief.
Rather than return home to England, she decides to travel by Greyhound to her mother's cabin in New Mexico. There she's drawn into a passionate relationship with Theo, a man whose quiet stability seems to complement her mercurial character.
But as Sarah's emotional turmoil grows, there are warning signs that tragedy could ensue. In Flesh of the Peach Scottish First Book of the Year winner, Helen McClory, paints a beautiful and painful portrait of a woman's unravelling, combining exquisite, and at times experimental, prose with a powerful understanding of the effects of unresolved loss.
McClory is one of the most exciting literary talents to emerge from Scotland in recent years.
Category: Contemporary Women Writers, On Writing