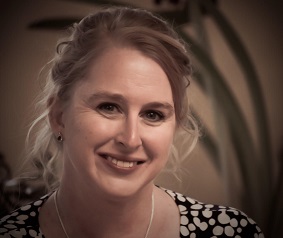 I begin the author's note of Daughters of the Night Sky by admitting I am not a pilot, am not an expert on Russia, and had never really had more than the passing interest in World War Two than most history buffs share.
Even with these challenges, it was a story I was compelled to tell. The women of the 46th Taman Guards personified bravery. They stayed up all night bombing the German camps with aircraft rugby as sophisticated as my lawnmower, leaving mayhem and very tired  Nazis in their wake. Hence the nickname "Night Witches".
They excelled at their jobs not despite the fact that they were women, but I would assert because they were an all-female regiment. In order to be taken seriously, they had to be better, faster, and more ruthless than their counterparts. How could I not want to tell this story?
So how to make the story come to life? With my previous novels, Promised to the Crown and Duty to the Crown, I had months of research on site in Quebec under my belt, and a Master's thesis on the topic as a "warm up" for tackling the books. I had a more complete collection of articles and books on New France than most any US library, so any questions I had required nothing more than a five-pace walk to my filing cabinet. Daughters of the Night Sky, however, was a different beast.
The first thing I did, after scouring the Web for all the general information I could find, was to sketch out my characters. I wanted a girl who was the essence of everything a Russian officer should be: driven, intelligent, and tenaciously focused on the task at hand. But she had to be humanized, so enter Vanya, the love interest. I also crafted a cast of supporting women who could represent the large regiment on a smaller scale. The storyline came fairly naturally, and I had a nice, meaty synopsis to work with.
But before I could delve into actually crafting the story, I had to get all the facts in order. I found a few wonderful books with anecdotes from a good number of the surviving "Night Witches" that provided an invaluable glance into the daily life of the women who served, where their families had come from, and what became of them after the war.
I was also able to piece together where they were during the course of the war, which helped solidify the timeline. Paired with some general information on the overarching events of the war, I was set for the "traditional" research.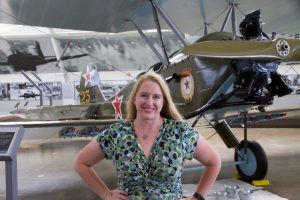 But what about flying? I'd never had an interest in earning my wings. Didn't step foot on an airplane until I was 18. I was convinced I was going to botch the mechanics of it and make a fool of myself. Rectifying this took two steps.
First, my birthday gift from my wonderful husband was to go on an excursion in an actual WWII era biplane. The sensation of actually swooping and diving in a plane made of nothing but wood and Irish linen was something that really helped me get a sense of place for the flight scenes and to better understand the controls. It was the single best research experience ever.
I also visited a Polikarpov-Po2 at the Flying Heritage Collection in Seattle and quizzed the staff about the plane's capabilities. They were amazingly indulgent and even helped me find original manuals for the plane. Unfortunately, they were in Polish, but it's the thought that counts! There is really no resource more valuable to a researcher than a museum employee who loves their job and knows their stuff.
The final step was having the manuscript beta-read by a pilot who could verify that I hadn't gone too at off the rails, so to speak, and who could vouch that the flight scenes, descriptions of the equipment, and the dynamic between the pilots and their crews was plausible enough to be convincing to those who understand the mechanics of flight better than I. Thankfully, I made friends with a pilot who is not only a damned fine aviator but also a bibliophile and history nut. And given that she is female, she had a lot to say about carving a career in a field that is certainly a boy's club—even today.
Suffice it to say, I had a lot of amazing resources to tap into for this book, and it's wonderful to make new friends and connections during the course of research. The key is persistence, patience, and never being afraid to ask. There are always generous people willing to share their knowledge on the topics they hold dear, and they very often hold the information that will help add dimension and believability that will create the atmospheric stories readers crave.
—
Aimie K. Runyan writes to celebrate history's unsung heroines. She has written three historical novels, including the internationally bestselling Daughters of the Night Sky. She is active as an educator and speaker in the writing community and beyond. She lives in Colorado with her wonderful husband and two (usually) adorable children. To learn more about Aimie, please visit www.aimiekrunyan.com.
THE DAUGHTERS OF THE NIGHT SKY, AIMIE RUNYAN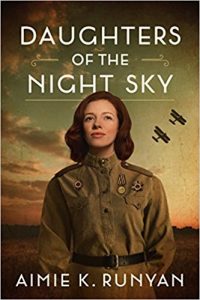 A novel—inspired by the most celebrated regiment in the Red Army—about a woman's sacrifice, courage, and love in a time of war.
Russia, 1941. Katya Ivanova is a young pilot in a far-flung military academy in the Ural Mountains. From childhood, she's dreamed of taking to the skies to escape her bleak mountain life. With the Nazis on the march across Europe, she is called on to use her wings to serve her country in its darkest hour. Not even the entreaties of her new husband—a sensitive artist who fears for her safety—can dissuade her from doing her part as a proud daughter of Russia.
After years of arduous training, Katya is assigned to the 588th Night Bomber Regiment—one of the only Soviet air units composed entirely of women. The Germans quickly learn to fear nocturnal raids by the daring fliers they call "Night Witches." But the brutal campaign will exact a bitter toll on Katya and her sisters-in-arms. When the smoke of war clears, nothing will ever be the same—and one of Russia's most decorated military heroines will face the most agonizing choice of all.
BUY THE BOOK HERE
Category: Contemporary Women Writers, On Writing