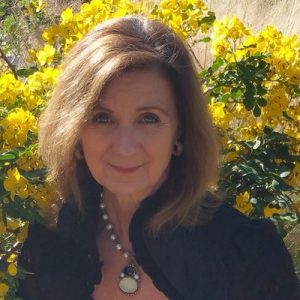 My first inspiration for writing The Lydiard Chronicles — a best-selling family saga — was Lucy Hutchinson. She was an extraordinary 17th Century woman; one of the first to be recognized as a writer and intellectual. Lucy was also my ancestress, and thus even more intriguing. After reading the book she wrote to clear her regicide husband's name, "Memoirs of the Life of Colonel Hutchinson", I was captivated.
Once on the serious research trail, I discovered an extraordinarily rich and well-documented family history to draw on for my novels. Growing up in England where the weather promotes reading and the countryside is full of castles and ancient churches, I spent much of my childhood buried in books, family papers and walking around ruins.
My parents loved history and passed that gene on to me. Our favorite days were spent "St.John-hunting" where we would follow some thread in a family tree and end up in a forgotten churchyard or country house, face-to-face with an ancestor. When I came to write The Lady of the Tower, I felt I knew the characters intimately, because of my deep acquaintance with them, and that so many of their portraits are preserved at their country home of Lydiard House. I was also granted unique access to The Tower of London, and was able spend time in my heroine Lucy St.John's home. That was an extraordinary experience.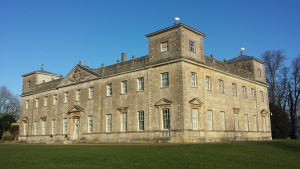 For me, the most challenging part of capturing my ancestors on paper was to ensure that I stayed as true to their characters as I could. I did this by reading as many extant document as possible – even fragments of a letter, or the inventory accompanying a will can give so many clues into a person's life. And then, looking at the actions across their lives can sometimes inform their character. In researching Allen Apsley, Lucy St.John's son in my newest English Civil War novel, By Love Divided, I came across a record that he frequently came drunk into Parliament (he was an MP during the Restoration). That episode started a whole train of thought that perhaps he was suffering from PTSD as a result of his action in the Civil War, and so I then sought to find evidence that might support that.
I'm very fortunate since my family kept personal documents, and an extensive family tree, handed down by generations. Those records inspired me to want to write only relying on primary sources, and so I then visited museums and libraries where records might be stored. The Lydiard Chronicles draws on Lucy Hutchinson's Memoirs, which are archived at Nottingham Castle. When I first encountered them 20 years ago, they were hidden in a battered file cabinet in the castle offices, and by asking and poking around I was thrilled to see them first hand. So although pretty much all my records are accessible to the general public, it can take a lot of detective work to find them.
Although Lucy Hutchinson was staunchly Parliamentarian, I was really determined write an independent narrative, and that made for an extremely interesting journey. Firstly, the ambiguity of the English Civil War as it unfolded struck home. A credible historical fiction writer has to "write in the now"; our characters don't know what lies ahead, although we (often tragically) do. In the 1630s and '40s so many people were making decisions based on very limited knowledge, hear-say and confusing information. And, they really didn't think that their actions would lead to armed conflict. As in any war, the masses just wanted to get on with their daily lives.
Place is also a great inspiration for me. I had never written about war, and as I came closer to the Civil War in my writing, I began the difficult business of really trying to understand the visceral emotions of fighting, in a time when it was so close to hand and bloody.
I chose key battles that Allen and Edward fought in – Edge Hill, Cropredy Bridge, Newbury II, and visited those sites. The atmosphere is still so weighed with the past, even in today's world. And I chose to visit very early in the mornings, before traffic and other visitors disturbed the air. So, standing on the windy escarpment at Edge Hill and seeing the whole valley spread below, I could see the Parliamentary army in full formation, the smoke from their campfires, the distant sound of men preparing for battle. And walking through the marshy ground to the defensive earth works surrounding Donnington Castle, I could think about the struggle the troops had to defend and storm the castle. It was a somber experience, and I hope I was able to bring this home to my readers.
Finally, as with any compelling novel, the characters are the ones who carry the story, who we connect with, who we think about long after the book is finished. And, writing about my ancestors, as well as significant historical figures who impacted their lives, has created an alternate world for me. Getting to know Lucy, Luce, John, Allen, Edward, Frances (and even the difficult Barbara) and living in their world is addictive. I miss them, when I'm not with them every day. Fortunately, Lucy Hutchinson's memoirs provide plenty more stories, and I am underway in writing the third book in The Lydiard Chronicles.
Elizabeth St.John's latest novel in The Lydiard Chronicles, By Love Divided, is on sale on Amazon, and available through bookstores.
https://www.facebook.com/ElizabethJStJohn/
https://twitter.com/ElizStJohn
By Love Divided: The Lydiard Chronicles 1630-1646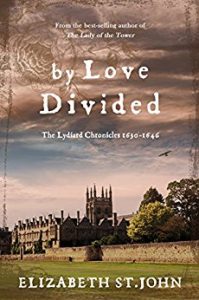 Fiercely independent, Luce Apsley rejects the dazzling English court and an entitled marriage arranged by her aristocratic family, and falls in love with a Roundhead soldier. Her mother follows the Puritan cause and yet her beloved brother, Sir Allen Apsley, chooses to fight for king and country.
As England falls into bloody civil war, Luce embraces Parliament's radical views and confronts the very core of the family's beliefs. And when their influential Villiers cousins raise the stakes, King Charles demands loyalty.
Allen and Luce face a devastating challenge. Will war unite or divide them? In the dawn of rebellion, love is the final battleground.
Based on surviving memoirs, court papers and letters of Elizabeth St.John's family, By Love Divided continues the story of Lucy St.John, The Lady of the Tower. This powerfully emotional novel tells of England's great divide, and the heart-wrenching choices one family faces.
Category: Contemporary Women Writers, On Writing