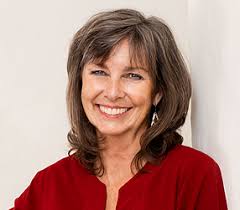 The persevering spirit that compelled me to write The Book of Calm flows from a daily awareness of awakening to both beauty and turmoil. When the contradictions clashed, I kept hearing the question, "How do I embrace these two realities?"
Amazingly, my connection to this paradox has been strong, resilient enough that the book stayed with me through the decades its notes and pages took to become a printed, published reality. It didn't take flight into some other writer's imagination and rapidly typing fingers—like Elizabeth Gilbert writes about in Big Magic.
Instead it hunkered down in drawers and assorted notebooks, patiently enduring a divorce, two moves to Mexico with a move back to the U.S. in between, a second marriage, ten different addresses, undermining criticism, a full-time job, going back to college, obtaining life coaching credentials, two operations, and all the self-inflicted doubts the how-to-write books talk about.
The first sentence in my book is, "I used to have a turbulent brain." Raised in a silent family, my father's death in a car accident after a suicide attempt exacerbated that silence. The year was 1972, I was nineteen, and my world had suddenly tilted into chaos and a looming unknown. The numbing silence both haunted me, and sheltered me from the aspects of life I couldn't handle: risk, conflict, emotional connection, social interactions or deep conversation, a fear that 'terrible things always happen.' I survived on Stouffer's macaroni and cheese, boxes of frozen éclairs, fried chicken, and Burger King burgers and fries, trying unsuccessfully to fill a void located between my solar plexus and my heart. Walking down streets I'd hope and pray that I was invisible.
Twenty years after his death, my father appeared in a dream that startled me awake, literally and figuratively. I realized parts of me had also died that long-ago night, the realization thawing my interior numbness enough that I knew identifying and reviving those parts of myself was crucial. When my son was a toddler I'd made a mother's steadfast pledge that silence wouldn't haunt his life—the dream intensified my commitment to understand the personal consequences of such a traumatic event and to break the generational chain of suppressed voices.
By way of reading novels, poetry, and non-fiction whose words reverberated through any part of myself that was hidden, afraid, subservient, naïve, timid, suppressed, turbulent, procrastinating, or otherwise not solid enough or flexible enough to withstand the vagaries of life, I began to sense what I'd lost. Poetry especially spoke to me, as writing self-revelatory poems became the one safe place where I could attempt to reconcile the contradictions between smiling family photographs and family secrets.
Because of my silence, I had become an astute observer of people, sensing the unsaid words between sentences, the seasonal and daily cycles of nature, and highly sensitive to the aforementioned paradox of beauty and turmoil. By taking in the wisdom found within those books and the hints of clarity my own words revealed, my curiosity and resolve slowly grew and strengthened.
I'm finishing this article the first week of 2018, the week of my sixty-fifth birthday. My turbulent brain—with all of its doubts, fears, and questions—finally found calm twelve years ago when I returned to college at the age of fifty-three as a "mature student" to finish what had been interrupted by suicide and silence. During those three semesters at Goddard College my heart and intellect opened wide to the support I found there, my graduation both an ending and a beginning that bestowed me with the gift of new-found confidence in my writing.
A few months later I met my future writing coach-and-publisher Brooke Warner of She Writes Press. We spoke about our shared love of coaching, and then she asked, "Do you have a book in you?"
There is nothing quite like the deadline imposed by the signing of a contract. Each chapter's stories led to doorways of inspiration and a larger vision of calm than I imagined. Poems, my old friends, asked to be included amongst the prose, the stories and wise phrases of clients and friends added poignant clarity and depth to the manuscript. I learned writing a book was more work than I'd imagined—that like-minded, poetic editors were lifesavers as were exquisite covers and generous endorsements.
Alongside the support and surprises a whispery, shadowy part of myself berated my seemingly erratic, undisciplined work schedule; doing errands or taking a break from the manuscript felt like I was breaking a holy rule of writers. It was only in the deeply focused state of writing that I uncovered the contradictions within my new identity as author. As I describe in The Book of Calm, ". . . while accepting the paradoxical nature of my writer self, I've learned to release everything I possess into the writing, as best I can, when I can, respecting the fertile times and the dormant ones. These pages were written gently, even as fire burned under my chair."
In Women Who Run With the Wolves, Clarissa Pinkola Estés declares, "Art is important for it commemorates the seasons of the soul, or a special or tragic event in the soul's journey. Art is not just for oneself, not just a marker of one's own understanding. It is also a map for those who follow after us."
Sister writers, this is our offering to the world.
—
Nancy G. Shapiro advocates calm as Professional Certified Coach, author, blogger, and workshop leader. Her expertise is supporting people through the inevitable shifts of personal and professional transitions while celebrating their resiliency, spirit, and wisdom. Nancy lives with her husband in San Miguel de Allende, Mexico.
Website:
Facebook:
https://www.facebook.com/nancygshapiroauthor
Instagram:
nancygshapiro
About THE BOOK OF CALM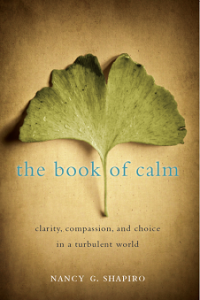 Using real-life stories, scientific concepts, and awareness tools, The Book of Calm challenges the constraints of inevitable change and turbulent events with a dynamic stance of clarity, compassion, and choice.
Transitions expert Nancy G. Shapiro moves gracefully and deliberately through subjects as diverse as welcoming paradox, fierce self-care, power and conversation, and the difficult task of connecting with others when faced with our thousand-fold differences―providing convincing evidence that people stuck in fear or indecision can experience profound insights, break harmful habits, and move into their own wisdom by letting go of old beliefs.
Inspiring and compelling, The Book of Calm supports readers to reimagine and renew their lives and their place in the world by transforming patterns within thoughts, language, and behaviors―one person, one family, one community at a time.
Category: Contemporary Women Writers, On Writing