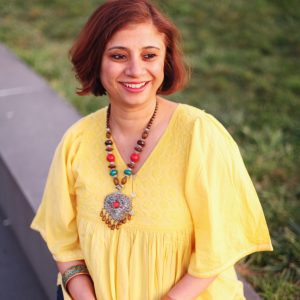 As writers and poets, we leave a little piece of our heart wherever we go. In our stories. In our characters. In our book research. In the corners of our homes. In our tea. In our coffee. In our cells. In our pores. In our loved ones. In our rejections. In our writing nooks. Our heart rarely belongs to us.
The heart leads our dreams. For our work to speak to people, our words have to come from a place of vulnerability and authenticity. Because of this process of sharing our heart, we, writers and poets, often forget to take care of this vital organ housing stories and shielding memories. We might look splendid in our day-to-day lives. Sure, some of us might get our annual physical checkup done. But that's the physical heart; how do we nurture our emotional heart that can impact the physical heart, the organ?
In my upcoming novel, "Louisiana Catch," Ahana, the female protagonist, loses her mother suddenly to a heart disease. Ahana's mother—a yogi, healthy eater, and a leading doctor—didn't see it coming. A part of Ahana dies with her mother. It takes Ahana a while to accept that the hole inside her might never fully fill because a part of her heart belonged to her mother. While both Ahana's mother and the story about her broken heart are fictional, heart disease and loss of life are a real battle many women encounter.
February is the month to raise awareness about women and heart disease. For writers and poets, this is doubly important. As creative professionals, we tend to traverse into dark corners. We feel the pain of the people we interview or write about. We become our stories, we become our characters. Internalizing the darkness around us, sometimes we lose sleep. Sometimes, peace of mind eludes us. Sometimes, our relationships dissolve along with edited lines of our scribbles. We might heal, eventually, but we hurt a lot first…both physically and emotionally.
Heart disease can be a silent killer of our hearts and the stories buried inside. I urge all of us to start small and start somewhere. One writer, one poet, one friend, one family member…let's gently remind one person to nurture and nourish their heart. Make heart-healthy choices, know your family health history and the risk factors for heart disease, have regular check-ups and work with your physician to manage your health. Equally important…make sure you have a few good people who will nourish you even when you think you don't need any help. Make sure you protect your heart in more ways than one.
Meditate. Stretch. Do gentle yoga. Breathe. Walk. Express gratitude for all the good in your life. Don't fight what's not working. Share a smile, a meal, and story with someone you and trust and care. Because if you have a healthy heart, nothing else matters. "The heart is the best reflective thinker."
———xx———-
Sweta Srivastava Vikram (www.swetavikram.com) is a best-selling author of 11 books, a wellness columnist, and a mindfulness writing coach. Featured by Asian Fusion as "one of the most influential Asians of our time," Sweta writes about women, multiculturalism, and identity. Her work has appeared in The New York Times and other publications across nice countries and three continents. Louisiana Catch (Modern History Press 2018) is her debut U.S. novel. Born in India, Sweta grew up between the Indian Himalayas, Northern Africa, and the United States collecting and sharing stories.
Exposure to this vast societal spectrum inspired her to become an advocate for social issues and also to get certified as a Holistic Health Counselor. In this avatar, Sweta is the CEO-Founder of NimmiLife (www.nimmilife.com) through which she helps people elevate their productivity and creativity using Ayurveda and yoga. A certified yoga teacher, Sweta also teaches yoga and mindfulness to female survivors of rape and domestic violence. She lives with her husband in New York City.
Web: http://www.swetavikram.com
Facebook: http://www.facebook.com/Words.By.Sweta
Email: sweta@swetavikram.com
Twitter: http://twitter.com/swetavikram
LinkedIn: http://www.linkedin.com/in/swetavikram
Instagram: https://www.instagram.com/swetavikram
About LOUISIANA CATCH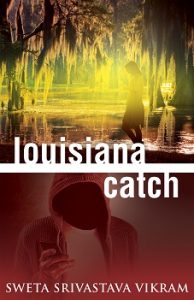 Ahana, a wealthy thirty-three-year-old New Delhi woman, flees the pain of her mother's death and her dark past by accepting a huge project in New Orleans, where she'll coordinate the Annual Women's Conference to raise awareness around violence against women. Her half-Indian, half-Irish colleague and public relations guru, Rohan Brady, who helps Ahana develop her online presence, offends her prim sensibilities with his raunchy humor. She is convinced that he's a womanizer. Meanwhile, she seeks relief from her pain in an online support group, where she makes a good friend: the mercurial Jay Dubois, who is also grieving the loss of his mother. Her work in the U.S. and the online medium brings the two men into her life, and Ahana learns that neither is what he seems. With their differing sensibilities on a collision course, Ahana finds herself in a dangerous situation—and she discovers a side of herself that she never realized she had.
Louisiana Catch is an emotionally immersive novel about trust and who we project ourselves to be in the world. It's a book about Ahana's unreliable instincts and her ongoing battle to determine whom to place her faith in as she, Rohan, and Jay shed layers of their identities.
As Ahana matures from a victim of domestic sexual abuse into a global feminist leader, she must confront her issues: both with the men in her life and, ultimately, with her own instincts. Whom can she rely on to have her best interests at heart?
Category: Contemporary Women Writers, How To and Tips