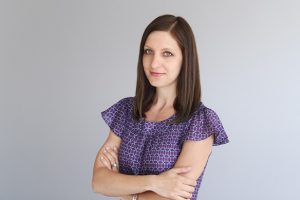 A disturbing true crime inspired pieces of my first novel, The Weight of Blood: in the small town where I attended high school, a teenage girl was held captive by a man and his wife for six years—a victim of human trafficking—and none of the handful of people who knew about it did anything to help her. It was shocking to think that such a thing could happen in a close-knit community where everyone knows everyone else's business, but in reality, crime happens anywhere and everywhere, including seemingly idyllic small towns.
I grew up in the Missouri Ozarks and have always been enthralled by its rugged beauty. When I decided to write a novel, I knew I would set it among the craggy cliffs, caves, and wooded hills of the Ozark Mountains. I wasn't alone in that inspiration—I'm a huge fan of Daniel Woodrell and Gillian Flynn, who have both set crime novels, including Winter's Bone and Sharp Objects, in the region. The geography lends itself naturally to crime fiction, with endless secret places to disappear, conceal a crime, hide a body.
I created a fictional Ozark town for my novel, not wanting to be constrained by the parameters of a real community. In describing the setting, I wrote about the intense humidity, the deep family ties and loyalties, the sometimes-suffocating closeness of a small, isolated town where everyone has known each other their entire lives. And I wrote about a victim of human trafficking, a fictional crime inspired by a real one.
There is plenty of crime in the Ozarks. It's no secret that Missouri was the meth capital of the nation for many years.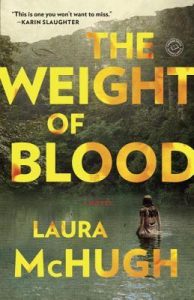 Human trafficking is more prevalent in the state than most people realize, and gruesome murders occur even neighborly rural areas. Writing is a means of examining the world around us, attempting to make sense of the terrible things that happen in our communities. Crime fiction must focus, to some extent, on unsavory characters and unseemly circumstances—the dark underbelly of an otherwise ordinary community. The Weight of Blood featured traffickers, drug dealers, and other folks with questionable moral standards alongside the more upstanding members of the town.
Dark crime fiction isn't for everyone, and I knew a story about trafficking had the potential to disturb, but I was a bit surprised by the individuals who expressed a very personal anger not about the crime itself, but the depiction of the place they call home—a place that is my home, too. One person accused me (loudly, at length, in a book club) of singlehandedly destroying the reputation of our great state by depicting it as a criminal place—as though the real crime, which had attracted national attention, was insignificant in comparison to the fictional one; as if Missouri hadn't built and earned its own reputation, for better or worse, over the years.
I wondered if Flynn's and Woodrell's books—highly-acclaimed Ozark bestsellers rife with murder, drugs, and depravity—received the same angry accusations, and if other gritty crime novels set in areas where folks tend to have a deep pride of place had as well.
When the show Ozark premiered on Netflix, a Missouri journalist wrote a scathing critique, while also taking angry jabs at other shows set (or filmed) in Missouri, like Gone Girl, Up In the Air, and Winter's Bone.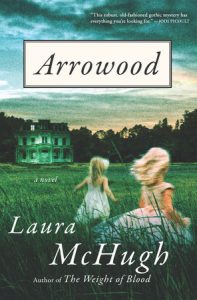 The writer seemed incensed by the inclusion of realistic, yet unattractive details—seedy motels, abandoned shopping malls, poverty, crime—as though the books and films were trying to make us look bad, to misrepresent us, rather than tell a story that unflinchingly shows the harsh truths of our surroundings. Locals discussed Ozark on social media, some complaining that the accents were wrong, that the characters were hillbilly stereotypes; that there was too much of a focus on the underclass and not enough on the area's multi-million-dollar lake homes.
When I watched it for myself, I found that Ozark did what all good stories do: it drew me into its world and made me feel invested in the people and the place.
It makes sense that people want their homes to be shown in the best light. No one wants their town to be known for its drug problems or murders or deterioration, though fiction is often a reflection of what's already there, and not writing about those terrible things won't make them disappear.
There is potential to upset people anytime you create a fictional world set in their real one, especially in the crime genre, where the darker side of human nature is on display. No fictional representation of a place can perfectly match the vision and experience of all who live there, nor should it try. I'm inspired by the places I call home, and I write with a deep love of the region, telling stories that are shaped by the realities of the setting, both good and bad.
Recently, a new Ozark crime made national news. A few miles from my old house (and the setting of The Weight of Blood), a mother reported that her autistic daughter had gone missing from their remote farm. Cadaver dogs sniffed out human remains in the family's fire pit. The mother and her boyfriend snuck off to get married while the girl's teeth were dug out of the ashes.
This real crime doesn't define the community any more than a fictional one would, but it reads like a gritty novel, many of the details horrific and unbelievable. When it comes to crime, truth is always stranger than fiction, even close to home.
—
Laura McHugh is the internationally-bestselling author of The Weight of Blood and Arrowood. Her novels have won an International Thriller Writers Award, a Silver Falchion Award, and a Missouri Book Award, and have been nominated for Alex, Barry, Thriller, and GoodReads Choice Awards. McHugh lives in Missouri with her husband and children. Her third novel is forthcoming from Spiegel & Grau/Random House.
facebook.com/lauramchughauthor
About THE WEIGHT OF BLOOD
For fans of Gillian Flynn, Scott Smith, and Daniel Woodrell comes a gripping, suspenseful novel about two mysterious disappearances a generation apart.
INTERNATIONAL THRILLER WRITERS AWARD WINNER AND BARRY AWARD NOMINEE FOR BEST FIRST NOVEL • NAMED ONE OF THE BEST BOOKS OF THE YEAR BY BOOKPAGE
 
The town of Henbane sits deep in the Ozark Mountains. Folks there still whisper about Lucy Dane's mother, a bewitching stranger who appeared long enough to marry Carl Dane and then vanished when Lucy was just a child. Now on the brink of adulthood, Lucy experiences another loss when her friend Cheri disappears and is then found murdered, her body placed on display for all to see. Lucy's family has deep roots in the Ozarks, part of a community that is fiercely protective of its own. Yet despite her close ties to the land, and despite her family's influence, Lucy—darkly beautiful as her mother was—is always thought of by those around her as her mother's daughter. When Cheri disappears, Lucy is haunted by the two lost girls—the mother she never knew and the friend she couldn't save—and sets out with the help of a local boy, Daniel, to uncover the mystery behind Cheri's death.
What Lucy discovers is a secret that pervades the secluded Missouri hills, and beyond that horrific revelation is a more personal one concerning what happened to her mother more than a decade earlier.
The Weight of Blood is an urgent look at the dark side of a bucolic landscape beyond the arm of the law, where a person can easily disappear without a trace. Laura McHugh proves herself a masterly storyteller who has created a harsh and tangled terrain as alive and unforgettable as the characters who inhabit it. Her mesmerizing debut is a compelling exploration of the meaning of family: the sacrifices we make, the secrets we keep, and the lengths to which we will go to protect the ones we love.
Category: Contemporary Women Writers, On Writing