Twenty-five years ago, on the train home from my teaching job in New York City, I found a way into the short story I was trying to write. I was lost, the story would start. This would be both a physical description of where Clare, the protagonist, was – lost with three friends on I-95, just outside Daytona Beach, Florida – and a metaphor for her interior life: although Clare was in the "driver's seat," this would signal the reader that she wasn't as confident and self-aware as she, and others, believed her to be. Finally, I had my voice and my beginning.  
The next day, as I worked on the opening and dove into the narrative, I was thrilled with my discoveries. The four girls came into focus – Clare with her famous and narcissistic mother; Lee, the film prodigy and Clare's best friend; even Ducky and Sarah, minor characters, each had an emotional arc. The girls were on their way to Florida, after abandoning a condo in North Carolina, and planned to meet up with friends in Fort Lauderdale. They'd never get there. Sidelined by bad weather, exhaustion, and no place to stay, they split up and Clare and Lee spent the night with a dubious friend-of-a-friend. There, a horrific encounter put both Lee and Clare in grave danger. That was my story.
I'd been thinking of this story for years. Based loosely on something that had happened to me in college, I often thought of what to do with the experience. My friend, Quiggs, and I had gotten away. But what if my two characters didn't? And how could I complicate the friendships, especially between Lee and Clare, to heighten the drama and intrigue? This was classic fiction writing, taking what I knew and experienced and twisting, distorting, adding, subtracting until I had something new. Something fictional.
I continued to write. The story went on and on with more discoveries. When I finally tried to wrap it up thirty pages later, I was less than satisfied. The lead-up to the encounter was too long and detailed. I had various flashbacks that shaded in the characters but slowed the narrative. But mostly, I couldn't answer basic questions. What was this story about? What was I trying to say? Where were the themes and symbols? What happened to the girls after the encounter? Struggling, I set it aside.
This was a familiar writing experience. In college, and afterwards, I took short story writing classes where I produced some terrific scenes. Sometimes, I wrote a decent short story, too. But mostly my stories meandered. I was interested in a character's back story, his/her unconscious and childhood experiences. I wanted to know about the family and friends and what made a character who he or she was. It wasn't until I took a writing course with Newbery Honor Winner Patricia Reilly Giff that I realized I wasn't a short story writer. "Try writing a novel," she'd said. And I did.
In the next ten years, I published three novels for middle grade readers, TALL TALES, NO CREAM PUFFS and A MILLION MILES FROM BOSTON. When I came back to my story of the four girls in Florida, I turned it into a novel, I'LL STAY. The writing flowed.
I don't know how most writers decide on their genre. I imagine some, like me, assume that short story writing is the precursor to novel writing. You know, you can't write a novel (it's so long and detailed!) until you master the short story. It's the logical progression. Start small before you go big.
But really, this is misnomer. It's like comparing apples and oranges. Short stories, obviously, are shorter than novels. They typically take place in a concentrated time frame with a limited number of characters and points of view. There's no room for lengthy flashbacks, multiple plots and themes and the slow-build toward an inevitable epiphany and conclusion. It's a more disciplined form of writing.
Plenty of writers are talented enough to publish both short stories and novels. Flannery O'Connor, who wrote two novels, once said that, "writing a novel is a terrible experience during which the hair often falls out and the teeth decay." Short stories seemed to be a more fitting genre for her. She wrote more than thirty of them and is considered one of America's greatest short story writers.
Someday I want to go back to the short story form and try again. But for now, I'm a novelist.
How do you know what kind of writer you are?
Perhaps you shouldn't think of it as a choice you must make. Let the story decide. Let it tell you. Does it span generations? Does it have multiple points of view? Then it might be telling you that it's a novel. Does your story have a compact plot line and time frame? Are your characters not interested in giving up their back stories? Then your story might be screaming short story.
Whatever it is, be sure to listen closely. The story will tell you.
—
Karen Day is the author of I'LL STAY published by Kensington in January 2018. She is also the author of three middle grade novels, TALL TALES, NO CREAM PUFFS and A MILLION MILES FROM BOSTON, all published by Wendy Lamb at Random House. In addition to teaching at the Cape Cod Writing Center conference, she also teaches at Boston's Grub Street, at various SCBWI events and at workshops across metro Boston. Readers can visit her website at www.klday.com.
About I'LL STAY
In this compelling, emotionally complex novel, a college friendship sparks a life-changing sacrifice that connects two women forever–even as it shatters their closeness . . .
"Let her go. I'll stay."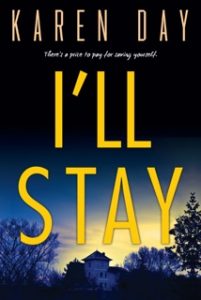 There are some decisions you can never unmake. You can only atone for them—or try to. During her senior year of college, Clare Michaels takes a spring break trip to Florida with three other girls, including her best friend, Lee. She's hoping for adventure and a few stories to share back at school. Instead, a string of bad choices leads to a horrific encounter, and Lee offers herself up so that Clare can escape.
In the weeks and months that follow that fateful incident, Lee, once so dynamic and ambitious, flounders and withdraws. Clare was the only person to whom she'd ever confided about her troubled past. For Clare, that role felt like an honor—until it became a burden. Now she's trying to make amends for her momentary selfishness by taking care of Lee—just as she's been taking care of her high-strung mother, whose bestselling novel has been both windfall and curse. Years pass, circumstances change, and contact between Clare and Lee ebbs and flows, but the events of that night in Florida are impossible to escape. They keep dragging Clare back—forcing her to confront what really happened, and her part in it, in hopes of untangling guilt from loyalty and earning forgiveness at last . . .
"I'll Stay is a heart-pounding, addictive portrait of how one split-second choice can twist our whole lives—and how the patterns of our lives lead us to those choices. A smart, compassionate, psychological spellbinder of a book—with one of the scariest scenes you'll read anywhere that'll stay with you forever!"
–Jenna Blum, New York Times bestselling author of Those Who Save Us and The Stormchasers
Category: Contemporary Women Writers, How To and Tips