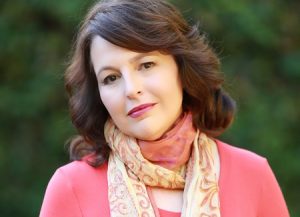 With so many books on the market, not to mention TV, films, the Internet and dozens of many other distractions clamoring for our collective attention, how does an author get her book to stand out? I don't claim to be an expert, but as the release of my second book approaches, I think I have a few tips worth sharing.
Most of what I've done required an investment of time, rather than money. I did invest a little bit of cash because I believe in my work and am willing to bet on myself, but most of my strategies are alternatives solely about imagination and commitment. In addition, my publisher welcomed my efforts and supported them as additive to their marketing plans.
When I wrote my first thriller, Just Fall, my sole goal was to finish it. When I sold it to Ballantine and then saw it translated into multiple languages, I sat back with a kind of stunned joy. I had defied all the odds, and sold my first book!
I supported the publisher's marketing and publicity efforts by giving talks at bookstores, conferences and libraries, donating books along with an "author visit" to benefit local charities, writing guest blog pieces, doing any and all interviews that came my way and reposting through Facebook and Twitter any critical love from mainstream press or book bloggers. It was a lot of work, but I was game for anything that came my way.
In prepping for the launch of my second thriller, The Burial Society (out on Jan. 30!), I decided to be more proactive. I am a Hollywood creature after all; I've been trained to think about marketing as much as content.
I have three main takeaways from my marketing experiences this time around:
1) it's always good to rely on your friends,
2) it never hurts to ask, and
3) when you do ask, you are often rewarded in unexpected ways.
Impressions of a product are essential to peaking potential customers interest and then to converting that interest to sales. Most people don't buy anything based on one image or review. Since I loved the cover art that Ballantine provided for The Burial Society, I decided to not only brand my social media sites with it as I had done with my first novel, but also to invest in some swag featuring the artwork in the hopes of repeating that impression, not just on the swag itself but also in social media posts by the recipients. Who doesn't love a little swag, right?
I put in a call to Debbie Abergel, the new girlfriend of one of my husband's oldest friends hoping for a little advice about what items work. She works at a company specializing in branded marketing items and did better than advice, putting me in the hands of a brand specialist at her company. I ordered a small quantity of tote bags, jotter notebooks, luggage tags and small travel-sized candles (in an attractive scent called "Revive," on theme for my book). And yes, I was right, everyone loves swag!
I handed out luggage tags to my University of Southern California students heading home for the holidays, jotter notebooks to my mentees at the Hedgebrook screenwriting lab, and advanced reader copies (ARCs) in branded totes to random people I met while attending the TEDWomen conference. For the first time, I also enlisted a street team, largely at the urging of my original super fan Cathy Shouse, who deserves an entire column of her own. My street team consists of nine geographically diverse members who agreed to help support the book. I rewarded the team with ARCs as well as swag to distribute to others and to primo stuff for them to keep for themselves.
I also tried to think outside of the box. The book is a thriller, with themes of escape and reinvention, so I tried to line up cross promotions with other products and companies that might be on brand. Since the book is set largely in Paris, I asked a friend from high school — shout out to Bronx High School of Science — who runs marketing for a digital travel company if he thought an outfit like his would ever do a joint promotion with an author and a publishing house. And he came through with a trip to Paris!
But this partnership had another fateful element. When my friend spoke to the manager of his company's call center to ensure everyone was up to speed on our contest, the manager reported that she had finished Just Fall only two days prior and had been recommending it to others. Mailing her a signed ARC of The Burial Society was a no brainer, as well as proof positive that even in the digital age, you can and should build a base one fan at a time.
I was also lucky in meeting Shel Pink, author of Slow Beauty and founder of Spa Ritual through a mutual friend kind enough to host a brunch in honor of Shel's book launch. Shel and I agreed to work together to promote our completely different ways of looking at self-reinvention. She provided some products and a book for my launch party, and we're talking about further collaboration. Author-to-author support is another valuable tool in the kit in terms of this kind of cross over promotion, providing advance quotes and/or social media support.
I've also come to appreciate how much fans love to engage with authors. And I found out how much I love engaging with fans!
I launched "Cheerfully Dark Dispatches from the Mind of Nina Sadowsky," a monthly digital newsletter last in September to provide monthly updates to those interested in my work. These dispatches include work updates, recommended viewing, and columns based on my interests and experience. I write a monthly "ripped from the headlines" section — where I tend to focus on the weirder news out there — and answer questions from authors about the inner workings of the film and television industry in "Hollywood Decoded."
Every issue utilizes The Burial Society cover art in one way or another and emphasizes important events like a Goodreads giveaway or a bookstore appearance. I also often include my own mixed-media collage, created in tandem with my books. The publication also allows me to spotlight I've also featured many people from my wonderful community of authors and filmmakers, providing links promoting their work (and further building my community of friends!).
In order to further pique fan interest, I also created a Burial Society "How to Throw a Killer Book Club Party" guide available for download through my website. The contents of the guide include two cocktail and three snack recipes, a variety of downloadable digital postcards and invitations and 10 book club questions to get the conversation going. Again I repurposed the cover artwork in creating these extras. I also gave the recipes and cocktails on theme (and I hope clever) names.
.
Working with the estimable Michelle Cox, a marketing consultant, I also created a private Facebook launch group where we provided ARCs of the book, behind the scenes photographs (like shots of the actors recording the audio version, or snaps I took in Paris and Budapest — two of the book's locations), exclusive discussion questions and a forum to discuss the concept of self-reinvention. This group is blogging, posting and generally supporting the release. I hope that The Burial Society launch group will continue to grow as an online forum committed to discussing the need for courage in order to affect change, whether personal, within our families or in our communities, a theme central to my novel.
I'm going to stay innovative. I'm currently planning a Facebook Live event, an on-theme Instagram art contest, and giveaways of small on-brand prizes at my book tour events. I'm assessing which of these initiatives work the best and that assessment will fuel future choices because an author needs to do all she can in order to make a book stand out. And also, of course, write a book that speaks to people, but that is a whole other column.
—
Ballantine published filmmaker Nina Sadowsky's debut thriller, JUST FALL, in March 2016. She is developing a TV series based on the book.
Sadowsky has written numerous screenplays and produced many films including perennial favorite "The Wedding Planner." She also teaches script development and producing at USC's School of Cinematic Arts.
Her second novel, THE BURIAL SOCIETY, will be published by Ballantine January 30, 2018 and she has just concluded a deal to make the thriller the first of a three book series.
https://www.facebook.com/ninasadowskythrillers/
https://twitter.com/sadowsky_nina
https://www.instagram.com/ninasadowsky/
About THE BURIAL SOCIETY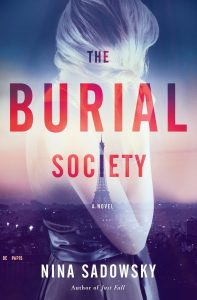 A woman running from a dark past stumbles upon a tangled nest of seductions and secrets in this psychological thriller of obsession and betrayal.
Catherine, no last name, doesn't bury the dead. She rescues the living—from intolerable, abusive, dangerous lives. Her darknet-based witness protection program, the Burial Society, is the last hope for people who desperately need to disappear. Catherine takes care of them and provides new identities. She is effective and efficient—until she discovers that her slipup may have compromised a client, maybe even killed her. Powerless to help without exposing her shadowy profession, Catherine makes a drastic move.
With her covert service relocated to Paris, Catherine's done her best to move on. But when a dark part of her past suddenly appears in the City of Light, she refuses to run—and her life takes a harrowing turn.
Using all the tricks of her unusual trade, Catherine weaves her way through a dangerous landscape of treachery, infidelity, paranoia, and secrets that bind as deeply as blood. But the evil of the enemy she's pursuing runs deeper still—to the bone. And even Catherine's most cunning skills may not be enough to save herself.
Advance praise for The Burial Society
"A deeply unsettling, compulsively entertaining Rubik's Cube of a novel . . . Every time you think you've unlocked the puzzle, Nina Sadowsky introduces a new twist that makes you start guessing all over again."—Michelle Richmond, New York Times bestselling author of The Year of Fog and The Marriage Pact
"The Burial Society is a twisty, ever-deeper, can't-let-go read! The heroine can trust no one as she struggles to help abused and endangered women in a world of secrets and shadows. . . . A dynamite psychological thriller by a new master of the genre."—Karen Harper, New York Times bestselling author of Falling Darkness
"Addicting and chilling . . .  a smart, sophisticated, terrifying trip to the City of Light."—Susan Elia MacNeal, New York Times bestselling author of the Maggie Hope series
Category: On Book Marketing, On Writing