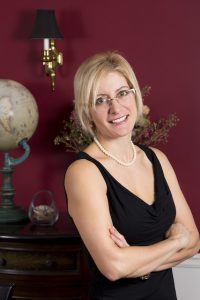 What do you do when you've written and rewritten a piece, and it still falls flat? Some approaches to re-vision an essay that is refusing to cooperate. 
I wrote six beautiful, heart-breaking pages and electronically submitted them to my advisor. It was a great story.  Her reply was something along the lines of, "That last paragraph—wow. Cut the rest and just keep that paragraph." Cut the other 5 ¾ pages? All I could see were hours and pages and words going down the drain. There was swearing in my house that day, lots of swearing, and a fair amount of crying. Yes, it was a great paragraph, but the rest wasn't that bad! But I had to remind myself that I was in school because I wanted to be more than just a "not bad" writer.  
When I stopped crying and looked at not just these six pages, but the total of everything that I had written about my relationship with my father—50 pages—I could see her point. It was rather flat. I opened a new document and started listing only my best lines and most salient paragraphs from everything I had written. I would up with seventeen pages of memories, jokes, and fragmented thoughts assembled linearly but not following a traditional structure.  It was more like a mosaic, a quilt, or some sort of assemblage project. It felt complete, true.
I called it "Essay Notes on Attachment Disorder," and it was shortlisted for the DisQuiet Prize in Nonfiction, and then again by Black Warrior Review for their Prose Contest. A year later, it won American Literary Review's Contest in Nonfiction.  I was onto something. My weird stuff was more successful than my traditional narrative.
I started looking back through my pile of near-miss essays that I had given up on. I found another reject—an essay about how people use each other and discard them that I had braided with some really great material about flies. No one liked it but me. The feedback I received was to strip out all of the stuff about the dead flies and just stick to the narrative. The more I looked at it, the more I realized that the only thing I loved about the essay was the material about the dead flies. When I stripped out the personal essay and just left the metaphor, it became a universal story about tolerating untenable situations.  Luna Luna Magazine accepted it shortly thereafter.
On writing my memoir, my characters felt one-dimensional. I couldn't find the emotional distance I needed, until I stopped writing "I" and switched it to "the girl." I then took it a step farther, and made "the Girl" simply "Girl," and I liked that even better. When I stepped back from first person to third, I was able to gain perspective, see my family as three-dimensional people, and found ways to add visual details.  I don't know how other people will react, but I'm convinced that I couldn't write my story any other way. It is what it needs to be, and that is enough for me.
As Robert Root writes in The Nonfictionist's Guide:
Nonfiction is not simply a conforming art—it's also an experimental art […] it's necessary to ignore the impulse to force the essay to fit a prearranged structure and, instead, to let the structure arise from the essay—to, in effect, let the essay (or memoir or cultural criticism or what have you) become whatever it needs to become. (Root 8)
 In other words, don't be afraid to weird it up. Jenny Boully wrote a beautiful essay called The Body, which is told only in footnotes—the narrative is missing entirely. Amy Kraus Rosenthal assembled her memoir into an alphabetized encyclopedic list in Encyclopedia of an Ordinary Life.  There are essays written as crossword puzzles, lists, outlines, graphic novels, and writing that lives in the blur between prose and poetry.  Readers are hungry for the unexpected.
So when you are confronted with a piece that simply won't behave the way you want it to, step back and see what it wants to become.  Throw out the idea that the only way to cross a river is by building a bridge. Stop trying to nail your sentences down one after the other in a neat progression, and look for zip lines, fallen logs, or half-submerged rocks. If all fails, jump in and swim.  You'll be on the other side before you know it.
—
Lara Lillibridge sings off-beat and dances off-key.  She writes a lot, and sometimes even likes how it turns out.
Her memoir, Girlish: Growing Up in a Lesbian Home, available for preorder on Amazon and Barnes&Noble, is slated for release April 3, 2018 with Skyhorse Publishing.
Lara Lillibridge is a graduate of West Virginia Wesleyan College's MFA program in Creative Nonfiction.  In 2016 she won Slippery Elm Literary Journal's Prose Contest, and The American Literary Review's Contest in Nonfiction. She also was a finalist in both Black Warrior Review's Nonfiction Contest and DisQuiet's Literary Prize in Creative Nonfiction.  She has had essays published in Pure Slush Vol. 11, Vandalia, and Polychrome Ink; on the web at Hippocampus, Crab Fat Magazine, Luna Luna, Huffington Post, The Feminist Wire, Airplane Reading, Thirteen Ways to Tell a Story, Weirderary, and Brain, Child magazine's Brain, Mother blog.  Follow her on Facebook, Twitter, or Instagram.
Find out more about her on her website http://www.laralillibridge.com/
Girlish: Growing Up in a Lesbian Home
An honest, unfiltered memoir about a girl with an unconventional family.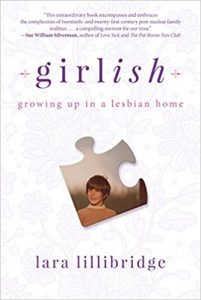 "The story everyone wants to hear isn't the story I want to tell." Lara Lillibridge grew up with two moms―an experience that shaped and scarred her at the same time. Told from the perspective of "Girl," Lillibridge's memoir is the no-holds-barred account of childhood in an atypical household. Personally less concerned with her mother's sexuality and more with how she fits into a world both disturbed and obsessed with it, Girl finds that, in other people's eyes, "The most interesting thing about me is not about me at all; it is about my parents."It won't be long before readers realize that "unconventional" barely scratches the surface.
In the early years, Girl's feminist mother reluctantly allows her to play with her favorite Barbies while her stepmother refuses to comfort her when she wakes up from nightmares. She goes skinny dipping on family vacations in upstate New York and kisses all the boys at church.
Girl and her brother travel four thousand miles―unaccompanied―to visit their father in rural Alaska, where they sleep in a locked cabin without running water, telephone, or electricity. Raised to be a free spirit by norm-defying parents, Girl has to define her own boundaries as she tries to fit into heteronormative suburban life, all while navigating her mother's expectations, her stepmother's mental illness, and her father's serial divorces.Lillibridge bravely tells her own story and offers a unique perspective. At times humorous and pithy while cringe-worthy and heartbreaking at others, Girlish is a human story that challenges readers to reevaluate their own lives and motivations.
Category: How To and Tips