The story was initially inspired by my own stranger-than-fiction friendship with well-known Spanish flamenco guitarist, Josemi Carmona – that started with a tweet. After many years in a highly successful flamenco fusion band, he had come out with a solo album. I'd liked clips of it on YouTube but, unable to find it on Amazon, I tweeted him to ask him where I could buy it. I didn't expect an answer, but back came a friendly reply and a website address.
Once I had the album, I tweeted him to tell him how much I loved it, we got talking about the track that Paco de Lucía had played on, and then about my Spanish and his English, our teenage boys… and well, to cut a long story short, a year of tweets, emails, and Skypes later, we finally met when I was invited to be on a bilingual radio programme with him, talking about our friendship and how I'd become his English teacher.
This experience, as well as other Twitter friendships, had me asking myself how I can sometimes feel closer to these 'people in my pocket' than I do to friends I've known for years. Like all novelists, I'm always asking that "what if…?" question, so the inevitable next one here was: what if two very different and distant people develop an unexpected, irresistible connection? I loved the idea of writing a novel about communication: our difficulties with it (emotional, linguistic, cultural, physical), but also the miracle – or maybe tragedy – of such chance encounters.
Inspired by my extraordinary friendship with Josemi, I chose very contrasting settings for my protagonists. The actor-musician Santiago is surrounded by family and friends in land-locked Madrid like his real-life counterpart, but in a noisy penthouse flat. His English Twitter friend Imogen, like me, is in a coastal location – but surrounded by emotional and physical barriers (she's borrowing her aunt's converted lighthouse on a Beachy Head cliff). Although their story is fiction, I couldn't help lifting some of the dialogue – and nearly all of the first Skype – from the first year of our friendship.
Staying at the Belle Tout lighthouse in the original keeper's bunk room, 'being' Imogen, I got the inspiration for the second story in the novel. From here, you can see the Beachy Head lighthouse in front of the cliffs, automated since 1982. What if her father was a lighthouse keeper there, with a young female penfriend? No lifting of dialogue here; I had to do a lot of lighthouse visiting and reading (particularly of the late Tony Parker's fascinating book Lighthouse, in which he interviews many keepers and their wives).
I couldn't write a story – two stories – about communication, without using more than just Imogen's viewpoint. Thanks mainly to Tony Parker's book, it wasn't difficult to write as a 1980s lighthouse keeper. Getting into the mind of a half gypsy flamenco guitarist turned diffident soap actor, however, was only possible after spending a lot of time in Madrid hanging out with wonderful músicos, an actress, and other Spanish friends showing me how to be madrileña. Luckily, I trained as a musician, already spoke the language (my mother was half-Spanish) and did a flamenco course in Granada for my previous novel!
The male (and Spanish) viewpoints were also important for another reason: from the outset, I wanted to write this for men as well as women, and for English and Spanish readers – People Fiction / Ficción de Personas rather than just Women's Fiction.
So that's the background to The Lighthouse Keeper's Daughter. If anyone's interested in the foreground, how writing it has affected me… Well, I've moved even nearer to the coast: ten minutes' walk into the sea, and five minutes' drive to my beloved Beachy Head lighthouse. As for Madrid, I have too many wonderful friends over there now, and too much love of this city with its flamenco, glorious parks and museums, to ever stay away for long.
—
About THE LIGHTHOUSE KEEPER'S DAUGHTER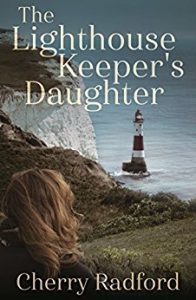 After the break-up of her marriage, Imogen escapes to her aunt's converted lighthouse on Beachy Head. Writing for a tedious online magazine but hoping to starting a novel, she wants to be alone – until she finds an entrancing flamenco CD in her borrowed car and contacts the artist via Twitter. It turns out that actor-musician Santiago needs help with English, and is soon calling her profesora.
Through her window, the other lighthouse winks at her across the sea. The one where her father was a keeper, until he mysteriously drowned there in 1982. Her aunt is sending extracts from his diary, and Imogen is intrigued to learn that, like her and Santi, her father had a penfriend.
Meanwhile, despite their differences – Imogen is surrounded by emotional and geographical barriers, Santi surrounded by family and land-locked Madrid – their friendship develops. So, she reads, did her father's – but shocking revelations cause Imogen to question whether she ever really knew him.
Two stories of communication: the hilarious mistakes, the painful misunderstandings, and the miracle – or tragedy – of finding someone out there with whom you have an unforeseen, irresistible connection.
'A wonderful romance that deftly weaves past and present – a story so full of music it sings.' Avril Joy, author of Sometimes a River Song, Costa Award Winner
'A fresh new voice telling a charming and moving story of love, loss, loneliness, Twitter and Spanish lessons. An absolute delight.' Louise Douglas, bestselling author of The Secret by the Lake.
—
Cherry Radford was a keyboard player in a band, a piano teacher at the Royal Ballet School and an optometrist/post-doctoral researcher at Moorfields Eye Hospital before suddenly starting her first novel in the middle of a scientific conference in 2009.
Following the publication of Men Dancing (2011) and Flamenco Baby (2013) by a small Brighton-based independent, The Lighthouse Keeper's Daughter is her first novel with Urbane Publications.
Cherry lives in Eastbourne and Almería (Spain).
She chats about writing and other passions on her BLA BLA LAND blog (https://cherryradforddotblog.wordpress.com), Twitter (@CherryRad), Instagram (cherry_radford) and website (http://cherryradford.co.uk).
Category: Contemporary Women Writers, On Writing