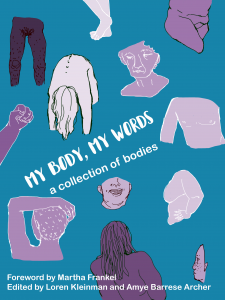 When we think of revolution, we think of college students planting daisies down the barrel of a gun, courageous young men and women staring down tanks in Tiananmen square, or children marching with their parents on the streets in Baltimore, but for those fighting the war on body image, the struggle isn't always so obvious.
The war on body image is fought behind closed doors, in dressing rooms, closets, bathrooms, and in the darkest corners of our society. It is a war that has claimed many lives and will continue to do so as it rages, a war rooted in self-hatred and self-loathing, born out of the media and pop-culture's idea of what it means to be beautiful. Beauty pageants, swimsuit calendars, "thigh gap," for longer than we care to admit, Americans have allowed our children- girls and boys- to participate in a culture where they are rewarded for how they look rather than their strong minds and hearts.
Thankfully, the body positivity revolution has begun. What was once a whisper, is quickly becoming a roar.
With the strong voices of Lena Dunham, Adele, Amy Schumer, and more, there has been a real push as of late to reclaim beauty in a world where that word-and everything that goes with it-has been hijacked. Pageant viewing has declined, pushing what was once a staple of American culture-The Miss Universe, Miss USA pageant and others-to a basic cable time slot where they garner a third of their once enormous audiences, companies like Lane Bryant are launching campaigns like #ImNoAngel to promote self-love and body acceptance, and more recently Sadiq Khan, the new London mayor, banned advertisements promoting unhealthy body image. Now more than ever, women of every shape and size are now on our television screens.
My Body, My Words is about the relationships with and to our bodies that started with a simple idea: if you could talk to your body (and if your body could hear you), what would you say?
In the world of literature, there has been an explosion of books dealing with this very issue. Memoirs from women who were once or still are struggling with weight. Books like IIt Was Me All Along by Andie Mitchell, Big Girl: How I Gave up Dieting and Got a Life by Kelsey Miller, Things No One Will Tell Fat Girls by Jes Baker, and the highly-anticipated Hunger by Roxane Gay due to be released this summer, are climbing the New York Times Bestseller list and quickly.
Yet, there is still work to be done. According to the National Eating Disorders Association, 20 million women and 10 million men will suffer from a "clinically significant" eating disorder in their lifetime. As if that number isn't alarming enough, the organization reports that by the age of six, 40-60% of young girls worry about their weight. Something must be done.
My Body, My Words brings a chorus of strong voices to this fight. With contributors like Beverly Donofrio (Riding in Cars with Boys), Martha Frankel (Hats and Eyeglasses), Abigail Thomas(What Comes Next and How to Like It), Ashley Tipton (Project Runway) and more. My Body, My Words offers readers and educators the unique experience of finding all of these voices in one place.
Buy the book at: http://bit.ly/MyBodyMyWords. For UK purchases, buy at http://bit.ly/MBMWUK.
About the Editors: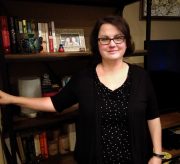 Amye Archer holds an MFA in Creative Nonfiction from Wilkes University. Her memoir, Fat Girl, Skinny, was named runner-up for the Red Hen Press Nonfiction Manuscript Award and was released in April, 2016, by Big Table Publishing Company. She has two poetry collections: BANGS and A Shotgun Life, both published by Big Table Publishing. Amye's work has appeared in Brevity, Hippocampus, Mothers Always Write, Nailed Magazine, PMS: Poem Memoir Story, PANK, and Provincetown Arts. Her Essay, "Slow Motion," received a notable in Best American Essays 2016. Amye is a regular contributor to Feminine Collective and is the creator of The Fat Girl Blog. Learn more about Amye at www.amyearcher.com.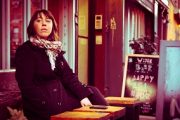 Loren Kleinman' s non-fiction has appeared or is forthcoming in Romper, The New York Times, Ploughshares, ROAR, Cosmopolitan, Good Housekeeping, Seventeen Magazine, USA Today, Redbook, Woman's Day, BUST, and more. Kleinman's The Dark Cave
Between My Ribs was named one the best poetry books of 2014 by Entropy Magazine. Learn more about Loren at www.lorenkleinman.com. Loren is working on a collection of essays about love and trauma.
Category: Contemporary Women Writers, On Writing