Author Alison Morton
INCEPTIO
New York, present day, alternate reality. Karen Brown, angry and frightened after a kidnap attempt, has a choice – being eliminated by government enforcer Jeffery Renschman or fleeing to mysterious Roma Nova, her dead mother's homeland in Europe.
Founded sixteen centuries ago by Roman exiles and ruled by women, Roma Nova gives Karen safety, at a price, and a ready-made family. Just as she's finding her feet, a shocking discovery about her new lover, special forces officer Conrad Tellus, isolates her.
But the enforcer has crossed to Europe to pursue her. Unable to rely on anybody else, she undergoes intensive training, develops fighting skills and becomes an undercover cop. But crazy with bitterness at his past failures, Renschman sets a trap for her, knowing she has no choice but to spring it…
PERFIDITAS
Captain Carina Mitela of the Praetorian Guard Special Forcesis in trouble – one colleague has tried to kill her and another has set a trap to incriminate her in a conspiracy to topple the government of Roma Nova. Founded sixteen hundred years ago by Roman dissidents and ruled by women, Roma Nova barely survived a devastating coup d'etat thirty years ago.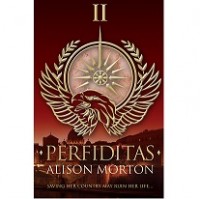 Carina swears to prevent a repeat and not merely for love of country. Seeking help from a not quite legal old friend could wreck her marriage to the enigmatic Conrad. Once proscribed and operating illegally, she risks being terminated by both security services and conspirators.
As she struggles to overcome the desperate odds and save her beloved Roma Nova, and her own life, she faces the ultimate betrayal…
Category: British Women Writers, Contemporary Women Writers