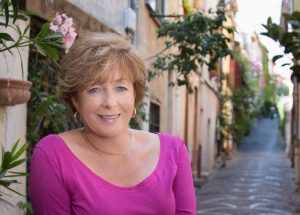 This is a little embarrassing. But it also is a reminder to me of how quickly time flies by.
In 2011 … I know! … that's just ridiculous … and I apologize …  I wrote this post about women's friendship for Women Writers, Women's Books. At the time I had recently published my first novel, The Bridge Club, and my post was motivated by this quote of Susie Maguire's (June 11, 2011): "Better than any book, [  ] is the communion that happens when you meet someone and have great rapport; someone whose existence makes your life better in myriad ways."
I went on to talk about how the forty-year friendship of my real-life bridge club had inspired my first novel. That friendship had also encouraged and supported my commitment to writing the novel. After the book was out in the world, my wonderful bridge club ladies were my loudest cheerleaders. Their friendship is one of the treasures of my life.
Six years and four more novels later, I feel fortunate to still make that claim.  Having been plunged into the writing world from The Bridge Club onward, I feel inclined to describe my experience and continue writing here about friendship. But this time rather than talking about those I've had all my life, I would like to say a few words about the friendships I've discovered within the world of writers.
At the beginning of my journey, I often read that writing was a lonely solitude. I soon learned this to be the farthest thing from the truth. Before long, I was introduced to groups such as Women Writers Women's Books, WFWA and countless more that opened a global community only too eager to offer support and information.
True collegiality. This was an unexpected revelation.
Obviously I had never thought about that aspect of a writer's life. Mainly because I had never before thought that I might be a writer. After I indie-published The Bridge Club, immersion into social media followed … as we know is the norm. I had NO idea what I was doing.
I've recounted this next part of my writing story at every opportunity. When I'm invited to speak to groups or book clubs, I love to share how that beginning unfolded for me.
I honestly don't believe I would be where I am today as a novelist, without this experience. By chance, I happened to sign on to a blogging course that promised to assist participants in discovering their brand. There were forty of us (one man, who was a great sport), all at about the same point in our journeys as writers. We were all ages and locations. We were passionate in our desire to write. We were more than a little confused and concerned about blogging, websites, and twitter. And we bonded. Oh yes, we did.
We had to be honest with ourselves and with each other. We stripped down to our core to discover how we wanted to present ourselves to readers. We were critics and supporters. We became friends.
And seven years later we still are. After our course drew to a close, we began a private Facebook page on which we experimented, critiqued, expressed ideas, hopes, fears, promoted, and constantly shared information as well as ups and downs. The connections continue.
As I continued to write and self-publish, the collegial atmosphere of the writing world became more apparent to me. I was invited to join a UK-based group as well as quickly getting to know many welcoming groups that span the globe. At every turn, there was nothing but positive interaction and friendships that developed through writing. Not to say there weren't conversations that exposed frustration. There were writers who had to set their hopes aside. For some, things didn't always work out for a variety of reasons.
The more involved I became in the world of writing, the more places to connect with authors (and readers) either physically or virtually became apparent. No matter what time of day or night, there's always a conversation thread to join.
With Skype, Google Hangouts and FaceTime, I discovered how simple it is to feel even more connected. Meeting face to face at conferences, retreats, and workshops, as well as getting to know new friends as we all grow in knowledge and pursue our craft, adds to the positive experiences. Talking, listening, sharing, questioning and always an abundance of laughter: these are my strongest memories, without fail … wait, did I mention there sometimes may have been wine? And lively meals?
At the risk of sounding too buoyant and idealistic, I haven't encountered one instance of unpleasant interactions.
As much as I love the life of an indie, being invited to sign with Lake Union Publishing, Amazon's women's fiction imprint, two years ago, was a dream come true. Here again, the collaborative, reciprocal, united community of writers has simply expanded in my life.
No matter where this fellowship and collegiality is found, I feel grateful to learn from more experienced writers and also to be able to share lessons learned in my journey with those starting out.
We are family.
—
Find out more about Patricia on her website http://patriciasandsauthor.com/
Follow her on Twitter @patricia_sands
—
About  DRAWING LESSONS
The author of the Love in Provence series returns to the South of France with a poignant portrait of a woman who must learn how to create a new life for herself…
Sixty-two-year-old Arianna arrives in the South of France for a two-week artists' workshop full of anticipation but burdened by guilt. Back home in Toronto, she has been living with the devastating diagnosis of her husband's dementia and the heartbreak of watching the man she has loved for decades slip away before her eyes. What does her future hold without Ben? Before her is a blank canvas.
Encouraged by her family to take some time for herself, she has traveled to Arles to set up her easel in the same fields of poppies and sunflowers that inspired Van Gogh. Gradually, she rediscovers the inner artist she abandoned long ago. Drawing strength from the warm companionship and gentle wisdom of her fellow artists at the retreat—as well as the vitality of guest lecturer Jacques de Villeneuve, an artist and a cowboy—Arianna searches her heart for permission to embrace the life in front of her and, like the sunflowers, once again face the light.
Category: On Writing