As I sit down to write this blog, I ask myself the two questions I often have to answer. The first, do I want to do it? The second, do I have time? The response I generally come to is this…
If I want to do it, I'll have to make time!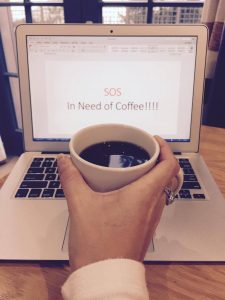 Like so many authors, I have two careers. By day, I am a lawyer. By night, I am a women's fiction and romance author. If only it were that simple! When my legal clients require attention late into the evening and at weekends, and being an author requires almost round-the-clock attention, the demarcation between my two careers is not so clear.
But, hey, there are 24 hours in a day, right? Minus sleeping. Minus life's daily chores and rituals. Minus spending time with my husband, taking care of our dog, and trying to keep up with friends and family.
1 + 1 – 60,000 = NO TIME!
My writing journey began years ago but my first publishing contract with Harlequin came in 2015 and my first novel was published in March 2016. Since then, anyone who meets me (and may consider befriending me) should know the following:
Remembering birthdays is, for me, a thing of the past (despite the list of important birthdays I have typed and stuck to my fridge!).
Turning up on time to non-work related appointments is something I am atrocious at.
Turning up to non-work related appointments within ten minutes of the agreed start time is something I am reasonable at.
I will immediately sign into Wi-Fi on arrival at any café, restaurant or department store, before placing an order and/or searching for the women's apparel floor.
If you stop talking to me for more than 1 minute, I will post on social media.
I look for a photograph opportunity everywhere I go (see 5).
Sometimes, I am so exhausted my sentences no longer make sense (applies to both the spoken and written word).
Occasionally, I lose my s*!t over small things.
I will love you dearly but I will show it sporadically.
I often feel like I am failing at everything.
But would I have my life any other way? No.
I have a career I studied hard for. I have a passion and a dream. I have a loving, supportive husband and amazing friends and family. So, I guess I have it all.
Did I think that 'having it all' would have been easier than it feels sometimes? For sure. What little girl doesn't dream of having it all and how wonderful that would be 24/7?
The reality is, ladies, it isn't easy to have the things you want in life. Far from it. It's damn hard. And where I have a husband and dog to consider on a daily basis, I can't even imagine how those of you with children and other dependents manage.
But you, me, and every other woman out there…we're made of strong stuff. We can do it!
What you have to do is ask yourself, what do you really want from your life?
(Refrain from hoping for a money tree at the bottom of the garden. From experience, despite all the wishing in the world, this is one thing you CANNOT have.)
What you have to know is, no one else will work as hard for you to achieve your goals as you will.
You will find your own way and my only advice is to keep to-do lists and try to plan your time. It won't always go the way you expect but it's something to help get your day started.
Here is a typical mid-week day for me…
6-6.45am

Wake up, check emails, dress for the gym and pack a bag for work.

(Let's assume this day it is Hubby's turn to walk the dog)

6.45-7am
Drive to the gym.
7-8.15am
Plug in my latest playlist and wake myself up properly with a good workout.
8.15-8.45am
Dress at the gym and head to my office at my law firm.
8.45am-12.30pm
Eat porridge and drink coffee at my desk whilst making a start on my to-do list for the morning.
12.30-1.30pm

Do errands and/or meet a colleague for lunch or coffee. Maybe read a few chapters of my latest book club book.

(Let's assume on this day I am able to take a lunch hour)

1.30-6.30pm

Lawyering.

(Maybe later, depending on the day)

6.30-7pm
Drive home from work.
7-7.30pm
Walk the dog.
7.30-8pm
Prepare dinner and start author social media.
8-10pm
Writing/Editing/Author admin/Marketing
10-10.30pm
Pillow talk with Hubby.
Sleep.
Repeat.
Like I said, it isn't easy. I could cry with tiredness sometimes and I often feel guilty for not spending enough time with my husband and other family and friends. But I want to be a successful lawyer and a successful author. And this is the part where I confess, I couldn't do it without the support and understanding of my husband.
I know there are many women out there in similar situations and probably working even harder than I am. So, tell me your story. And, gosh, if you have hints and tips as to how to be Superwoman, let me know!
—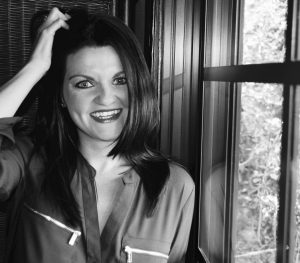 Laura Carter is the bestselling author of the Vengeful Love series. She writes from her beach home where she lives with her husband and (gorgeous) dog. She loves all things romance, including paper hearts, flowers, chocolates and champagne (not necessarily in that order). If she isn't writing or hanging around on social media, you can probably find her watching a romcom with a tub of Ben and Jerry's.
Facebook:
www.facebook.com/lauracarterauthor
www.facebook.com/groups/carterschiccats
Instagram:
www.instagram.com/lauracarterauthor
Twitter:
Website and blog: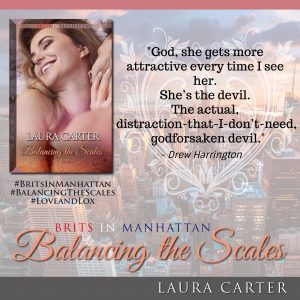 About BALANCING THE SCALES
"Carter's writing style is absolutely brilliant."
—The Romance Reviews
A Hotshot Manhattan Attorney.
Drew Harrington knows exactly who he is—a legal shark with a love 'em and leave 'em attitude that works just fine in his cutthroat world. He's on the cusp of being named a partner in his firm, but only if he can prove to his colleagues that he has a more human side.
A Sweetheart of a British Patisserie Chef.
Becky Fletcher is running from her past, so the last thing she's looking for is love. What she does want is a friendly face in a cold city. Her sunny outlook is the sweetness Drew never knew was missing from his life.
One fateful meeting at a bagel cart.
They sound like a match made in heaven—or is it a car crash? If they have any chance of finding happiness, Drew and Becky are going to have to rethink their life plans. Until then, is there really any harm in having some fun between the sheets?
All's fair in love and lox!
iBooks: https://goo.gl/0MLjEk
Barnes and Noble: https://goo.gl/0xaq5B
Amazon UK: https://goo.gl/AbwA8z
Amazon US: https://goo.gl/vCN42X
GooglePlay: https://goo.gl/he4H3O
Kobo: https://goo.gl/mlxcDH
Category: Contemporary Women Writers, How To and Tips