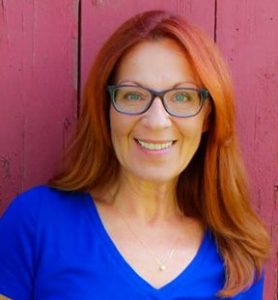 I started down my writing path a few years ago with a story to tell and a love for the written word. The more I wrote, the better my writing became. The better my writing became, the more I wanted to write. The more I wrote. . . You get the idea. Writing had progressed from my hobby, to my therapy, to maybe—my drug? If writing is a drug, at least it's harmless, right? Though I have to admit I've picked up some very specific traits since I'd begun writing. Traits I've observed in other writers as well, which leads me to wonder if they're a side effect of writing.
I edit everything
E-mails, text messages, grocery lists, you name it, I'll edit it to perfection. This is an obvious side effect of revision, but I ask you, what's wrong with a well-executed post-it note? It was worth the twenty minutes it took to write it. Verbal communications can be more complicated to edit. I get some strange looks when I cut myself off mid-sentence to say, "Wait, delete that!" I've learned people can't unhear things.  
I like to control things
Yes, I may have become just a teensy bit controlling. Enough to invent entire worlds and populate them with characters of my own creation in order to have someone who will bend to my will and do my bidding. Is that bad? Though they fight me now and then, I didn't invest them with free will, so I get to call the shots. Here's the problem—people resent this in real life. No matter how much I assure everyone these characters are much better off for my interference, my friends and family prefer to control their own lives. It's that free will thing.
I've become a trouble maker
I love the characters I create, which is why I used to protect them, kept them out of trouble, or let them off the hook way too easily. Eventually I learned if I start off with "Happily ever after," there's nowhere to go. I had to dig deep and find my inner mean streak. Now my characters have to deal with heartache, financial ruin, and even death. If they don't experience the dark night of the soul, how will they ever grow? So, I started causing trouble. (I suspect that's the real reason my friends don't want me to control their lives.)
I spend way too much time devising ways to kill people
Only fictional people! Not all of you share this trait, but those of you who write mystery and crime fiction will understand. Since I started writing mystery, I've become increasingly aware of how dangerous our daily activities can be. I had to wash my hair in the kitchen sink one day, (long story) and I wondered what would happen if my hair got caught in the disposal. Would the sink fill up with water? Would I drown? Since I like both my hair and my life, I didn't attempt the experiment, but I did Google it, and found out I'm not the first one to consider this. Actually, between researching murders, weapons, and poisons, my search history could bring the NSA to my door.
I've learned a second language
I don't know about you, but some of my best ideas come to me when I'm sleeping. I've learned to keep a pen and notepad on my nightstand in case I wake up in the middle of the night with a great idea. Usually these notes made little sense in the morning. That is until I learned Gibberish—the language of notes scribbled in the dark and sometime first drafts. Without a fluency in Gibberish, how would I ever know that Pfhwmam vodorte ulfabe a grohosh means the culprit decapitated his victims with a paper cutter?
I've become patient
Just kidding! I'm totally not patient. Banging my head on the desk to make my thoughts flow faster is just part of the job. Once I started submitting my work, impatience became anxiety, and why wouldn't it? When I sent off a query to an agent, I was waiting for a life-changing reply to show up in my in-box. It's completely understandable to keep hitting refresh. Again, and again, and again.
I'm courageous and confident
As writers, so are you. Other than Danny Sarducci from the seventh grade, I've never met anyone else who could face 100 rejections and still have the will to persist. Writing demands confidence and courage. Let's face it, sending your novel off to an editor, or agent, is the writing equivalent of asking if these pants make my butt look big. It's daunting.
And that's not the only time your courage will be tested. I have an author idol. Most of us do. I've read everything she's ever written multiple times in an attempt to absorb her talent. One day I came face to face with my idol and mentioned my book. Her eyes lit up. She asked me about it.
And I choked.
I said something like, "smiget erd fwememo," while my knees knocked together.
Fortunately, my idol, fluent in Gibberish, smiled and said, "I'd love to read it." She'd been in the trenches once herself, and was willing to give another writer a hand up. That generosity is the best side effect of writing.
—
Dianne Freeman is a life-long book lover who left the world of corporate finance to pursue her passion for writing. After co-authoring the non-fiction book, Haunted Highway, The Spirits of Route 66, she realized her true love was fiction, historical mystery in particular. She also realized she didn't like winter very much so now she and her husband pursue the endless summer by splitting their time between Michigan and Arizona.
Her debut novel, A Lady's Guide to Etiquette and Murder is scheduled for release with Kensington in June 2018.
Amazon: https://www.amazon.com/Etiquette-Murder-Countess-Harleigh-Mystery/dp/1496716876/
Website: https://difreeman.com/
FB: https://www.facebook.com/DianneFreemanAuthor/
Twitter: https://twitter.com/Difreeman001
About A Lady's Guide to Etiquette and Murder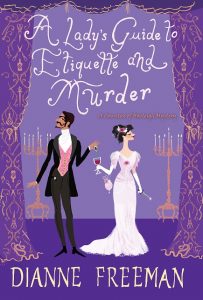 In this exciting historical mystery debut set in Victorian England, a wealthy young widow encounters the pleasures—and scandalous pitfalls—of a London social season . . .
 
Frances Wynn, the American-born Countess of Harleigh, enjoys more freedom as a widow than she did as a wife. After an obligatory year spent mourning her philandering husband, Reggie, she puts aside her drab black gowns, leaving the countryside and her money-grubbing in-laws behind. With her young daughter in tow, Frances rents a home in Belgravia and prepares to welcome her sister, Lily, arriving from New York—for her first London season.
No sooner has Frances begun her new life than the ghosts of her old one make an unwelcome appearance. The Metropolitan police receive an anonymous letter implicating Frances in her husband's death. Frances assures Inspector Delaney of her innocence, but she's also keen to keep him from learning the scandalous circumstances of Reggie's demise. As fate would have it, her dashing new neighbor, George Hazelton, is one of only two other people aware of the full story.
While busy with social engagements on Lily's behalf, and worrying if Reggie really was murdered, Frances learns of mysterious burglaries plaguing London's elite. The investigation brings death to her doorstep, and Frances rallies her wits, a circle of gossips, and the ever-chivalrous Mr. Hazelton to uncover the truth. A killer is in their midst, perhaps even among her sister's suitors. And Frances must unmask the villain before Lily's season—and their lives—come to a most unseemly end .
Category: How To and Tips