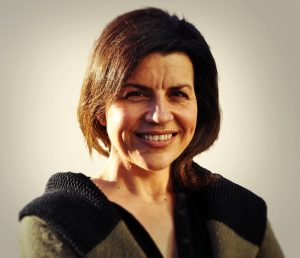 'Never judge a book by its cover.' In publishing, we know that the opposite of this is true. I didn't know just how true until the publication of my latest novel, Through the Barricades, an historical love story set in the early 1900s.
I had had seven novels published by a variety of houses eg Penguin, Hachette and Random House. I'd gone on to self-publish three of those novels when they went out of print and the rights reverted to me. One of those was subsquently republished by Lake Union Publishing. I thought I knew about covers.
I had a cover designer lined up for Through the Barricades. I briefed him. And he gave me what I wanted. However, I hated what I'd wanted. I felt that it didn't represent the book. It looked like non-fiction. Worse, it looked boring. How could I tell him that, though he'd given what I'd asked for, I didn't want it? I began to question my judgement. Maybe the cover was OK. Maybe I was overreacting.
I showed the design to author friends. Thankfully, they were blunt. I took a deep breath and told the designer that we needed to go back to the drawing board. He said that he'd bill me for the work done (fair enough) and let me know when it suited him to start again. It was that last bit that made me take the plunge and seek out a new designer.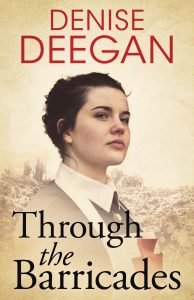 Bookbub – a great resource for writers – had published a list of cover designers they recommended. I consulted it, nervous that I would make another mistake as publication loomed. One designer's work, however, jumped out at me. Her name was Rachel Lawston.
Before contacting Rachel, I examined cover after cover of novels in my genre. I discovered that the most powerful ones featured a close-up of a character from the time period transposed onto a relevant background shot.
Now that I had a specific idea of what I was after, I contacted Rachel and explained my situation. Though snowed under with commissions, she wanted to help. Because she did me the favour of taking me on, I thought I would try to reduce her workload and find the images myself. I went to stock file websites and searched and searched for a rebel girl from the early 1900s. I couldn't find anything that came close. I did, however, find various shots of World War 1 as background. It was a start.  The biggest challenge remained, however.
One morning, looking across the breakfast table at my daughter, Aimee, I had an epiphany. It struck me how like my character, Maggie, she was. She had the same unruly hair. She had the same strong eyebrows. And, highly conveniently, she had a timeless face. I persuaded her to model. (Thankfully, Aimee always goes along with my mad schemes.) She even volunteered her friend, Emily, as photographer.
I spent a Sunday making a Red Cross uniform (part of me joyfully feeling like a child at play, another part asking what I was doing with my life). We did the photoshoot outside a local historical building on a cold November day. We laughed a lot. There were some crazy shots. But some good ones.
I chose a dreamy, aspirational shot, one that looked as if my Irish rebel, Maggie, was imagining a brighter future. I emailed it to Rachel. She asked if I had any more images of  'that lovely girl'. I explained who the lovely girl was and sent her everything, including shots of Aimee giving Emily cheek. Rachel chose the most amazing photo, one that I had not seen the potential in. It had all the defiance of Maggie. It was perfect.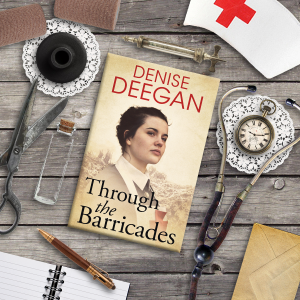 Days later, something magical happened. I was at a Thanksgiving dinner with a great friend – serendipitously the person I have dedicated the book to – when the cover image arrived in my inbox.
The two of us were so excited we started whooping and fistpumping and hugging. Rachel had chosen a perfect WW1 image. She had faded the shot of 'Maggie' and merged the two so beautifully. The font was gorgeous. It was perfect. On Thanksgiving here was something to be incredibly grateful for.
Two weeks later, when the paperbacks arrived, I was home with Aimee. Such was our excitement, we jumped around the kitchen together. Literally jumped. I did some crazy dancing. I thought that this publishing experience couldn't get any better. It did.
A few days later, Rachel sent through banner headings for Facebook and Twitter. I uploaded them. And just gazed in wonder. I thought: 'I want this on the side of a bus.' It was so stunning.
A book blogger (and lovely human being) called Amanda Horan liked the cover so much she created an amazing image for Instagram and social media, featuring Through the Barricades in an atmospheric setting.
With the publication of each book I learn something new. The big lesson with Through the Barricades has been the absolute importance of visual imagery in presenting a story to the world.  Without ever turning the cover, Through the Barricades has a tone, a feeling. It is a story.
—
Denise Deegan lives in Dublin with her family where she regularly dreams of sunshine, a life without cooking and her novels being made into movies.
Denise has been a nurse, a china restorer, a pharmaceutical sales rep, a public relations officer, an entrepreneur and a college lecturer. Her most difficult job was being a checkout girl, although ultimately this experience did inspire a short story…
Denise writes for both adults and teenagers. Writing under the pen name Aimee Alexander, Denise's contemporary family dramas have become international best-sellers on Kindle.
Amazon.com: http://amzn.to/2gnsPpA
Amazon.co.uk: http://amzn.to/2gn8DnD
Facebook: https://www.facebook.com/denise.deegan.3
Twitter: https://twitter.com/denisedeegan
Instagram: https://www.instagram.com/denisedeegan/
About Through The Barricades: 
She was willing to sacrifice everything for her country.
He was willing to sacrifice everything for her. 
 
'Make a difference in the world,' are the last words Maggie Gilligan's father ever says to her. They form a legacy that she carries in her heart, years later when, at the age of fifteen, she tries to better the lives of Dublin's largely forgotten poor.  
 
'Don't go getting distracted, now,' is what Daniel Healy's father says to him after seeing him talking to the same Maggie Gilligan. Daniel is more than distracted. He is intrigued. Never has he met anyone as dismissive, argumentative… as downright infuriating.
 
A dare from Maggie is all it takes. Daniel volunteers at a food kitchen. There, his eyes are opened to the plight of the poor. It is 1913 and Dublin's striking workers have been locked out of their jobs. Their families are going hungry. Daniel and Maggie do what they can. Soon, however, Maggie realises that the only way to make a difference is to take up arms.
 
The story of Maggie and Daniel is one of friendship, love, war and revolution, of two people who are prepared to sacrifice their lives: Maggie for her country, Daniel for Maggie. Their mutual sacrifices put them on opposite sides of a revolution. Can their love survive?
Category: How To and Tips