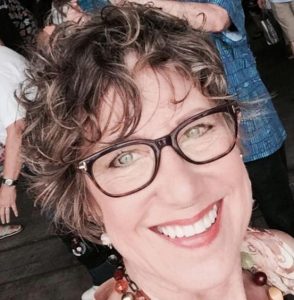 The second darkest moment in my writing career was when I reached that awful juncture with my then-agent: she asked me if I had anything else to show her because my novel didn't sell. Editors had overwhelmingly praised it, but they wanted the next bestseller, not a solid mid-list novel. It was a crushing disappointment, but, because I define myself as a writer, I started working on something new.
Shortly after that, the very darkest moment in my career and my life happened: In 2011, my eldest child, at age 32, lost the fight against depression and took his own life. 
I can't tell you how painful this was to our entire family. For me, my dreams of publication, my writing goals, everything I'd once aspired to now seemed unimportant. I didn't feel I had the right to have goals.
The first year after his death was incredibly hard; the second year just seemed cruel. It was difficult to concentrate. So many things once dear to me lost meaning. Derek had often called me in the afternoon when I was writing to talk to me about philosophy, mythology, Egyptology, Jim Morrison, travel, whatever. I found it impossible to sit at the computer, knowing the phone would never ring with his call again.
I shut my computer down. I let it all go. I had to trust the desire to write would return when I was ready. If not, well, that was okay, too. My husband and I adopted a lively one-year old Welsh Pembroke corgi that needed serious retraining, so I funneled what little focus I had into working with her. She was good for me. Clementine didn't care if I cried when we went on walks. She became, in essence, my therapy dog.
There were times I wondered if I would ever write again. After two years, I decided it was time to find out. Knowing Derek had been proud of my prior writing accomplishments convinced me it was okay to have dreams again. My heart wasn't in writing anything new, though. I didn't want to give up on my first novel, a story of one women's personal journey of strength, redemption and empowerment. It became symbolic of what I was going through. I began working with an author/editor, and soon that wonderful enthusiasm for writing returned.
Life is a constantly evolving journey of self-discovery.  I don't know if there's ever an end to such a journey when you lose someone to suicide. You have to find your way every single day. Living with loss becomes part of who you are. I understand there are no guarantees in life, and I have much more empathy for anyone who's suffered any kind of tragedy or loss.
But I also love the sense of purpose writing gives me when I push the world in a certain direction. It all comes down to the message, whatever that message may be. As a writer, let me help you make sense of the chaos we call life through my story. Let me lead you to a safer place. Let me entertain you. Let me teach you something new. Let me turn your world upside down, and let me set it right again. Through my writing, I can triumph over adversity, explore a world different from mine, go back in time, and challenge myself. I can fail and then get back up. 
***
Linda K Sienkiewicz's poetry, short stories and essays have been published in more than fifty literary journals, such as Prairie Schooner, Clackamas Literary Review, Spoon River Poetry Review, Permafrost, and A Twist of Noir. Her debut novel, IN THE CONTEXT OF LOVE, has four finalist awards, including the Eric Hoffer Book Award and the Sarton Women's Fiction Award. Among her awards is a poetry chapbook award from Bottom Dog Press and a Pushcart Prize nomination. Her MFA is from The University of Southern Maine. Linda lives in Rochester, Michigan, where she and her husband spoil their grandchildren then send them home. She works as a volunteer for a non-profit human services organization.
Ways to connect with Linda:
Amazon http://www.amazon.com/Linda-K.-Sienkiewicz/e/B00JNEX4T8
Website http://lindaksienkiewicz.com
Facebook https://www.facebook.com/lindasienkiewicz.author
Twitter https://twitter.com/LindaKSienkwicz
About IN THE CONTEXT OF LOVE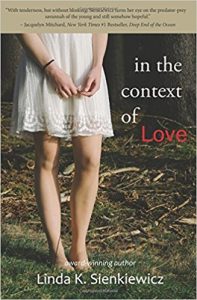 Can the secrets that haunt you ever be left behind?
Angelica Schirrick wonders how her life could have gotten so far off-track. With two children in tow, she begins a journey of self-discovery that leads her back home to Ohio. It pains her to remember the promise her future once held and the shattering revelations that derailed her life. She must learn to accept the violence of her beginning before she can be open to life, and a second chance at love.
Honorable Mention: Great Midwest Book Festival
Category: Contemporary Women Writers, On Writing