We all have busy lives, whether we are juggling careers, doing the school run or running errands. It can be a struggle to get up in the morning, or find the motivation after a full day of work, to get our blood pumping. Yet, don't we all feel a sense of achievement after we've worked up a sweat?
I am a lawyer, an author (and all that entails), a wife and a puppy mummy, and it seems there is always something that requires my attention.
THE STRUGGLE IS REAL, LADIES. I'M WITH YOU.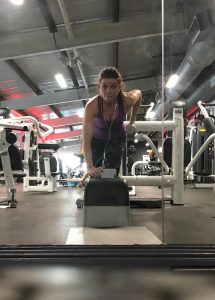 But here's why I force myself to exercise and why those few hours I spend in the gym each week actually benefit my writing.
Exercise needn't be extreme, it can be as simple as taking a brisk walk with your dog every day. For me, as well as dog walking, my exercise regime is 3-4 workouts a week in the gym for 1-1.5 hours.
Broadly, that looks like this…
Monday

20-30 minutes running on a treadmill

40 minutes of leg toning and weight exercises

5-10 minutes of stretching

Wednesday

20-30 minutes running on a treadmill

40 minutes of core toning and weight exercises

5-10 minutes of stretching

Friday

20-30 minutes running/sprinting on the treadmill

30-40 minutes of arm toning and weight exercises

5 minutes of stretching

Day 4

10k+ run
Day 4 is my flexi day. If I can squeeze it into my week, I like a long run. But you know what…? (Stop reading now if you're a woman who loves to beat herself up more than necessary)
I DON'T KICK MYSELF IF I DON'T MANAGE TO FIT DAY 4 INTO MY WEEK.
I don't even beat myself up if I miss one of my 3 core days because, ladies, life happens!
AS MUCH AS WE WOULD LOVE TO POSSESS THE  POWERS OF SUPERWOMAN…SHE ISN'T REAL!
But here's why I do try to keep up with my regime (in reverse order):
It helps boost my energy levels when I would otherwise be sitting in a desk chair or struggling to get out of bed.

It makes me look better and if I look better, I feel better.

It is

pure

unadulterated ME TIME! I can close my mind to the trials and tribulations of daily life. I can think of nothing, which is easy when I'm counting out reps of weight exercises. If I choose, I can watch reruns of

Neighbours

and

Everyone Loves Raymond

, or catch up on BBC News on the gym TV screens. I can get lost in the lyrics and beat of my latest playlist.

My

NUMBER ONE

motivation for going to the gym and, in particular, running…
IT IS UNINTERRUPTED TIME TO PLOT MY LATEST NOVEL.
Want to try it with me? Here's how it works for me.
I usually have an idea for a book before I start running to plot. Once I have the idea, I build a specific playlist for the novel—songs that suit my characters, the overall tone of the book, or a particular chapter.
From there, the process is simple.
A – switch on playlist.
B – run.
C – let the music conjure the mood of my writing and take me to my new fictional world.
Sometimes, I actively work chronologically through a chapter. Other times, I work through random ideas that pop into my head.
IF I EVER GET WRITER'S BLOCK, I KNOW I CAN HIT THE TREADMILL TO GET MY MOJO BACK
To date, I have traditional publishing deals for 7 novels and this process has worked for each of them. My best example is my latest release, PLAYING TO WIN.
Playing to Win is the second standalone romantic comedy in my Brits in Manhattan series. Not only did I plot the book on the treadmill, the gym was also my inspiration for the book. The hero, Brooks Adams, is a highly sought after personal trainer and gym owner in Manhattan. The heroine, Izzy Coulthard, is a feisty British health and fitness blogger who likes to salsa for fitness, and she is in New York to promote her new book, Be Green, Be Clean. When she and Brooks end up in a blogging war, sparks begin to fly.
So, ladies, my advice to you is this… Stop thinking of exercise as just another chore we need to fit into our daily lives. Think of it as a springboard, creative time, your muse even. If nothing else, take the motivation and energy it gives you back to your desk and put it into writing your next bestseller.
I hope some of you will try out exercise plotting. If you do, good luck! I'd love to hear from you. Come and chat to me here:
Website: www.lauracarterauthor.com
Facebook: www.facebook.com/lauracarterauthor
Twitter: www.twitter.com/lcarterauthor
Instagram: www.instagram.com/lauracarterauthor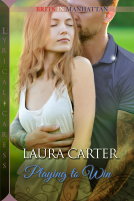 And when you're tired of working up a sweat for writing, kick back with a copy of PLAYING TO WIN and let Brooks and Izzy do all the hard work for you.
iBooks: https://goo.gl/6jGMCA
Amazon US: https://goo.gl/3j62s7
Amazon UK: https://goo.gl/hvGy6a
Google: https://goo.gl/27zMZy
Kobo: https://goo.gl/eRvt9Z
Category: Contemporary Women Writers