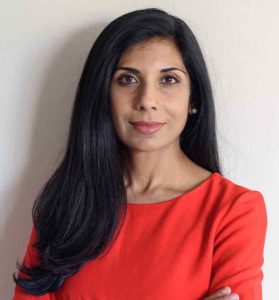 As a writer, my writing is an extension of my life, my heart and my identity. Most writers can agree with the statement that writing isn't something we do because we must. It's something we do because we simply can't not write. It's an outpouring of our heart-mind onto paper, flowing in ways that are as unique as each of us, telling stories and conveying material in ways that only we can.
Writing Shakti Rising was one of the most profound experiences of my life. The book is about Shakti, the divine feminine, particularly in ten of her forms that represent facets of creation, as well as the opposing forces of shadow and light within us. The topic is a difficult one, as previous writings about these goddesses have been shrouded in mystery and mysticism, rendering them largely inaccessible to the average seeker. Being called to write in a way that would make them relatable was exciting, and… intimidating.
You see, a writer's path is full of obstacles. And I don't mean the usual ones of finding a publisher, an agent, promoting and marketing—these are all legitimate concerns. The main obstacles are the ones within. If we can allow the writing process to take us deep within our psyches, it can become not just a creative endeavor but also a therapeutic one. It can expose us to our deepest fears and anxieties, our self-worth (or lack thereof), self-doubt, despair—and help us find their source.
Writing—A Hero's Journey
With the now-classic The Hero With a Thousand Faces (London: Fontana, 1993), Joseph Campbell established a framework for our personal and shared journey that leads to progress, technological advances, and importantly, our individual and collective evolution. The journey begins with a crisis that throws us into a world of confusion and suffering. We are forced to face our deepest shadows, and when we do, we undergo a profound transformation. The shadow is alchemized into light. We then embody this great learning and share it with the world.
Every writer can recognize this pattern in their craft. Each of us is called to write from a place that we can often not even recognize. Why are we called to write that memoir, that story, that how-to manual? Usually, it is because we've gone through the four-stage process that Campbell lays out as the hero's journey.
Often however, the process of writing is a hero's journey in itself. Shakti, the goddess, facilitates this journey for each of us, even if we don't recognize it. Writing a book is a surprisingly accurate journey of the hero—the writer delving into the process of writing and emerging forever changed.
At the outset, writing requires us to become clear about what we want to write, who the audience is, and how to present our story. Writing Shakti Rising forced me to dive into the depths of my mind to answer these questions. Why do I want to write? This was the question I had to sit with for a while. Was it to make money or gain notoriety? Was it to take on the challenge of writing about a complex subject in a way that would render it easy to read?
Once these questions were clarified through weeks of self-inquiry, I had to face the next challenge. I'm an academic physician, with plenty of practice in writing and publishing scientific papers. My writing voice was distinctly academic and unsuitable for this task. Added to this was my looming self-doubt—who am I to write about the goddess when great scholars before me have? My initial drafts were reflections of this self-doubt, awkward and unengaging, even to me. Thankfully, editors materialized miraculously, guiding me to find a voice that was authentic, warm and engaging.
As the book progressed, so did my journey within. Every writing session became a deep meditation, the words flowing from a place that was mystical and other-worldly. I'd sit down to write and look up, only to find that a whole day had passed and I'd been unaware of hunger, thirst or fatigue. Even more surprising was the work that came out of these reveries. I'd read what I'd written in amazement—how did I know this, I wondered, not remembering how it had flowed on to paper.
It was as if the decades of spiritual practice were bearing fruit in unfathomable ways. Happily, this healing process was in complete alignment with the subject of the book, which is that of transforming our shadows to light.
How the Goddess Works Through the Writer
Returning to share the transformative knowledge is final step of a hero's journey. As greatly challenging as the transformation has been, this part of the journey is even more difficult. Here, the transformation doesn't end but continues as we face demons that previously escaped our attention. At this stage, the journey continues in waves of growth and shattering of our old patterns. We continue to evolve, but now in different ways—we grow with those who choose to tread the path with us.
So too, the writer's work isn't done with the writing. As soon as we submit the "send" button with the manuscript attached, we are hounded by new worries. Will anyone read this book? How can I stay true to the transformation that occurred while writing?
My post-publication journey continues as one of ever-deepening surrender to the mystery of the process. The goddess looms large in determining who will read the book and how they will relate to it. As far as she is concerned, my work is done with respect to the writing, but ongoing work is needed dive ever deeper into her fold. The lesson here is to let it go and let her work. That's what the book is about, after all.
The goddess comes to our aid in every stage of writing, which is our hero's journey. If only we can pay attention, she can lead us on the voyage of a lifetime, where we are forever changed—simply because we chose to write.
—
If you're interested in forging deeper connections with the Mahavidyas, the Shakti Rising Online Course is for you! Over the course of 12 weeks, you will dive deep into the mystery of your own being with the Mahavidyas as your subjects of worship, nondual self-inquiry, exploration and profound openings.
—
Kavitha Chinnaiyan, MD, is an integrative cardiologist, meditation teacher and tantrika. She became drawn to the Direct Path through the teachings of Greg Goode and Sri Atmananda Krishna Menon, and has studied yoga, Sri Vidya Sadhana, Vedanta and Tantra through the teachings of Chinmaya Mission, Sri Premananda, Sally Kempton, and Paul Muller-Ortega.
She blends her expertise in cardiology with her knowledge of Ayurveda, yoga, Vedanta, Tantra, and the Direct Path in her approach to healing, enabling patients to discover bliss amid chronic illness. She is an Associate Professor of Medicine at Oakland University William Beaumont School of Medicine in Rochester, MI.
Kavitha is the author of two books: Shakti Rising, and The Heart of Wellness
Find out more about her on her website http://kavithamd.com/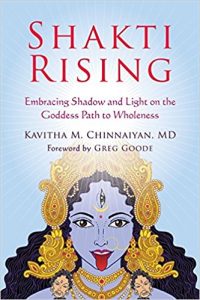 The wisdom of the Mahavidyas, the ten wisdom goddesses who represent the interconnected darkness and light within all of us, has been steeped in esoteric and mystical descriptions that made them seem irrelevant to ordinary life. But with this book, written by a respected cardiologist who found herself on a spiritual search for the highest truth, you're invited to explore this ancient knowledge and learn how it can be applied to daily struggles and triumphs—and how it can help you find unreserved self-love and acceptance.
The pursuit of contentment is an innate part of the human experience, arising from a fundamental sense of lack or inadequacy—all the things we believe to be wrong with us when we compare or judge ourselves. In our search for peace and happiness, we may find ourselves fighting the shadows within us, trying to repress or disown certain qualities, especially our anger, violence, discomfort, craving, and disappointment. But in order to stop this fight, we must expand our understanding beyond the dualities of good versus bad, right versus wrong, and beautiful versus ugly, and accept the parts of ourselves we've tried to deny.
Pulling from Eastern traditions including tantra and yoga, and focusing on the feminine principle of divine energy also known as Shakti, this book bridges the divide between dualistic concepts and non-dual philosophy. By exploring the symbolism of the Mahavidyas (Kali, Tara, Tripurasundari, Bhuvaneshwari, Tripura Bhairavi, Chinnamasta, Dhumavati, Baglamukhi, Matangi, and Kamalatmika)—each with a veiled face representing a destructive quality that perpetuates ignorance and suffering, and a true face representing the wisdom that stimulates profound transformation and liberation—you'll learn to embrace and incorporate every aspect of who you are.
With practices, self-inquiry prompts, and stories from the author's own spiritual seeking, this exploration of the divine feminine will gently reveal the source of your fear, pain, and suffering, showing you that when you allow those parts of yourself to arise and simply be, you can finally begin to heal, overcome your limitations, and open to the light and beauty of your true nature.
About THE HEART OF WELLNESS
Discover the Healing Power of Bliss Rx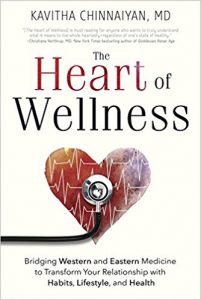 Transform your relationship with habits, lifestyle, and disease using Dr. Kavitha Chinnaiyan's remarkable approach to health. Integrating modern medicine and the ancient wisdom of Yoga, Vedanta, and Ayurveda, The Heart of Wellness shows you how to break free of the false assumption that disease is something you need to fight. Instead, you'll explore the mind-body connection and your true nature so that you can end suffering and embrace the unlimited bliss of who you are.
You'll begin by examining the nature of disease: the causative and risk factors, the role of diet, exercise, and medication, and how Eastern and Western medical practices can come together. A holistic and self-paced practice is outlined, based on the author's successful Heal Your Heart Free Your Soul program. With it you'll learn to reduce stress, attend to inner needs with meditation and breathwork, declutter your outer life, increase forgiveness and gratitude, and so much more.
[The Heart of Wellness] is a must-read for anyone who wants to truly understand what it means to live whole-heartedly―regardless of one's state of health."―Christiane Northrup, MD, New York Timesbestselling author of Goddesses Never Age
"Along with her expert modern medical knowledge, [Kavitha] has brought compassion, gratitude, and Vedic wisdom in a clinical, helpful way to bring about total heath."―Vasant Lad, BAMS, MASc, Ayurvedic physician and author of The Complete Book of Ayurvedic Home Remedies
Category: Contemporary Women Writers, How To and Tips