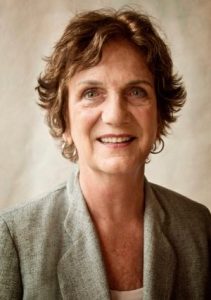 I'll be briskly writing away at my desk, feeling like I'm in the zone, and the words are sliding out onto the page from that sweet spot inside. A scene from that time of my life will come to me. It's a flash of memory that's crystal clear. I see myself there, in that setting, at that time of my life, but that's all there is. No context, no story, just that one demanding image. I push it away and go with my work, yet that same scene pops into my awareness regularly.
I had one such recurring image slide into my consciousness during the five years I was putting together my memoir Not Exactly Love that involved the story of my marriage in the '70s when I lived with the shameful secret that my young husband, a fellow teacher, was violently abusive to me.
In this scene, I saw myself standing in a dimly lit room of our little house, late one winter night, facing a window touched with frost. I looked out into the black night and felt a chill that made me hug myself. It felt so real. Yet that moment didn't fit with a narrative I was working on, so I let it go. Who wants to read about me standing there? Nothing was going on. I wasn't locking myself in the car to escape him. We weren't laughing together out on the boat. He wasn't hurting me.
Yet that scene insisted itself upon me and, eventually, I decided I needed to explore it with some free writing. I turned on some quiet music and sat comfortably in a chair with a pencil and notebook. Within seconds of beginning to scribble, I felt a rush. Yes, nothing was happening on the outside in that darkened room, I realized, but something big was happening inside me. Right there, that night, I decided I was no longer going to accept what was happening to me. I was going to get out of the house and go somewhere else to stay safe. It didn't matter that I would leave my abusive husband alone. I didn't care that he would wonder where I was. It wasn't my problem if he didn't get any sleep. The most important thing was that I was going to take care of myself. And so, I left for the night.
It was a big turning point in my story and an even bigger turning point in my life. Breaking free of an abusive relationship is not an act. It is a process, and it must begin somewhere. The one page scene I wrote opened the door for me to the story of how I developed the courage to leave. It has become my favorite scene in the book, and listeners sit wide-eyed and silent when I read it to a group.
As a memoir writer, I learned an essential lesson. If there is a memory, a scene, or even simply a comment from someone, that stays with you but does not seem to fit in with what you've been writing, don't let it go. You've been carrying it with you for years or decades, perhaps, and it has a role. Give yourself the time and space to understand the truth of what was in your heart, in your body, and in your mind at that moment. It may have unimaginable value for you and your story.
—
Betty Hafner lives outside Washington, DC and has written a popular monthly book column for twelve years in The Town Courier newspapers in Montgomery County, MD. With a M. S. in counseling she was a teacher and counselor in high schools and colleges for twenty-five years.
She continues to lead workshops, give talks and facilitate groups. She wrote two practical career-change books that stemmed from her workshops―Where Do I Go From Here? (Lippincott) and The Nurse's Guide to Starting a Small Business (Pilot Books). Always ready to converse, she also loves telling stories through her drawings, photographs, and writing. Visit: http://www.bettyhafner.com
About NOT EXACTLY LOVE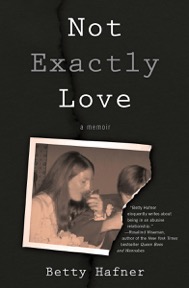 It was 1969, and all the rules were changing, when Betty, a woefully single French teacher on Long Island, met the handsome but edgy new teacher at her school, a hippie just back from Woodstock. His vitality opened up a new world to her―but when they married, his rages turned against her, and often ended with physical violence. Like millions of women who discover they've married an abusive man, Betty was forced to make daily decisions―to suppress her feelings or risk confrontation, to keep it secret or report, and ultimately, to live with it or leave.
Part memoir, part warm-hearted look at the '70s, and part therapeutic journey, Not Exactly Love: A Memoir is an intense and inspirational story of a woman who grew from her experience.
Buy Not Exactly Love HERE
Category: Contemporary Women Writers, How To and Tips