First, there is the discipline of writing.
Writers have long touted the value of the discipline of writing. While the strategies and goals to accomplish this task vary, the primary advice is relatively consistent – write everyday.
Some say its best to write for a fixed length of time, while others insist on a daily word count. A few others state that the best way to start a day's writing is by reviewing the previous day's work, while some say that writing every day at the same time is important. Whatever the strategy maybe, the underlying theme is one of consistent practice.
As much as I know the theory of it, I have always had a difficult time putting it into practice. The longest I've written was five days in a row, and that too since I had to complete my dissertation proposal. After that, I could never get myself back on track.
Until now, that is.
In December 2011, my family and I moved from the US to Italy. I decided that it would be fun to chronicle the adventures of my first year – 365 Days in Italy in a blog, which I've called Observing Ourselves Observing.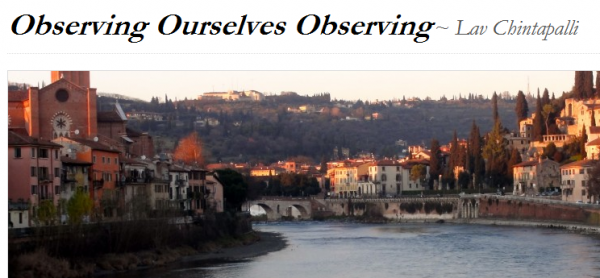 While the idea sounded super cool at the beginning, I have to admit, reality is quite warm in contrast.  There have been days, when at 11:45pm I remember that I have yet to write the day's post, and I scurry to my laptop and manage to write something before the dreaded time-stamp changes. One day, I posted at 11:59pm, and then worked on it for 20 more minutes.
There are days when I have to force myself. But I know it's going to pay off – that by the end of the year I will have mastered the art of the discipline of writing.
Second, there is writing as a discipline.
If the discipline of writing is hard, writing as a discipline is even worse.  So much so that it gets me tied up into knots.
I am a closet-writer. I use the phrase closet-writer with great prudence, as I am afraid of the backlash with the non-hyphenated version.  The backlash of course is totally in my head, a twisted perception of reality, if you may. Yet it exists, therefore it is true.
And this is why: If I say, "I'm a journalist' I don't expect anyone to respond with a 'What have you written?" But if I say, "I'm a writer" I can pretty much expect that question. And of course, by 'written' they mean 'published'. However, in order to be published, someone from the giant publishing industry has to accept my writing, and validate my existence as a writer. Therein lies my dilemma. In order to say that I am a writer, I feel like I need to earn my living as a writer. That's my story and I'm sticking to it.
But writing as a discipline is a different sort of beast. It's a beast that demands manifestation!  I know this for a fact cause I see my 7 year old writing stories on paper, napkins, laptop, the notepad on my ipad. She is indifferent to the medium – it can be a clay tablet for all she cares. She writes because she wants to write. She does not wait for an audience, although she does try to recruit one. Perhaps therein lies the secret to becoming a full-fledged writer – simply writing!
Write. Write because you want to. Write when you don't want to. Write.
No one clarifies it better than Maya Angelou who chided, "Some critics will write 'Maya Angelou is a natural writer' – which is right after being a natural heart surgeon."  And she is absolutely right. Writing as a discipline can only be honed by the discipline of writing.
And since I write, a writer, I am.
—
This is Lav Chintapalli's 2nd guest essay with us. Her first was Memoir: Agony and Relief.
Lav is the author of The Crayon Who Wore a Cap.
Subscribe to Lav Chintapalli's blog Observing Ourselves Observing, or her professional blog Human Dynamix.
Follow her on Twitter @LavChintapalli.
Category: Being a Writer, Expatriate Writers, Indian Women Writers, On Writing