Louisa Treger's biographical novel about Dorothy Richardson, peer of Virginia Woolf, intrigues. Who was Dorothy Richardson?
These days, Dorothy Richardson is a name few are familiar with; her work is overshadowed by that of her more famous peer, Virginia Woolf. Yet in her time, Dorothy was something of a cult figure. She was hailed as one of 'the new women writers' and an innovator of 'stream of consciousness,' and she was considered Virginia Woolf's equal.
I found Dorothy by accident, though a love of Virginia's work. I was searching for an angle on Virginia for my PhD thesis that hadn't been done before – without much success – when I stumbled on this review by Virginia about a writer whose name I did not recognize: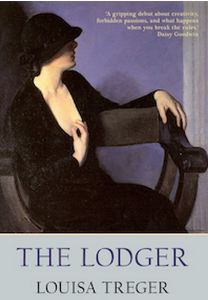 There is no one word, such as romance or realism, to cover, even roughly, the works of Miss Dorothy Richardson … She has invented … a sentence which we might call the psychological sentence of the feminine gender. It is of a more elastic fibre than the old, capable of stretching to the extreme, of suspending the frailest particles, of enveloping the vaguest shapes …[1]
I was riveted. Who was Dorothy Richardson? How had she come to re-invent the English language, in order to record the experience of being uniquely female?
Further research led me to Dorothy's life work: the twelve-volume autobiographical novel-sequence, Pilgrimage. I began to read with increasing excitement, for it seemed that here was someone of undoubted importance, now largely forgotten.
There are an uncanny number of parallels between Virginia and Dorothy. Both were tormented souls who did not conform to social norms, and both were bisexual. Both had unusual, though successful, marriages: Virginia to Leonard Woolf, Dorothy to a consumptive artist called artist Alan Odle, who was fifteen years younger than herself. Like Virginia, Dorothy lived for a time in Bloomsbury. However, Dorothy was never financially secure; she led a far grittier, less privileged existence than Virginia, and this is reflected in her writing.
The lives of both writers were blighted by madness and suicide. Virginia's breakdowns and eventual suicide have been well documented. Dorothy's father came from a family of tradesmen, but he yearned to be a gentleman. He sold the family business and invested the money speculatively, eventually going bankrupt. In the wake of the disgrace, Dorothy's mother became depressed.
The family sent her on holiday with Dorothy, hoping it would provide a much-needed tonic. One day, while Dorothy was out walking, her mother committed suicide by cutting her throat with a kitchen knife. Dorothy was 22 years old. Unsurprisingly, this traumatic event cast a long shadow over her life and her fiction.
The first volume of Pilgrimage was published in 1914, a year before Virginia's first novel, The Voyage Out, so Dorothy's experiments with narrative form actually predate Virginia's. They shared similar writerly preoccupations. Dissatisfaction with the conventions of the realist novel – which they perceived as being explicitly masculine – led them to seek new narrative forms that would render the texture of consciousness itself as it records life's impressions, life's minute to minute quality.
As well as the many similarities, there are some significant differences between them. Unlike Virginia, Dorothy had to earn her own living. She began with a series of teaching posts, and was then secretary to a dentist. When she became a full-time writer, the income earned from her novels was not enough to survive on, and she was forced to supplement it with journalism and translations.
Leonard Woolf was a sort of gatekeeper for Virginia: everything was geared towards protecting and nurturing her talent. He even went so far as to limit her visitors, and he prescribed special foods for her to eat! His efforts probably enabled her to achieve as much as she did. When Dorothy married Alan Odle, it was she who looked after him. Not only was his health poor, but Dorothy had to manage all their expenditure and practical planning, as Alan was incapable of dealing with this side of life, and she did all the housework and cooking as well. Alan's drawings brought in a pittance, so Dorothy supported them both.
The early recognition and interest in Dorothy's writing gradually slid from her grasp. She blamed her 'failure' on the extra assignments she was forced to take on in order to make ends meet. While there is truth in this, it isn't the whole story. The new fluid prose she set out to create was challenging as well as brave. None of the usual threads of plot or characterization are given; the entire world of the novel is filtered through the protagonist's consciousness. As mentioned before, Pilgrimage is autobiographical fiction – twelve volumes documenting the unfolding of a single consciousness. While Virginia's writing poses similar challenges, her oeuvre is more varied.
Virginia's suicide went some way towards romanticizing and memorialising her in the public imagination. She had powerful supporters who fostered her posthumous reputation. Her nephew, Quentin Bell, wrote a biography of her, while Leonard Woolf released her letters, diaries, and essays in well-edited scholarly editions. Virginia's critical standing rose accordingly.
These are some of the reasons why Dorothy – though fascinating, courageous and gifted – is buried in obscurity, while Virginia is regarded as one of the leading modernist voices of the twentieth century. I hope I have gone some way towards making a case for Dorothy as the forgotten Virginia Woolf. Don't just take my word for it, though. Go and read her for yourself.
[1] Review of Revolving Lights, by Dorothy Richardson, from The Nation and the Athenaeum, May 19, 1923.
—
Born in London, Louisa Treger began her career as a classical violinist. She studied at the Royal College of Music and the Guildhall School of Music, and worked as a freelance orchestral player and teacher.
Louisa subsequently turned to literature, gaining a First Class degree and a PhD in English at University College London, where she focused on early twentieth century women's writing.
Married with three children, she lives in London.
Find out more about Louisa on her website: http://louisatreger.com/
Follow her on twitter: @louisatreger
Buy The Lodger HERE
Category: Contemporary Women Writers, On Writing