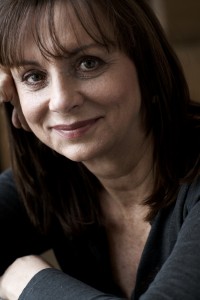 After the end of the Second World War, my aunt married a German whom she had met before the war began. They were deeply in love but, for obvious reasons, the marriage sent shock waves through my family and no doubt through his.
It must have taken all their determination and courage to weather the hostility turned in their direction but they survived it, and the marriage lasted until my uncle's death over fifty years later. Their story has always inspired me.
It is an example of how, despite division and hatred and violence, men and women can refuse to abandon their love for each other and continue to strive for peace and harmony. I had my aunt and uncle in the back of my mind when I wrote my second novel, Light of the Moon, the story of an SOE agent working undercover in France who became passionately involved with a German officer. Some years later, I found the story still wasn't done with me and they were constantly in my thoughts as I nursed The New Mrs Clifton into life.
Living conditions were poor in 1940s post-war Britain. Food, fuel and clothing were in short supply and rationing was even more draconian than it had been at the height of the war. Getting hold of the most basic things such as soap or shampoo meant the hoarding of coupons. Even so, Britain was not as bad as Europe in the aftermath which was a frightening place.
In areas where refugees were on the move and post-war fighting continued, law and order had almost completely broken down. Like rationed Britain, everything was in short supply – food, clothing and medicine –  substantial areas of towns and cities were in ruins and, in defeated Germany in particular, there was sustained violence and chaos.
Berlin fell in April 1945 and the Russians swarmed in, unleashing a wave of rape and terror. Contemporary accounts, such as the anonymous A Woman of Berlin, are unsparing in their detail of what happened and the numbers of women who were repeatedly violated is a shameful example of post-war frenzy.
It is with this backdrop in mind that I planned The New Mrs Clifton which opens with a skeleton being discovered in a garden of a Clapham house in 1974. Forensics show it is the remains of a young woman who had given birth and had been dead for several decades.  The action switches to 1945 when Gus Clifton, a British intelligence officer, returns to London from Germany where he has been interrogating suspected war criminals.
He shocks his two sisters, Julia and Tilly who are waiting at home, by bringing with him Krista, the German wife whom he has secretly married in Berlin.  Krista is underweight and traumatised but the sisters can only see the enemy their brother has brought under their roof. Nella, Gus's beautiful, loyal fiancée, cannot understand why Gus has jilted her. All three women see there is something odd about this marriage, not least that Gus and Krista don't seem at all well-acquainted. Why does she want to live in an unwelcoming England? What mysterious hold does she have over Gus?
One of the women will end up dead. Revenge? Despair? An accident? As I wrote the opening disinterment scene, I felt a huge sadness for the waste of this woman's life but also had to acknowledge that her fate  – like so many others – was a consequence of war.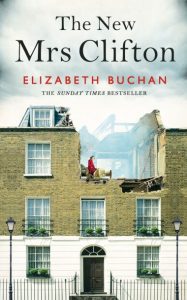 The reasons for Gus and Krista's marriage are complicated but fascinating to fictionalize. My own family history gave me a starting point with the decision of my aunt and uncle to brave it out all those years ago but I decided to reverse the situation.
Throughout its writing, I was conscious of the psychological consequences of war, even on the home front.   It seemed very clear that the men and women could, and did, suffer as much damage struggling to feed their families, sheltering from the Blitz and making-do-and mending in shattered cities as any front-line soldier, sailor or airman.
But I also wanted to explore how families can find different pathways through the worst times and could learn how to live with each other again. War puts men and women in impossible and dangerous situations and it changes, and often brutalizes, them. Even so, reading the contemporary accounts there was one thing that emerged clearly from these diaries, letters and reports. This was the longing for normality.
Put simply: it was a desire to go home and to shut the door on the world. 'How nice life could be,' reflects my Krista, 'when the past is forgotten, washed clean of death and suffering. When they could live with optimism and pleasure in the small things and worry about dahlias and clothes pegs.'
Above all, I wanted to show how deep feeling can spring from the most infertile of places to empower an English man and a German woman to take the enormous risk of making a life together.
—
About The New Mrs Clifton
'A gripping, immensely satisfying novel with a twist in the tale' Red
'Wrapped in the roots of the sycamore was a skeleton; the remains of a woman, between twenty-five and thirty. She had carried a child . . .'
At the close of the Second World War, Intelligence Officer Gus Clifton returns to London. On his arm is Krista, the German wife he married secretly in Berlin. For his sisters, this broken woman is nothing more than the enemy. For Nella, Gus's loyal fiancée, it is a terrible betrayal. These three friends wonder what hold Krista has over decent, honourable Gus. And, they ask themselves, how far will they have to go to permanently get her out of their home, their future, their England?
PRAISE FOR THE NEW MRS CLIFTON
'Buchan brilliantly captures the blighted atmosphere of blitzed London' Daily Mail
'The tension is palpable and the atmosphere claustrophobic. Buchan vividly conveys the mood of a post-war London brought to its knees. A powerful and emotional read' Sunday Express
'I loved this story of post-war adjustment which sets up a mystery on the first page' Cathy Rentzenbrink, Stylist
'So so good. Great writing, great story. I could not put it down' Marian Keyes
BUY THE NEW MRS CLIFTON HERE
—
Elizabeth Buchan began her career as a blurb writer at Penguin Books after graduating from the University of Kent with a double degree in English and History. She moved on to become a fiction editor at Random House before leaving to write full time. Her novels include the prizewinning Consider the Lily – reviewed in the Independent as 'a gorgeously well written tale: funny, sad and sophisticated'.
A subsequent novel, Revenge of the Middle-Aged Woman became an international bestseller and was made into a CBS Primetime Drama. Later novels included The Second Wife, Separate Beds and Daughters. Her latest, I Can't Begin to Tell You, a story of resistance in wartime Denmark was published in 2014.
Elizabeth Buchan's short stories are broadcast on BBC Radio 4 and published in magazines. She reviews for the Sunday Times and the Daily Mail, and has chaired the Betty Trask and Desmond Elliot literary prizes. She was a judge for the Whitbread First Novel Award and for the 2014 Costa Novel Award. She is a patron of the Guildford Book Festival and of The National Academy of Writing, and sits on the author committee for The Reading Agency.
Find out more about Elizabeth on her website http://elizabethbuchan.com/
Follow her on twitter @elizabethbuchan
Category: On Writing