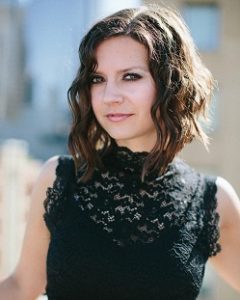 I've just published my first novel—a romantic comedy called Mr. Right-Swipe (Grand Central Publishing). What I've learned in this process from new writer to published author probably isn't all that groundbreaking; but I've been at this for a number of years—seven or eight of serious writing, to be exact—and I've come away with a lot of truths (for me).
Writing is a tremendous amount of work.
Whatever your "process" is—plotter or pantser, wake up at 4 a.m. to sneak in time or stay up until 4 a.m. to sneak in time, there's not really an express lane for learning to write well, learning your own process and style, learning the industry, or learning how to make it happen for you.
Anyone whose success seems overnight? Nope. At the end of the day, you've got to put pen to paper, ass to chair, finger to keyboard, and find the words.
If you do your homework, you will go farther than if you don't.
Yes, and no. There's nothing guaranteed in this industry, but (chances are) if you learn all you can about your genre, if you soak up whatever you can to hone your craft, if you take the time to read the agency's submission guidelines and follow them—if you play by the rules in terms of clichés, pet peeves, have you made this the best it can be or are you just getting impatient—you will have a better chance of being read. A better chance of being noticed.
Agents and editors get hundreds of e-mails a week. That's a fact. Instead of trying to be cutesy and maybe they'll realize your brilliance that no one else seems to recognize but your own mother, why don't you give yourself a fighting chance?
Give them a break by paying attention to what they want. It doesn't guarantee you representation or publication, but it guarantees you won't get passed over for going against what they seek.
Maybe.
Just because you follow every writing "rule," every guideline to a "T," writing is still very subjective. Sometimes they're not just being politely vague in a query letter rejection—they probably didn't connect with your main character. And that's okay! Maybe someone else will! And maybe they won't too, but rejection is all part of this. It doesn't necessarily mean you suck and you should hang it all up.
You don't know everything.
If someone—a critique partner, an agent, an editor—gives you feedback you don't like or that really hits you in the feels, don't be offended. It doesn't mean they're horrible people and it also doesn't mean they're wrong. You shouldn't take it personally.
You can't control how readers are going to react. That's why it's important to have beta readers, people who write, people who don't write, read your work and give you some honest (sometimes devastating) feedback. It doesn't mean you have to scrap everything, but it may just open your eyes to a problem you were too blind to see because you are too close to the pages.
No one knows anything.
Just because you get feedback from someone—a critique partner, an agent, an editor—doesn't mean you have to make changes. While there are certain "rules," you could pick up any number of books at the bookstore—books by successful authors—who have broken every single one of them and still, voila, there they are. Though I would caution that, since, yanno, he's Stephen King, he can kind of do whatever he wants and, until you reach rock star status, best play it safe.
However, trust your gut. If everyone is saying the same thing, that probably means a change is needed. If not, see how you can maybe address things without killing all of your darlings. You may not have to.
Conferences are absolutely worth the money.
It may be expensive and it may seem scary to attend a writers conference or workshop, but it's the best thing you can do for your writing—especially if you're serious about it and you're just starting out. The connections you can make just by sitting in a conference room with others who are as green as you are, equally as scared to talk to other humans IRL, just as hungry to publish that novel in the drawer, are really priceless. This is where your people are.
These are the people who want to hear about your ideas for hours. This is where you draw your inspiration, where you recharge when you've got some block going on. This is where you go to actually meet agents, authors, editors whom you'd never otherwise fraternize. These are unique opportunities to put yourself out there. To see where you are in terms of where the industry is. To hear others' stories. To connect. This is where you start making things happen. Even if you only get yourself to one, scrape and save to do it. You will never regret you did.
Publishing is often unfair.
Even though there are a lot more formats out there—a lot more outlets to do it, depending on what you want to do with your writing, publishing is rare and it's not guaranteed. Ever. If you're in this for the fame and accolades, you might as well do everyone in your life a favor and stop writing right now. Because that's even more rare.
Sometimes, you can work your ass off for years and years and play by the rules and be a fantastic writer, and things still won't work out. You can love a manuscript and be the only one to do so. But, again, trust your gut. If you're in love with something that's just not selling the way you wanted, but you feel the need to get it out there, find a way to do it. There are plenty of ways to do so.
Your journey may not be what you thought it would be.
I started out writing young adult manuscripts. I signed with my agent in 2010, my manuscript didn't sell, and then, promptly, my life kind of unraveled for a time as I went through a divorce. I had to stop writing for a while, and it broke my heart. Then, the first half a manuscript I wrote after my hiatus, my agent hated. That was hard. So I wrote another YA manuscript, which I loved and which came pretty close to selling, but? No cigar. No book deal, anyway.
When the idea for Mr. Right-Swipe, a humorous women's fiction book, took hold in 2015, I never would have thought my debut would be anything other than YA; most of my good friends in the industry are YA authors, I'd read a lot more juvenile fiction than women's fiction at the time of my book's inception, and I wasn't even sure the topic of online dating (a thing I was doing in my personal life and snarking about!) was something I wanted to pursue.
In all that time, watched several of my friends sign with agents and sell books. Hit the New York Times bestseller list. I had moments of jealousy, sure. Of despair, definitely. But your journey isn't going to be the same as your friends' journeys. Your journey probably isn't going to be what you think it's going to be either. You have to be adaptable. You have to learn. You have to overcome.
Writing isn't worth it.
Sometimes, writing is the worst thing in the world. And it doesn't end! Sometimes you're the worst writer and your ideas suck and you wonder how or why anyone has ever told you otherwise. You tend to think when you're querying, "If I could only get an agent . . . " and then, okay, you get one, and you're like, "If someone would only buy this book . . . " And then they do! But it never stops. There are always hiccups.
Initially, we tend to view publishing as How do we get through these gates? Get me in to the party! But it's a party where you constantly need to be on your game. You can't just come in, drink a beer, and blend in on the couch. You constantly need to reinvent, rework, get better, do more. You constantly suck. It's art, and yet it's art that has to appeal to a number of people, which sometimes might feel artless. You feel beaten down a lot of the time. You will question everything. Why am I even doing this? I hate everything!
However . . .
Writing is worth it.
Overall, writing requires perseverance and tenacity. Yes, sometimes you will suck, but sometimes you are brilliant. Sometimes you hate it as much as you love it, and we all get different things out of it, of course. But one thing you do know—no matter how many shots of tequila you need to do after receiving an agent rejection or an edit letter—is that it makes you alive. It's pain, it's struggle, and it's so so so good. Ultimately, it's something you can't live without.
—
Although she is originally from Cleveland, Ohio, and has spent the most time there, Ricki has also lived in Georgia and Virginia. (She promises she's not a drifter, though.) In addition to writing and freelance editing, she has molded the minds of tweens & teens as a middle school and high school teacher in both the CLE and the ATL — and she also spent a year teaching writing and communications at the college level. She's back in Atlanta now, and she owns the cutest beagle ever (Molly).
If you feel so inclined, give her Facebook author page a "like"  follow her on Twitter @RickiSchultz, or take a gander at her on the Instagrams (rickischultz).
MR. RIGHT-SWIPE
A Tale of #LeftSwipes, #NotMyTypes, and #Vodka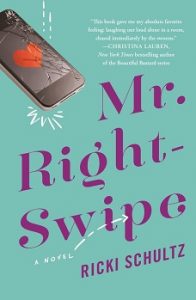 Rae Wallace would rather drown in a vat of pinot greezh and be eaten by her own beagle than make another trip down the aisle—even if it is her best friend's wedding. She's too busy molding the minds of first graders and polishing that ol' novel in the drawer to waste time on any man.
But when her best friends stage an intervention, Rae is forced to give in. After all, they've hatched a plan to help her find love the 21st century way: online. She's skeptical of this electronic chlamydia catcher, but she's out to prove she hasn't been too picky with men.
However, when a familiar fella's profile pops up—the dangerously hot substitute teacher from work—
Rae swipes herself right into a new problem…
Sarcastic, irreverent, and uproariously funny—the painfully-true, so-insightful-it-hurts kind of funny—Ricki Schultz's wry debut will speak to fans of Bridesmaids or Trainwreck, and to anyone who's ever been on a bad date.
"This book gave me my absolute favorite feeling: laughing out loud alone in a room, chased immediately by the swoons. Nick is my new book boyfriend. But even better? Rae is my new best friend. MR. RIGHT-SWIPE is exactly the book I needed."
–CHRISTINA LAUREN, New York Times bestselling author of the BEAUTIFUL BASTARD series
"Highly recommended." – RT Book Reviews (FOUR STARS)
BUY MR. RIGHT-SWIPE HERE
Category: How To and Tips, On Writing