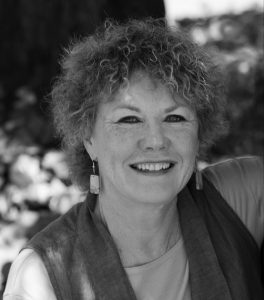 I'm mildly obsessed with writing about food, both in memoir and in mystery, so I paid attention when a blogger recently complained about the preponderance of food scenes in fiction, warning authors to give those scenes tension and to make them advance the plot. It's not bad advice, although I think it more important that authors first decide what purposes they want their food scenes to serve.
Food scenes operate on many different levels. Sensuous food descriptions, for example, can deliver pleasure to the reader, and pleasure keeps readers reading. Food scenes, like descriptions of a landscape, can contribute to the texture of the physical world which an author's characters inhabit.  Food may also be used to define a locale or illuminate a culture.
In Ann Myers Bread for the Dead "succulent chunks of pork slow-braised in an earthy red chile sauce" contributes to our sense of Santa Fe as a city of intense sensuous experience. In Amy Tan's The Joy Luck Club, dining scenes are often conflictual and food itself is regarded not just as a shared pleasure but as means of expressing loyalty to family or of withholding it from them. Food can also help define character. In my food memoir, Tasting Home, my mother's penchant for baking cookies, cakes and pies represents the one kind of nurturing and sweetness she was capable of giving me.
Food scenes can express philosophical points of view. In Laura Esquivel's Like Water for Chocolate, scenes involving cooking and dining establish the many ways that women's domestic and emotional labor are central to all life. Cooking and dining sustain not just the individual and the world of family but also the public world of politics and revolution. In Virginia Woolf's To The Lighthouse, Mrs. Ramsay's Boeuf en Daube succeeds in bringing a group of disparate and quarrelsome people together and the resulting sense of community, although transitory, produces a moment of feeling that, despite the meaningless of the universe, "there is a coherence in things, a stability, something, she meant, is immune from change and shines out . . . in the fact of the flowing, the fleeting, the spectral."
Food scenes can do political work as well. In my novel, Oink: A Food for Thought Mystery, a humorous send up of the university for its increasing devotion to self-interest, competition, and profit, I used food scenes to emphasize the importance of values that are not about profit or competition but about human connection and the common good. Some of these scenes give value to familial and personal connection.
Emily feels love for her ten-year-old daughter, Polly, while cooking polenta with her in their kitchen. Emily's female colleagues bond over talking about food and about cornbread in particular, since a male professor has been found face down in a hog yard with a piece of poisoned cornbread in his hand. Food talk also breaks the tension between women who are strangers to each other. When two female police officers turn up at Emily's house to question her about the poisoning, the three women fall into a conversation about  familial recipes for corn bread.
In Oink, food scenes are also one manifestation of a strategy for building communities that is enacted in various ways throughout the novel. This is a strategy I call "working on the relationship," and it refers to the process of creating and grounding communities in multiple acts of friendship, love, support, and pleasure, not the least of which is the pleasure of sharing food. In Oink, therefore, we see a community, consisting of faculty in women's and ethnic studies, cozily gathering around dishes made of corn—spicy enchiladas with corn tortillas, crunchy homemade corn chips, and sweet corn pudding. These shared food pleasures contribute to a sense of trust and common cause, thereby preparing members of the community to form a political alliance through which they then formally resist their administration's corporate values and espouse more communal ones.
The same scenes, by connecting Emily's community with the pleasures of food, invite the reader to identify with or feel the goodness of the community as well. The recipes for corn-based dishes at the end of each chapter further extend this invitation by suggesting that readers can recreate the dishes, with all their pleasures and communal associations, in their own kitchens.
Authors can also give meaning to the kinds of food they feature. I chose corn-based dishes for my food scenes and recipes because in many cultures corn or maize is associated with life, fertility, and rebirth. I thought this symbolically appropriate in a novel that is meant to emphasize the importance of caring community in fostering both personal and political renewal—in the face of the university's, and the nation's, growing devotion to self-interest, competition, and greed (oink, oink!).
That the dishes come from Native American, European American, African American, Asian American, and Latina/o food traditions suggests and celebrates connection across cultural differences. Thus, on many levels, scenes of cooking, dining upon, and talking about food establish a political orientation toward the communal.
Food scenes, then, can serve multiple purposes in a novel and in memoir as well and filling them with conflict may not be desirable or appropriate in every case.  I think the most important thing to consider in writing scenes about cooking and dining is knowing first what purposes you want them to serve.
—
About OINK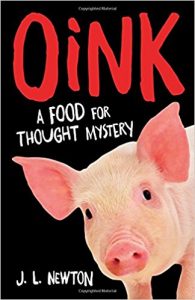 Pigs, poisoned cornbread, a feminist network, and a university tainted by corporate values.
First in the Emily Addams Food for Thought Series.
One of the 18 funniest books to come out this spring. MediaBookBub.Com
Emily Addams, foodie professor of women's studies at Arbor State―a land grant university in Northern California―finds herself an unlikely suspect in the poisoning of a man she barely knows: Professor Peter Elliott of Plant Biology, the hotshot developer of a new genetically modified corn.
How did her cornbread end up in his hand as he lay in the smelly muck of a pig's pen?
As Emily and her colleagues try to identify who and what has poisoned Peter, they also struggle to keep a new and corporate-minded administration from defunding the women's and ethnic studies programs.
In the process of solving the mystery, Emily and her network deepen their ties to each other―and uncover some of the dark secrets of a university whose traditionally communal values are being polluted by a wave of profit-fueled ideals.
Oink comes with recipes.
"It has been said that the comic campus novel is no more (things in higher education are verging on the tragic), but Oink proves otherwise."
―Maggie Berg and Barbara K. Seeber, authors of The Slow Professor: Challenging the Culture of Speed in the Academy
—
Judith Newton is Professor Emerita in Gender, Sexuality, and Women's Studies at U.C. Davis, where she directed her program and the Consortium for Women and Research.
She is the author of five works of nonfiction. Her memoir, Tasting Home, was published in 2013 and won twelve independent press awards.
Her first novel, Oink: A Food for Thought Mystery, the first in the Emily Addams/Food for Thought Series, was published on April 18, 2017 with She Writes Press.
She is at work on Terroir, the second in the Food for Thought series and lives in Kensington where she tends her garden and cooks for family and friends. 
Read more about her at judithnewton.com and at https://www.facebook.com/TastingHomeComingOfAgeInTheKitchen/
Category: Contemporary Women Writers, How To and Tips