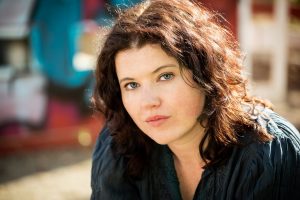 I've always been drawn to history because of the people. It's fascinating to me that some people are remembered so strongly, even hundreds of years later. That's usually how I choose what historical period I want to write about: I come across an interesting person or opportunity, and the story blossoms from there – with much research involved, of course.
I think my agent, Carrie, must have a similar love for finding these historical figures, because we enjoy chatting about potential prospects all the time, even mid-project. "What about Marie Antoinette?" she suggested, when we'd just finished up with a previous novel and I was casting about for the subject of a new project – which would eventually become The Wardrobe Mistress.
Even though I was a bit daunted by the scope of research that would entail, a spark of interest caught inside my mind, and kept burning. There's something very alluring about Marie Antoinette; the glamour of her lifestyle, the escalating danger of the revolution. The doomed French queen is by turns remembered as well-meaning but inept, at best, or she is reviled as spoiled and unwilling to compromise. "Let them eat cake," is a phrase often associated with her to this day, though it had been published in Rousseau's Confessions years before the revolution began. Even most of her contemporaries knew the source of the quote, and yet its connection to her remains strong today.
I'd always been interested in the French Revolution, and the way it forced loyalties to drastically change, and by how chaotic it was, but I needed to delve into the complex details that make a novel click into place. As I started reading up on Marie Antoinette's life, the idea of writing a story set during this time period shifted from being vaguely overwhelming and became obsessively exciting. And as I researched, I stumbled across the secret du roi, a spy ring that worked for King Louis XV (predecessor to Louis XVI of the revolution) and I knew instantly I wanted that connection in my novel. One of its members, Pierre de Beaumarchais, who was also a watchmaker and a playwright, became the uncle of my fictional narrator. This real historical figure had several sisters whose lives were not well documented, so I decided one of them could be my fictional main character's mother.
At first I thought Giselle Aubry, as my protagonist became named, would work in the kitchens at Versailles. I envisioned her kneading airy light brioche, or dusting sugar onto piles of candied roses. Instead, my research led me into the intriguing realm of French revolutionary fashion, and Giselle became one of Marie Antoinette's undertirewomen, working in the royal wardrobe. It brought her close to the queen, but it also gave me an avenue to explore the undercurrents of revolutionary fashion.
Since people would use colors and fabrics to display their revolutionary or royalist beliefs, clothing became quite complicated during this time. At particularly tense times of the revolution, people could be attacked simply for wearing the wrong thing, and that seemed scary and fascinating to me. As French patriotism increased, so did the popularity of tricolor, both for clothing in general and also for the famous cockades that people would pin to their hats or shoulders. Red, white, and blue were so symbolic that, at one point, it was even illegal not to wear a tricolor rosette. I loved the idea that color could be a symbol of loyalty, and it became a theme throughout the novel.
The fact that the revolution overtook the realm of fashion, on top of all the other political and social changes, must have been an added thorn for Marie Antoinette, who was accustomed to being the one to set the fashions. For a while, she noticeably eschewed tricolor, and wore a lot of luxurious purples and pure whites – which were seen to be symbols of the Bourbon royal house. Eventually, as she grew increasingly unpopular, she made an effort to display some of the tricolored revolutionary fashion. I had fun writing these scenes, since she enlists Giselle to help her put together the appropriate outfits.
As I wrote the novel, I couldn't help feeling compassion for Marie Antoinette as a person, even though the economic and societal issues that sparked the revolution were very legitimate. These feelings of compassion happened to Giselle, too – spying on the queen for her uncle, witnessing the queen's most intimate moments, trying to help her through the trials of the revolution, falling in love with a passionate revolutionary – she becomes torn in opposing directions, caught up in the fervency of the revolution and trying to please everyone. It's a balance made all the more difficult that in the world of French revolutionary fashion, one really could wear their heart on their sleeve.
—
Meghan Masterson graduated from the University of Calgary with an Honours Bachelor of Arts in Communications Studies, and has worked several unrelated jobs while writing on the side. As a child, she gave her parents a flowery story about horses every year for Christmas. Thankfully, she has expanded her work past tales of equine perfection and thinly veiled Nancy Drew retellings, and is now mainly interested in writing historical fiction. She is drawn to strong historical figures and unique situations in history, which present unexpected opportunities and dilemmas for her characters. Meghan's other interests include reading at all hours (even at breakfast), cooking, and going for walks with her dog. She and her husband live in Calgary, Alberta.
Find out more about her on her website http://meghanmastersonauthor.com/
—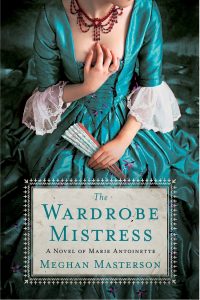 THE WARDROBE MISTRESS is Meghan Masterson's fascinating and visceral debut, an inside look at Marie Antoinette's luxurious life in Versailles remarkably juxtaposed against life in third estate as the French Revolution gains strength. A propulsive exploration of love, loyalty, danger, and intrigue…not to be missed.
It's Giselle Aubry's first time at court in Versailles. At sixteen, she is one of Marie Antoinette's newest undertirewomen, and in awe of the glamorous queen and her opulent palace life. A budding designer, it's a dream come true to work with the beautiful fabrics and jewels in the queen's wardrobe. But every few weeks she returns home to visit her family in Paris where rumors of revolution are growing stronger.
From her position working in the royal household, Giselle is poised to see both sides of the revolutionary tensions erupting throughout Paris. When her uncle, a retired member of the secret du roi, a spy ring that worked for the old King, Louis XV, suggests that she casually report the Queen's actions back to him as a game, she leaps at the chance. Spying seems like an adventure and an exciting way to privately support the revolution taking the countryside by storm. She also enjoys using her insight from Versailles in lively debates with Léon Gauvain, the handsome and idealistic revolutionary who courts her.
But as the uprising continues to gain momentum, and Giselle grows closer to the Queen, becoming one of the few trusted servants, she finds herself dangerously torn. Violence is escalating; she must choose where her loyalty truly lies, or risk losing everything…maybe even her head.
Category: Contemporary Women Writers, On Writing