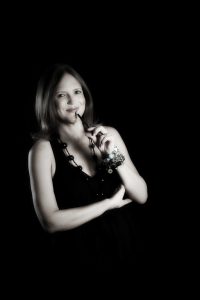 The seed for my novel Love Apples was sown during a summer creative writing course at Central Saint Martins in London. Although I'd been working as a food writer and sub-editor for women's magazines for several years, I didn't know where to begin with fiction; it's one thing producing a 1000-word feature, another altogether growing a 300-page novel – Jack's beanstalk compared to the puny shrubs I'd produced so far.
Fortunately, the course had some clever devices to coax fiction out of one, in the form of weekly assignments designed to turn real-life experiences into short stories. These included things like describing one's own room and view from someone else's perspective or listening to a favourite song and using the feelings or memories it evoked to create a piece of fiction. This was the exercise that marked the beginnings of my novel.
I chose a song called Belle Ile En Mer that I'd fallen in love with while au pairing in Paris, and heard several years later while on assignment in Mauritius for Marie Claire South Africa. It was an exciting moment in my career: my first overseas assignment, in the company of the magazine's fashion team, who were there to shoot swimsuits, while I swanned around the island, lapping up its offerings, in order to write a travel feature.
This involved a couple of pinch-yourself moments, such as stretching out on a sunbed with cocktails shaken by a personal butler and feasting on seafood with my feet in the sand on a private island reached by speedboat – in the name of work, ha! But it wasn't all pampering and Pina Coladas; the fashion shoots were blighted by bad weather while the accommodation fell short of a certain team member's expectations, causing tantrums and tension.
On a personal level, I was conflicted about my romantic life, living on a different continent from my boyfriend, a marriage proposal pending, not sure if I actually wanted to tie the knot with him or anyone. And then there was the dishy romantic prospect at the resort… to yield to temptation or not?
I had no idea at the time that all this would one day prove fertile material for a novel, but it was just waiting to be summoned onto the page by that powerful song in a story about a commitment-phobic food and travel editor, whose island fling wreaks all sorts of havoc in her life. (In case you're wondering about the extent to which this was autobiographical, one of the course's rules was that every piece had to include at least an element of fiction.)
When the 10-week course came to an end, the story was shelved as I got caught up in the whirl of working as a sub-editor for Marie Claire UK, which involved ensuring it went to print on time every month with not a hair out of place i.e. no typos or grammatical errors. This wasn't as creatively fulfilling as the job I'd left behind in South Africa following my marriage, where, rather than grooming a magazine, I'd been providing real nourishment as its food editor.
But it was still stimulating to work on the glossy title with a team of talented, creative women, and I was sad to leave due to my husband's transfer to New York. A positive outcome of the move, however, was that it allowed me to revisit fiction-writing.
As a procrastinator who needs deadlines, I signed up for a writing course with Gotham Writers Workshop in the Big Apple, and presented my mothballed Mauritian story to the class one day, which the teacher said had the makings of a novel.
And so Love Apples was born, although its name only came later, when I workshopped a chapter revolving around the island dish prawn rougaille, a key component of which is love apples, as tomatoes are known on the island. So-called because they were believed by the island's 18th-century French rulers to have aphrodisiacal powers, tomatoes were conversely labelled poisonous by the British, who initially grew them only for decorative purposes.
Given these conflicting myths, the name was a perfect metaphor for the story, which explores both the agony and the ecstasy of love. It also suited the strong foodie bent, which spontaneously emerged as the novel progressed, stemming from a passion for food born in my mother's kitchen.
This had also found its way into my career by accident when, having been hired by Marie Claire South Africa for my linguistic skills, a spot opened as the magazine's food and travel columnist. This led to my subsequent job as the food editor of a lifestyle magazine, which involved writing restaurant reviews and collaborating with various chefs on recipe features, from lunches in vineyards to canapés on a yacht, all of which fed and watered the novel.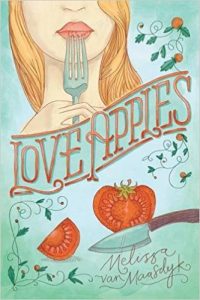 By the time I moved back to London, where I became chief sub-editor of Elle Decoration, the story had ripened into a foodie romance, which continued to develop in response to changes in the publishing climate. Most notably, the industry was being threatened by the encroachment of digital media and competition from a multitude of online channels for audiences and advertising.
Then came the financial meltdown of 2008, precipitating closures and forcing even leading glossies to tighten their stylish belts. I felt the pinch when I became editor of Time Out in Bahrain in 2009 (yet another move as a trailing spouse) and, understaffed, found myself writing and editing most of the magazine myself. Glossy invitations still came my way, but like Cinderella I was run ragged and often couldn't go to the ball. On the upside, this provided more dramatic fertilizer for my novel and when I returned to it later, I decided to set it at that point when magazines' glamorous glory days were on the cusp of change.
So Love Apples was finally ripe for the picking. It had taken a lot longer than expected, but fiction is an indefinable entity for which there's no set formula, stylistic guide or time frame, as in deadline-driven magazines.
It takes some authors a couple of months to write a book, while it took me over a decade; some are able to create fantasy worlds far removed from their own, while my novel's rooted in experience, fed by my passion for food and watered with imagination.
The key is to find the seed of an idea that vibrates with life inside you, telling you it has the potential to grow into something much bigger than itself. There's no saying what that is, but dig around and you'll know it when you find it.
—
Melissa van Maasdyk has a Masters in Translation, and has worked as a writer, translator, sub-editor and editor on several magazines over the past two decades. These include Elle Decoration and Marie Claire in the UK, Style and Marie Claire in South Africa, and Time Out in Bahrain, where she also wrote a travel guide to the kingdom. Food writing has featured prominently in her career, nurturing her passion for cooking, and adding flavour to Love Apples, which is her first novel. Melissa currently lives in Abu Dhabi with her husband.
Find her on Facebook
About LOVE APPLES
Why get married? London-based food writer Kate Richmond can conceive of no good reason. She's seen where it got her mother and so has written her own recipe for life, relishing her career, with men on the side – including a delicious love match in Daniel Price. When Kate heads to Mauritius on an assignment, she seems set to secure her dream job at Be magazine until a cyclone curdles her carefully laid plans for the summer issue.
With her career at stake, Kate will stop at nothing to get things on track, shamelessly entangling others in her quest, including the irresistible Fai Li, but when she takes a step too far, she sets herself on a tempestuous course that will upturn some long-held beliefs. Set in the glamorous, racy world of magazines and suffused with sensual descriptions of food – plus recipes – Love Apples delves into love and lust, marriage and infidelity, and why people continue to invest in a convention so prone to failure.
Category: Contemporary Women Writers, On Writing