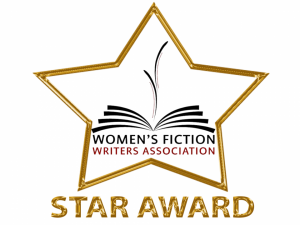 If you are the published author of a book of Women's Fiction, the Women's Fiction Writers Association (WFWA) has a contest just for you. WFWA's annual Star Award is the only contest in the publishing industry that exclusively recognizes outstanding published Women's Fiction.
Is this your first book of WF? Don't worry, you needn't go up against multi-published authors. The Star Award contest has two categories—General and Debut—to help level the playing field, but authors aren't limited to entering their book in just one category.
Both categories are open to all books of Women's Fiction, from contemporary to historical, commercial to literary.
Entries can have romantic, paranormal, magical realism or other elements, as long as the plot is driven by the main character's emotional journey. The entry fee for each category is the same.
There are two rounds of judging for each category. First round contest judges are readers of Women's Fiction, many of whom are members of WFWA, and each entry is read by three first round judges. This is a great way for WF authors to find new readership and for the WF readers/judges to discover authors they may not be familiar with.
The judges in this round can be unpublished or published, although entrants are excluded from judging. Entries are scored on a scale of one to ten, and fractions are encouraged to avoid ties. The top three scorers in the two categories become finalists, and are announced in June.
The final round judges are librarians. Six librarians, three for each category, read three books each. They score based on their enjoyment of the book, and they are asked not to compare the books to each other in their judging. These judges use the same scale as the first round judges: one to ten, with fractions encouraged. As a thank you gift, all judges get to keep the books they've read. It is WFWA's hope that librarians will then recommend books and authors they enjoyed via the judging process when they are working with library patrons and others in the librarian community.
The final scores are emailed to our contest chair, Laura Drake. Once winners have been determined, she orders the trophies that will be awarded at the annual WFWA retreat in Albuquerque, NM in September. Winners and finalists are given electronic badges to share on their websites and via social media, and a Press Release is sent out in September with the winners' and finalists' names and their book titles.
2016 was the first year for the contest, and the General Category winner was Scott Wilbanks for his book, The Lemoncholy Life of Annie Aster. Outstanding Debut winner Kelli Estes won for her book, The Girl Who Wrote in Silk.
2017 Outstanding Debut Finalists are Tiffany McDaniel's The Summer That Melted Everything; Julie Christine Johnson's In Another Life and Marilyn Simon Rothstein's Lift and Separate.
2017 General Category Finalists are Barbara Claypole White's Echoes of Family; Carla Damron's The Stone Necklace and Amy Impellizzeri's The Secrets of Worry Dolls.
The contest opens in January each year, and you can read more about it here. Attend online events on our Facebook page. You can also follow us on Twitter, Pinterest and Instagram, and view our members' books on Goodreads.
The Women's Fiction Writers Association is an inclusive organization of writers creating layered stories in which the plot is driven by the main character's emotional journey. Learn more about us at our website.
Category: Contemporary Women Writers, On Writing